The Malaysian 34-year-old rider was on Friday among nine jockeys, both old and new, who were granted a six-month licence from July 1 to December 31, 2021 by the Singapore Turf Club.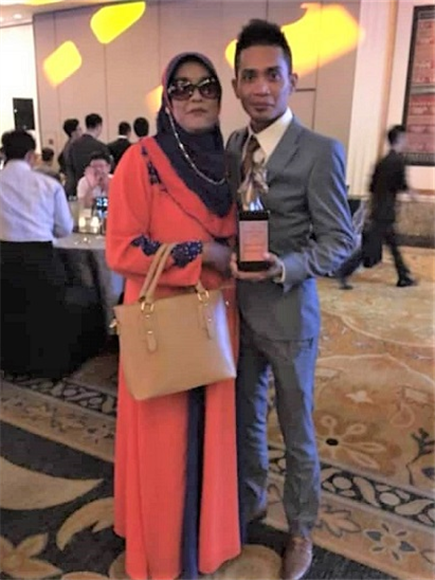 "I'm so happy I finally get to return to Singapore, but I'm also sad my mum is not with me to share that joy with me. Ever since I left Singapore, she kept hoping I will get a licence again," said Shafiq over the phone from Kuala Lumpur.
"She believed till the end I would get it, but unfortunately, she passed away last month. I was very close to her and I just wished she was still alive to see her dream of me getting back my Singapore licence come true.
"After I lost my licence, I applied twice without success, but she kept telling me to keep trying. I will now ride just for her, do my best to make her proud."
It was not just his mother, but his whole family from Kelantan where Shafiq was worshipped as a folklore hero in the horse-loving northeast Malaysian state (known for having produced many Kranji-based jockeys like A'Isisuhairi 'Harry' Kasim, Mohd Zaki and the latest sensation, leading apprentice jockey Hakim Kamaruddin) who were devastated when Shafiq was not among the Singapore Turf Club licensees in 2018.
But probably, none was more down in the dumps than the jockey himself, regarded by many experts as one of the finest local jockeys to have come through the Singapore riding ranks in modern times.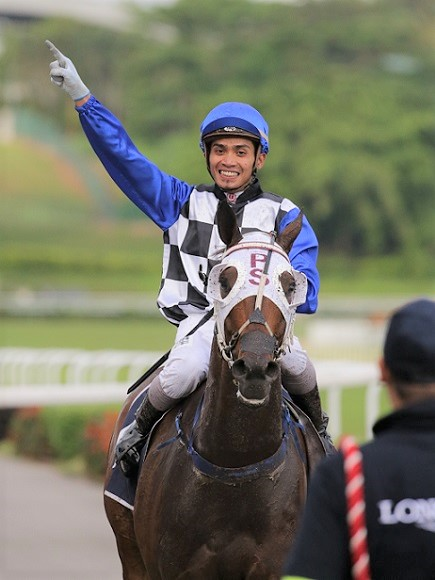 Kranji has been good to Shafiq since he was brought in from New Zealand's behemoth operation Te Akau by his master Mark Walker a few years after the five-time Kiwi champion trainer was lured to Singapore in 2010.
With a few wins shy of the 200-mark, four of them at Group level, including the record of being the first apprentice jockey to claim a Group 1 race in Singapore when he won the Longines Singapore Gold Cup aboard Cooptado in 2015 (the year he claimed his second champion apprentice jockey title after 2011), Shafiq had been on a fairly smooth magic carpet ride.
Not to mention that he had also found love and married in Singapore and was father to two kids at his new adopted home.
But at the end of 2017, he was hit with a rocket he had not seen coming – his licence was not renewed for 2018. It wasn't only his world that had come crashing, the axe also fell for three-time Singapore champion jockey Manoel Nunes, Derreck David, Oscar Chavez, John Sundradas and Syafiq Hazman.
As is often the case with such discretionary decisions from a higher authority, they were final. Stumped and shattered, but knowing he had to move on, Shafiq packed his bags and saddle in search of a new licence.
Luckily, Te Akau threw him a lifeline with a job back in New Zealand the next year, and Shafiq Rusof, as he was better known there, made a good fist of it with 34 winners in 274 rides, including two Group 1 winners and two Group 2 winners (three of them from New Zealand champion mare Melody Belle) in the famous tangerine colours, but the dream run was shortlived when he had to return to Malaysia for family reasons.
"I was very happy with my success back with Te Akau and their trainer Jamie Richards in New Zealand. I won Group races with Melody Belle (Group 1 Tarzino Trophy and Windsor Park Plate and Group 2 Foxbridge Plate) and Our Abaddean (Group 2 Travis Plate)," he said.
"But when my father got sick, I had to go back home. My wife was also not too well, but they're both okay now.
"So I decided to ride in Malaysia when I still couldn't get in Singapore. I think I rode there only once when I was based at Kranji, back in 2013; it's totally different there.
"I was riding some winners for Simon Dunderdale, Richard Lines and SY Lim (Shung You), but my heart wasn't there. Every time I went in with different hopes, and the results weren't what I'd expect.
"I was just going with the flow, and now Malaysian racing has stopped because of COVID-19 (Full Control Movement Order – FCMO from June 5). The Singapore licence couldn't have come at a better time.
"I'm really thankful to the Singapore Turf Club and its committee members for giving me a six-month licence."
Shafiq, who rode 48 winners in 438 rides across Malaysia, said fitness would not be a problem as he had been busy riding until May 30 when he booted home his last winner Mewtwo at Kuala Lumpur for Lim, son of late trainer Lim Hoon Hooi, but he said the landscape at Kranji would take a couple of weeks to get reacquainted with.
"To be honest, I've not been following Singapore racing, only lately when Hakim started riding," he said.
"I already knew him from Kelantan and also when he came up to KL. Frankie Maynard called me one morning and asked me to talk to his new boy.
"There was another apprentice Akmazani going to Singapore. At first, Hakim wasn't sure if he should go to Singapore, but I told him that riding for Mark Walker at Kranji was like winning the lottery, and we all know how well Hakim is riding now."
Ironically, the whiz kid may well be in the way when Shafiq goes knocking on the door of the three-time Singapore champion trainer for rides, but the experience of the old firm is hard to topple.
"Mark has already sent me a text to congratulate me on the licence," said Shafiq.
"I will definitely go and look for him when I start riding at Kranji. Hopefully, the work permit doesn't take too long."
A minimum of two months seems to be the practice for work permit process time these days, but with Singapore still in the throes of the pandemic, the wait might stretch even further.
Being a Singapore Permanent Resident, Shafiq will not require any entry permit as per the rules in place, but will still need to meet some pre-entry requirements like a pre-departure PCR test.
Incidentally, two of Shafiq's companions of misfortune in 2017, Nunes and David have also been relicensed. John and Chavez were reinstated in 2019 and this year, respectively.
Likewise, Troy See, whose licence was not renewed from mid-2019 through 2020, and Mark Ewe who was left out in the cold at the end of 2020, but is back for another six months along with Shafiq, are other good examples that a non-renewal is not always irreversible.