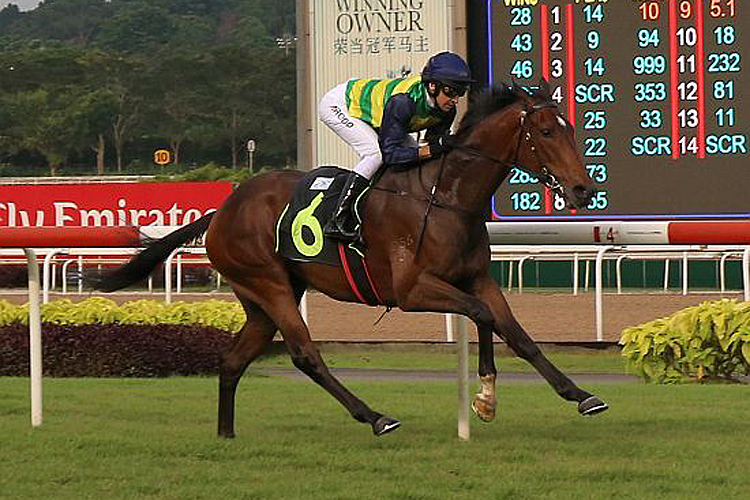 Neither is entirely new as they have already had one run for the Australian trainer, but it's still orientation time for either party (horses also need to settle into a new training system).
A stable transfer from former Kranji trainer Cliff Brown (now based in Mornington to continue his training career), Hardcore, a four-time Kranji winner from 1400m to 1800m came out for his first start under Baertschiger in a Kranji Stakes A race over 1200m on May 22, closing off for a creditable fourth to Kharisma.
On the same day three races later and with Matthew Kellady up as well, the Argentinian-bred (not a breeding abounding in Baertschiger's stable) Teller, who is, on the other hand, a brand new import for a Malaysian owner, made his Kranji debut in a Class 3 race over 1400m, finishing ninth to Savvy Command, some way off.
Their new handler had not set the bar too high from those first runs given that both need more ground on paper.
Further low-down is expected from their second-up runs this Saturday in the $70,000 Class 3 race over 1400m – still not fireworks yet, according to a realistic Baertschiger.
"Hardcore had his first run for me. He was first-up after a long time (since last-start win in a Class 3 race over 1800m in September), he had suspensory problems, not quite sure when," said Baertschiger.
"It's always a question mark how a horse will go second-up after such a long break. Besides, he's still looking for further.
"He's more of a long-distance horse. I'm looking at the Singapore Gold Cup at the end of the year – fingers crossed, his suspensory issues are behind him.
"We're also looking at a big race over more ground for Teller, the Derby. He is a three-time winner from nine starts in Argentina, including two Listed wins over 2000m and 2200m.
"At his first run three weeks ago, he was making ground, but it was too short for him."
The $400,000 Group 1 Singapore Derby (1800m) will be run first on July 25 while the $1 million Group 1 Singapore Gold Cup (2000m) is not expected until November 14.
Much water will go under the bridge until then, especially for the Singapore Gold Cup, but their next runs will be crucial in determining the path they will take.
A five-year-old by All Too Hard, Hardcore is raced by Australian owner Scott Bryce, who also moved Atlas to Baertschiger and used to own Copacabana with Brown, but Teller, a four-year-old by Heliostatic, is owned by a newcomer in town, albeit not so across the Causeway – and its familiar name of Ninetyfive Emperor has nothing to do with Charles Leck's former sprinting star.
"It's a new Malaysian owner who started off with BT (Boon Thong) Lim. They already have a few horses there, and their two best horses are White Hoof Bird, who's got six starts for five wins, and Violet, a winner of 10 races from 22 starts," said Baertschiger.
"They are checking the waters in Singapore by sending this first horse (Teller) to me."
Lim, a Singaporean trainer, better known as Johnny Lim, and based in Kuala Lumpur, wishes the new outfit well in their new Singaporean endeavour. He also trains Handsome Benz (one-time winner) and a maiden by the name of Top S for them.
"They are very enthusiastic about racing and invest in quality horses, and the results show it," he said.
"I'm not sure how they got their name, but they are not the owners who raced Ninetyfive Emperor, a horse I know well when I was in Singapore with Charles. It's just a coincidence."
Ninetyfive Emperor was a striking chestnut who won 14 races (all with former Singapore multiple-champion jockey Saimee Jumaat up) at Kranji, including a 10-in-a-row blitz, with his last victory coming in the Group 1 Lion City Cup (1200m) in 2005.