Unbeaten across his first three outings in the Far East, Manfred Man's exciting three-year-old will need to defy a hefty impost of 133lb in a hot finale against 11 opponents tomorrow night, while seven others in the race have been assigned 119lb or less.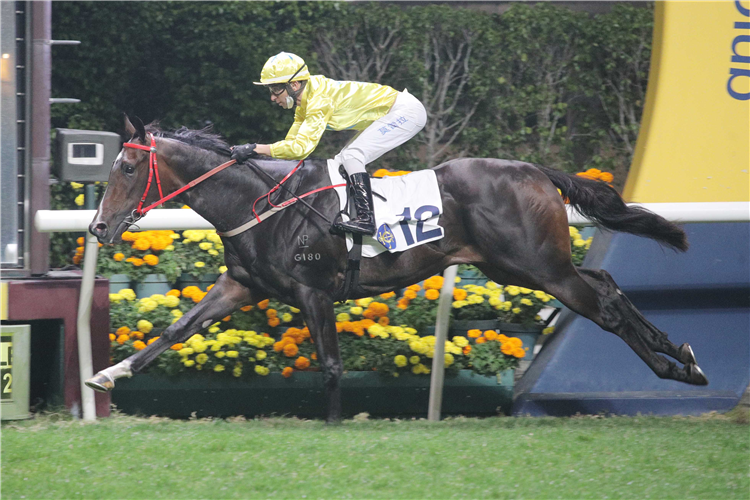 Aiming to leap into Class 2 with a fourth victory at the city circuit, jockey Zac Purton retains the ride and steps away from gate five aboard the 80-rater.
"The big weight is a concern, he's a little bit on the lighter side with his frame, so it's going to be difficult for him to carry but it will be a good contest," Purton said.
The New Zealand-bred carried 127lb to victory last start at Happy Valley, digging deep for a half-length score on yielding ground under Purton.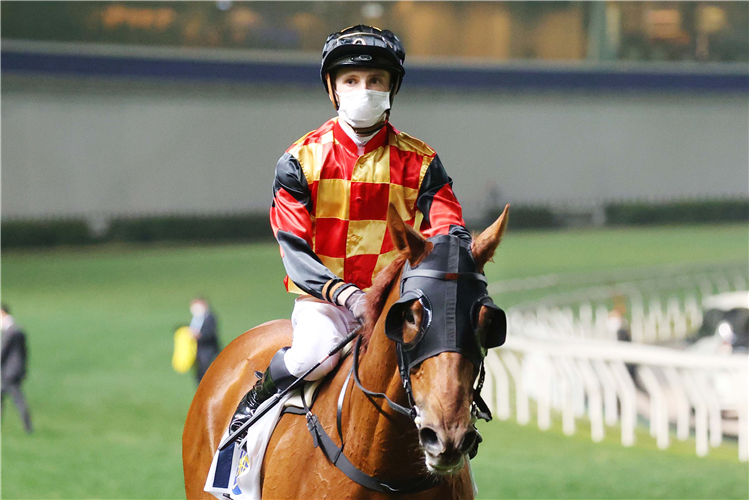 "He's done a good job so far, I just thought he made hard work of it last time. He got up outside of the leader and he wanted to over-race, then he ran off on the corner at the top of the rock and then he got on the wrong leg, lost his momentum and I had to ride him into the straight and he wandered on that corner too, he was still able to kick on but he got very tired," Purton said.
The Sweynesse gelding returns for the first time since that effort at the end of March as he bids for a hat-trick of wins in Class 3.
"He's still a work in progress and I just thought he'd had a few hard runs, he's gone up in the ratings quite quick and he's a young horse – it might have been the best thing to give him a little freshen up and let him get over that last run and go again.
"So, here we are now (following the freshen up) and if he can do everything right then of course we're a good chance again but with the big weight he's going to need to get it all right," Purton said.
Also in the race is Astrologer (133lb), Gluck Racer (126lb), Here Comes Ted (124lb), Meridian Genius (123lb), Goodluck Goodluck (118lb) and Wild West Wing (117lb).
"It's always good when they show us as much as he has early and he might even get a little bit further in time but Manfred will just take his time with him. I'm not sure if he'll run again (this season) after this race, the race tomorrow will tell us," Purton said.
Hewitson's out to extend purple patch
Lyle Hewitson has flipped the script on this season and tomorrow night (Wednesday, 11 May) at Happy Valley the South African ace is laden with chances atop a wave of momentum which includes eight wins from the last five race meetings.
Gearing up for eight rides at the city circuit with a view to enhancing his seasonal tally of 13 wins, Hewitson will continue a thriving partnership with Douglas Whyte aboard Gameplayer Times in the Class 3 Lam Tsuen River Handicap (1800m).
"He's been running really well of late and he seems to be doing well but he is overdue for a win and last time he was game in defeat, he just got a little bit flat footed on the top of the turn but he did well late," Hewitson said.
Bred and raced in Brazil, Gameplayer Times was formerly known as Glory Boy and won the G1 Presidente da Republica (1600m) at Gavea prior to import.
"We've always been of the opinion that he would get the 1800 (metres) and now he gets the opportunity to show us that," the 24-year-old said.
The pair will break from gate four against 11 others including Savvy Kingman (133lb), Tianchi Monster (132lb), Nearly Fine (119lb), Dr Winning (117lb) and Darci Joy (116lb).
"He's an easy horse, he can go forward or if there's enough speed in the race then I'm happy to take a sit as well – the fact that he's uncomplicated makes riding him a lot easier and with a nice smooth trip, I'm sure he'll be in the firing line again," Hewitson said.
Wednesday's (11 May) nine-race fixture at Happy Valley kicks off at 6.45pm with the Class 5 Tan Shan River Handicap (2200m).