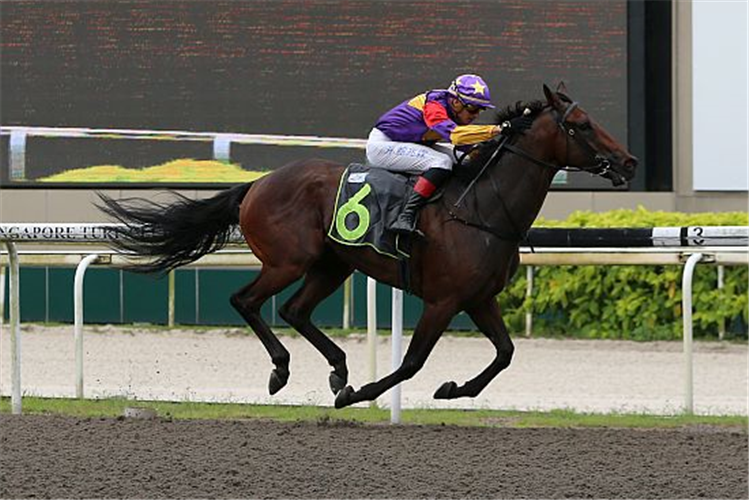 But while it was a slow burn early for this Australian-bred gelding – only a maiden win to show at his first 20 starts – the five-year-old is now gunning for a hat-trick of wins in Saturday's $50,000 Class 4 race (1600m) on the Polytrack.
His two recent wins – the latest in Class 4 - came on the back of a drought-breaking win five starts ago over 1200m (Polytrack) and with another placing to his name between those runs, we can safely say that Amore Amore is in career-best form.
The Polytrack mile – the track and trip of his last two runs and wins – has become his "one-wood" and when you consider his Class 5 victory (1600m) on March 13 was by some six-and-a-half lengths carrying 59kgs, he will have plenty of admirers to win again with 57kgs on Saturday.
So, why the sudden turnaround in form for the Champions Gallery bay?
"A change in routine did the trick," explained his trainer, James Peters, from trackwork on Tuesday.
"He was quite a difficult horse to train - always very keen – so it took a while for us to find a routine that suited him.
"Marc Lerner (jockey) rides him a lot in work and he has been a great help in finding what was best for him and the step up to the mile with blinkers off has certainly done the trick."
Peters added that a freshen-up over the December break in racing had also been a big factor in Amore Amore's revival.
"He really enjoyed the spell over Christmas and a nice trial in late December told us he was going to be in for a good preparation.
"He can disappoint though, so we were really happy when he won first-up in Class 5 but it was in a division two (race) so we weren't getting ahead of ourselves."
Sage words indeed given an unplaced turf run in a Class 5 race over 1400m followed, but a switch back to the Polytrack at his next start had him on the podium (third) and his work late over 1200m had more ground and a gear change firmly on the agenda for connections.
"We thought we could put a line through his turf run – he prefers the Poly(track) – so a mile (in the Class 5 race) with blinkers off looked a good move going forward," continued the affable Englishman.
"Marc knows him well, put him in front early and let him bowl along like he likes to do.
"We were confident he would do well but his big win (six-and-a-half lengths) was very pleasing to say the least."
A step up to Class 4 is a tough ask for any horse but with a nice sit for new race-rider, Louis-Philippe Beuzelin (Lerner could not make the 53.5kgs), Amore Amore showed he was more than up to the company with an impressive one-length win.
"He got a lovely sit that day," recalled Peters.
"But he won well, he's a happy horse so we will keep everything the same and there is no reason he won't race well again on Saturday."
Peters - who is enjoying a very good year with 12 winners at an exceptional strike rate of 18.75% (the highest of any trainer in Singapore in 2022) – was pleasantly frank in why his stable is going so well this season.
"We didn't have a great season last year (16th on the premiership, with 16 winners at 6.11%)," Peters reflected.
"So we (the stable) made a decision to reassess a few things.
"I think I was running the horses too much, sometimes in the wrong races to give them a start and when they got to the right race, they perhaps weren't 100% ready to show their best.
"We had a good break, decided to be more selective and not rushing into getting them to the races and so far, it's paid dividends."
Indeed it has and Amore Amore looks every chance on Saturday to add to Peter's impressive winning haul in 2022.
So, when a particular horse flashes by with a twinkle in his eye, "that's amore", for James Peter's growing band of followers.