Badel replaces championship-leading Moreira, who is serving a two-meeting ban for careless riding, on Running Glory, who has risen in the handicaps from a mark of 52 to 81 with four wins from 1400m to 1800m at Sha Tin.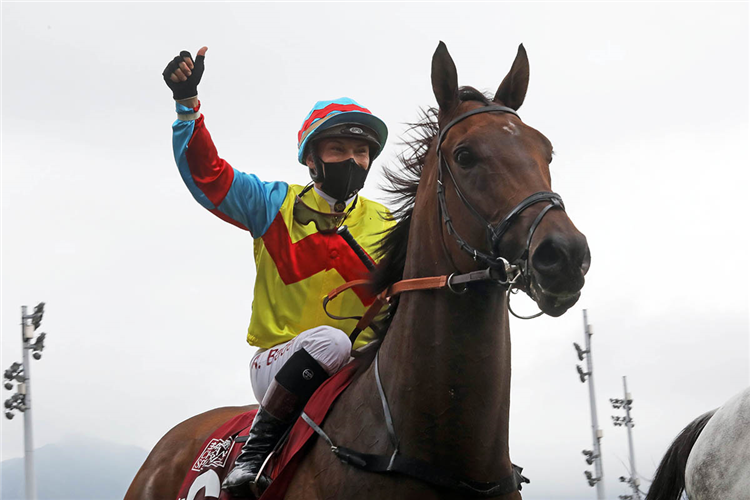 "He's on a rating of 81 and being the bottom weight (119lb) in Class 2 is always good. I think he has showed quality and consistency, so I think he is going to be running well," Badel said of the Kermadec gelding.
"It's not a big field (seven runners), so maybe it's going to be a tactical race with a sprint home. He's certainly the horse you want to be on, the horse seems to be in good form and Mr Size is always a good trainer to ride for and hopefully I can deliver."
As only the second trainer to post 1,400 wins in Hong Kong, a feat achieved with trademark modesty at Happy Valley on Wednesday night (11 May) with Seizing The Moment's victory, Size believes Badel is well suited to Running Glory .
"He's got a light weight and Alexis is one of the lightweight jockeys available. I don't think he's a difficult horse to manage, so it should be okay," the 11-time champion trainer said.
"He seems alright, he's been in good shape since the last time he raced and he seems fit and well and everything is in order with him. He trialled normally – or how you would expect him to – and he pulled up well. He should run another good race."
Trailing Frankie Lor 71-70 in this season's trainers' championship, Size was again deflective over his latest accomplishment.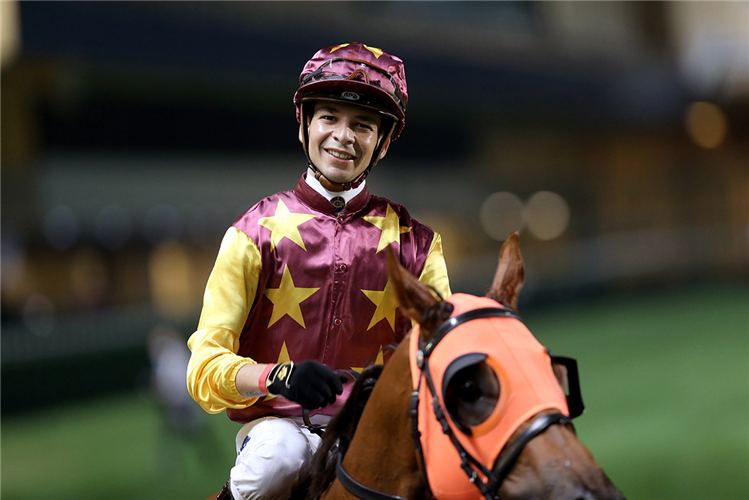 "There've been some outstanding champions in Hong Kong and I don't think I've had one of those, but just some nice horses and they've won plenty of races and I've been very fortunate to have some of the horses to train since I've been here," he said.
"Every new number or new milestone that comes up is very gratifying for that to happen. You can't deny the mathematics, the figure is there and it's there forever."
Size will present Beauty Tycoon for the first time when the unraced Australian import contests the Class 4 Dorset Handicap (1200m) under Vagner Borges.
"He's trials have been fair. He looks like he's well educated and does everything correctly and I think it's time he can go to the races and learn some more. Racing brings them onto the next level. Hopefully he's ready to acquit himself well," Size said.
"He does his work quite well. He seems to have a nice attitude and he seems very kind and gentle and he might have a nice mind for racing because of his temperament."
With 35 victories in a season illuminated by Wellington's G1 triumphs, Badel also partners Brilliant Way for Size in the Class 3 Cornwall Handicap (1200m).
"He ran OK last start, the track conditions were very special and set up for the leaders. From my outside gate (barrier 11) I needed to get some cover and the race was set up for the leaders, so the wide gate was not an advantage but hopefully on Sunday it will be different."
Zac Purton will aim to erode Moreira's five-win lead – 115-110 – when he takes the mount on David Hall-trained Solid Impact in Sunday's finale.
"He's quite a bold-going horse, he wants to get on with it. When I rode him over 1400m, he emptied out quite quickly in the straight and as we saw last time over 1200m, he kept trying all the way to the line, so I think 1200m is more suitable for him at the moment," said Purton, who also rides Woodfire Bro in the Class 4 Dorset Handicap (1200m).
"He's (Woodfire Bro) working well and I'm sure he's going to run a good race. He's moving well and he's ready to run a nice race. He's a nice horse."
Armed with a full book of 10 rides, Purton is hopeful Sauvestre can figure prominently in the Class 3 Devon Handicap (1400m).
"He's been running well all season. He ran a solid race last time and I'm sure he will again."
Sunday's (15 May) card starts with the Class 5 Somerset Handicap (1200m) at 1pm.