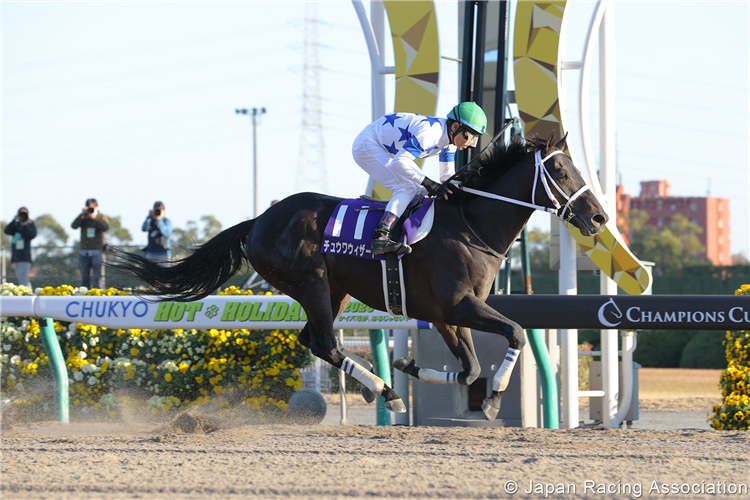 There's a slight gear change this coming Sunday, when the top racing action in Japan moves west from Tokyo to the Chukyo Racecourse near Nagoya for the Grade 1 Champions Cup. The race started out as the Japan Cup Dirt back in the year 2000, when it was run at Tokyo over 2,100 meters. After a few other changes with the venues and the distance of the race, it has been run at Chukyo over 1,800 meters since 2014, when it also got its current name, the Champions Cup.
It's an international race and makes up the final leg of the Japan Autumn International series of races. There have been 19 nominations for a maximum 16 runner field this year, and all eyes will be on the superstar filly, Sodashi, as she tries to become a Grade 1 winner on both turf and dirt. There was one horse nominated from overseas (American Theorem), but the American 4-year-old will not be among the runners.
The Grade 1 Champions Cup is a race for 3-year-olds and up, with 3-year-olds allotted a weight of 56kg, and 4-year-olds and up carry 57kg, with fillies and mares receiving a 2kg allowance. In the last ten years, only two first favorites have won the race (Le Vent Se Leve the last one in 2018), and 5-year-olds have won five times in that same time period. Horses trained at the Ritto Training Center have dominated in the past decade, taking out the race eight times. Record time for the race was set in 2019, when Chrysoberyl won in a time of 1 minute 48.5 seconds. This year's winner's check is JPY100 million (just under USD1 million), with other prize and participation incentive money down to 10th place.
Some races leading into this Sunday's big one have included a couple of JRA Grade 3 races in November, namely the Miyako Stakes over 1,800 meters at Hanshin, and the Tokyo Chunichi Sports Hai Musashino Stakes at Tokyo over 1,600 meters, as well as the JBC Classic (top-level dirt race), a race run this year at Kanazawa, also in November, over 2,100 meters.
The 22nd Grade 1 Champions Cup will be Race 11 on the Sunday card at Chukyo, with a post time locally of 15:30. The final line-up and the barrier draw will be available later in the week.
Here's a look at some of the top dirt horses expected to take on the race:
Sodashi : The 3-year-old filly by Kurofune is already something of a legend, being such a stunning looking white horse, and also proving she's a bit special on the racecourse too. This will be her first start on dirt, however, and she does have to overcome her last result, when she finished tenth in the Grade 1 Shuka Sho in October, but trainer Naosuke Sugai thinks she has what it takes here. "On her breeding, dirt races should be fine, and with the weight of 54kg she'll carry here against the older horses, she must have a good chance. Her hindquarters have rounded out more, and it looks as if she'll be suited to racing on dirt," said the trainer. It'll be Sodashi's first time to run at Chukyo, and just one of her six wins has come racing to the left.
Chuwa Wizard : The defending champion of the race has had four races since last year's victory, including two overseas. In his latest race, he finished third in the JBC Classic at Kanazawa over 2,100 meters in November, and it leads him nicely into this race again, where he defends his crown. Trainer Ryuji Okubo stated: "He was coming back from injury last time, but having taken good care with him, he was able to put in a strong race. Jockey Keita Tosaki also noted that racing from an inside gate, the dirt on the inside was quite deep and this had some effect on the horse's performance. This next race he'll be back at the track where he won last year." The jockey certainly knows the horse well, having ridden him in his last five starts, including last year's Champions Cup.
Cafe Pharoah : The 4-year-old colt by American Pharoah has an impressive record in dirt races, having won five out of his eight starts on the surface. His last race was the Grade 3 Hakodate Kinen in July, where he finished ninth, in what was his first race on turf. Back on dirt this time, he should be poised for a big run. Trainer Noriyuki Hori said, "We passed on the Sapporo Kinen after his run in the Hakodate Kinen, and gave him a break at the farm. He came back to the stable on October 9, and he's been working well since. His weight's around 519kg. He's eating well and is relaxed, showing that he's in good overall condition." Cafe Pharoah finished sixth in last year's Champions Cup, when starting second favorite.
T O Keynes : It's a 50% win strike rate for the 4-year-old colt. He was having his first run in a while in the JBC Classic last time since winning the Teio Sho at Oi back in June. He finished fourth in that last race, and trainer Daisuke Takayanagi believes he's better than that result suggests. "It was his first race for a while last time, and he wasn't very good at the gate. That and a muddling pace didn't make for a good race for him, although he still ran quite well. He seems more relaxed now and he'll be back at Chukyo where he's shown he can win," said the trainer recently. The horse by Sinister Minister looks set to be ridden by jockey Kohei Matsuyama.
Casino Fountain : The Funabashi based NAR runner has only ever run in NAR races, but with 23 races in his career, he has won 12 times and racked up prize money of over JPY200 million on the NAR circuit. Trainer Takayuki Yamashita commented: "He was quite worked up in the preliminaries last time before the JBC Classic, and it seemed to cost him the race. Also racing right-handed, he didn't respond too well and couldn't keep things up until the finish. He's come out of the race well though and isn't tired at all." Jockey Mirco Demuro has been booked to ride the 5-year-old by Casino Drive, in a bold bid to hit the big time here.
Inti : Now a 7-year-old, Inti is always an interesting horse to watch, and has finished third in the Champions Cup for the past two years. Once again trainer Kenji Nonaka and jockey Yutaka Take team up for another effort to pull off a win in the race. The horse is coming off a fourth place finish in the Mile Championship Nambu Hai over 1,600 meters at Morioka in October, making it the same rotation as last year going into this race. "It was one of his smoothest ever runs last time, and while not perfect in the finish, he used his legs well. He's had a short break at the farm, with this race as his next target," said trainer Nonaka.
Sunrise Hope : The 4-year-old by Majestic Warrior is an interesting runner here, having finished first or second in four of his last five starts, which include a win in his most recent race, the Grade 3 Sirius Stakes over 1,900 meters at Chukyo in October. Trainer Tomohiko Hatsuki is pleased with the horse's progress. "Two starts ago he wasn't suited by the tight Kokura track, but back at where he's had success last time, he ran a smooth race, got a good forward position and managed to go on and win. After that I've had this race in mind for him," said the trainer recently. Jockey Hideaki Miyuki, who caused a big upset in the recent Queen Elizabeth II Cup, will once again ride Sunrise Hope.
Meisho Hario : The famous Meisho colors will be carried by the 4-year-old colt by Pyro, and he has now managed to finish in the first two in his last four races, including a narrow win in his latest race, the Grade 3 Miyako Stakes over 1,800 meters at Hanshin in November. Recent comments from assistant training staff at the stable were: "He was challenged late in his last race by the horse on the outside that eventually finished second, but he found a bit extra, so it was a good performance to get the win. He's come out of the race very well."