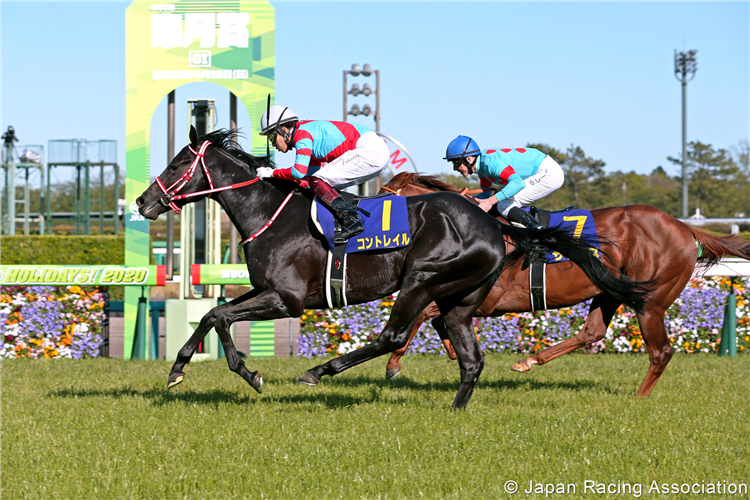 It's the first colts' Classic of the year in Japan this coming Sunday (April 18), when Nakayama Racecourse hosts the Grade 1 Satsuki Sho (Japanese 2000 Guineas), following on from the fillies last Sunday. The race is run over 2,000 meters on the inner turf track at Nakayama, and with the start in the homestraight, runners have to take on the four corners of the fairly tight oval, proving power and agility are required in equal measure.
The race got its current name in 1943, when it was first run at Tokyo (it was previously run at Yokohama), and it was switched to Nakayama in 1949, with the distance of 2,000 meters being established in 1950.The race is for 3-year-old colts, excluding geldings, and all runners carry the set weight of 57kg. There have been 18 nominations for a maximum 18 runner lineup in this year's race. Since 2005, eight Satsuki Sho winners have gone on to win the JRA Best Three-Year-Old Colt Award, and 24 winners of the race have gone on to win the Grade 1 Tokyo Yushun (Japanese Derby).
Some races leading into this year's Satsuki Sho (Japanese 2000 Guineas) have included the Grade 3 Kisaragi Sho (NHK Sho) run over 2,000 meters at Chukyo in February, the Grade 2 Fuji TV Sho Spring Stakes, run over 1,800 meters at Nakayama in March, and the Grade 2 Hochi Hai Yayoi Sho Deep Impact Kinen, run over 2,000 meters also at Nakayama in March. The latter two are both official trial races for the Satsuki Sho (Japanese 2000 Guineas). The big race this week is worth JPY110 million (approximately USD 1 million) to the winner. Favorites have won just three times in the past decade, with Contrail being the latest one last year, on his way to becoming Japan's eighth Triple Crown winner. Record time for the race is held by Al Ain, who won in a time of 1 minute 57.8 seconds in 2017.
The 81st running of the Grade 1 Satsuki Sho (Japanese 2000 Guineas) will be Race 11 on Sunday's Nakayama card, with a post time locally of 15:40. The final lineup and barrier draw will come out later in the week.
Here's a brief introduction to some of this year's 3-year-old colts expected to take on the race:
Danon The Kid : Last year's Grade 1 Hopeful Stakes winner took on his first race as a 3-year-old in the Grade 2 Hochi Hai Yayoi Sho Deep Impact Kinen over 2,000 meters at Nakayama in March, where he lost his unbeaten record and had to settle for a third-place finish. Trainer Takayuki Yasuda isn't too worried about the colt's performance in his first race of the year. "It was a slow pace last time, but he was a bit more patient than he was in the Hopeful Stakes. I thought he actually ran quite well, and he did have the fastest closing three-furlong time in the race," said the trainer recently.
Efforia : The Northern Farm bred colt by Epiphaneia could well be the one to beat this Sunday, as he remains unbeaten going into the race. Two of his three wins have come over 2,000 meters, and he won very cleverly last time by over two lengths in the Grade 3 Kyoto News Hai (Tokinominoru Kinen) over 1,800 meters at Tokyo in February. Trainer Yuichi Shikato commented: "He ran very smoothly last time in what was a perfect race for him. He's had his usual break at Northern Farm Tenei and he came back to the stable on March 25. He's certainly full of himself and has been working well." Young jockey Takeshi Yokoyama will be looking for his first Grade 1 victory aboard Efforia.
Titleholder : A fairly reasonable purchase at the 2018 Select Sale, Titleholder won on his debut over 1,800 meters at Nakayama as a 2-year-old, and he managed to get his revenge on Danon the Kid last time, having been beaten by the latter in the Grade 1 Hopeful Stakes last year. His trainer Toru Kurita said, "He returned from the farm on March 26 and he looks well in his coat. It hasn't been very long since his last race, so getting him ready for this one shouldn't prove difficult at all." Titleholder is by Duramente, winner of the Satsuki Sho in 2015.
Gratias : The unbeaten colt by Heart's Cry is a half-brother to Resistencia, and is already paying back some of his hefty purchase money, as well as coming off a good win in the Grade 3 Keisei Hai over the Satsuki Sho course and distance in January. Trainer Yukihiro Kato said, "He ran calmly last time from the first corner onwards, and things went smoothly for him. It won't be easy this next time, but I want him to show his best again." Gratias will be Mirco Demuro's mount, and he'll be riding the horse for the first time in a bid to bring up his 33rd JRA Grade 1 success.
Deep Monster : As the name suggests, he's by Deep Impact, and he hails from the stable of trainer Yasutoshi Ikee. The colt has three wins from his four career starts, and the latest victory came in the Listed Sumire Stakes over 2,200 meters at Hanshin in February. He was a very short priced favorite for that race, and had to overcome a slight mishap just before the start. "He had to have a shoe replaced just before the off last time, but he remained calm and focused, and went on to run well after that," commented assistant trainer Tatsuhiko Kawai. With jockey Yutaka Take still sidelined through injury, Keita Tosaki picks up the ride.
Admire Hadar : With Orthoclase now pulling out of the race, Admire Hadar becomes the Satsuki Sho ride for leading jockey Christophe Lemaire. The Lord Kanaloa colt has only been unplaced once from four races, and has won his last two starts, the latest of which was the Listed Wakaba Stakes over 2,000 meters at Hanshin in March. Assistant trainer Taketoshi Yamaguchi said, "Early in his career, he was a bit loose and his breathing was not so good, so we've taken care with him. After his last win, however, he was quick to recover and he's coming along well."
Lagom : It'll be the first time for the Orfevre colt to take on the Nakayama track, but the chestnut colt has never finished out of the first two, and ran out a narrow winner last time in the Grade 3 Kisaragi Sho (NHK Sho) over 2,000 meters at Chukyo in February. "He was always well forward in the Kisaragi Sho, but he showed what ability he has by going on to win. I can take a lot from that, and think he'll be able to run well in a Grade 1," said trainer Takashi Saito.
Victipharus : Another colt by Heart's Cry, Victipharus finished second to Efforia in his first race of the year, starting a 40/1 shot for that race. No such odds were available last time when he landed the Grade 2 Fuji TV Sho Spring Stakes over 1,800 meters at Nakayama in March, winning narrowly, but getting the job done on a yielding track. Trainer Manabu Ikezoe commented: "At the entrance to the homestraight last time, he had to go wide, but it didn't prevent him from running on well to win in the end. It was a strong run, particularly considering the ground."