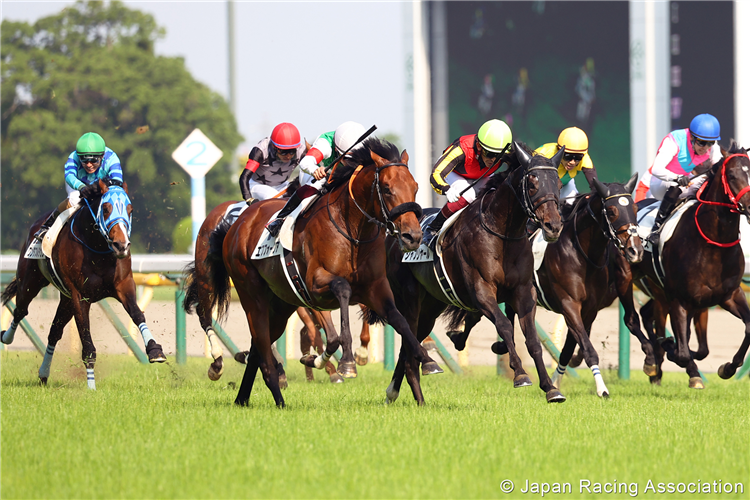 Fourth favorite Shahryar demonstrated terrific late speed to renew the race record by 0.1 second, claiming his first G1 victory in the Tokyo Yushun (Japanese Derby). A full brother to 2017 Satsuki Sho (Japanese 2000 Guineas) victor Al Ain, Shahryar won his only start as a two-year-old in October last year and was third to Efforia in the Kyodo News Hai in February then came off his first grade-race victory which was in record time in the Mainichi Hai (G3, 1,800m) on March 27. He becomes the seventh Derby winner for sire Deep Impact after Deep Brillante (2012), Kizuna (2013), Makahiki (2016), Wagnerian (2018), Roger Barows (2019) and Contrail (2020). Trainer Hideaki Fujiwara captured his 11th JRA-G1 title—his last victory was with Mr. Melody in the 2019 Takamatsunomiya Kinen—and second Derby title after Eishin Flash in 2010. Jockey Yuichi Fukunaga won his first G1 win since May in the Tenno Sho (Spring) with Word Premiere and 30th overall. This was his third Derby title which he also won with Wagnerian and Contrail.
Shahryar broke smoothly under Yuichi Fukunaga who guided the Deep Impact colt gradually to the inside and edged nearer to the race favorite, already tailing that foe entering the backstretch in mid division behind a moderate pace set by Bathrat Leon. As the field moved closer approaching the final corner, Shahryar found himself caught behind horses as Fukunaga tried to switch the colt to the outside entering the stretch while Efforia who waited in the inside had no trouble shifting out just before the 400-meter pole and was already looking well on his way to capturing another Classic victory. Shahryar however, turned in a terrific turn of speed as soon as he was freed from traffic, engaging in a duel with Efforia in the last 100 meter and claiming his first G1 title in just his fourth career start.
"It's so great to have won the Derby which I had made it my target with this colt ever since his debut. We were keeping an eye on the race favorite but the race didn't go as smoothly as planned and we were in a tight spot so we were forced to make our charge late, but this colt really gave a terrific effort," commented Yuichi Fukunaga.
Efforia took advantage of the inside draw and chased the leader in around third up to the backstretch then eventually allowed to settle around fifth or sixth along the rails. Jockey Takeshi Yokoyama waited patiently until an opening presented itself soon after entering the stretch where he guided the Epiphaneia colt out to the center lane. The Satsuki Sho victor responded and increased his speed, assuming command in the last 200 meters where he was soon joined by the eventual winner. Although maintaining his bid right up to the finish line, his winning streak was put to a stop and was denied his second Triple Crown title by a nose margin.
Stella Veloce
was well behind early around third or fourth from the rear and gradually made headway along the last two corners while having to make up ground on the outside. Shifting further out to avoid traffic after entering the straight, the Bago colt loomed to contention from where he still had ten or so rivals in front with 200 meters to go, grabbing the place in the last minute by a nose.
Other Horses:
4th: (13) Great Magician - sat around 13th, accelerated for 3rd, overtaken by Stella Veloce before
wire
5th: (16) Satono Reinas - gradually advanced to 2nd, fought well to lead, weakened in last 100m
6th: (14) Titleholder - tracked leader in 2nd, angled out at early stretch, showed effort until
100m out
7th: (8) Yoho Lake - ran around 9th, struggled to find clear path until 200m pole, quickened
thereafter
8th: (7) Gratias - advanced to 2nd by 2nd corner, led briefly after 400 marker, weakened in last
200m
9th: (6) Baji O - saved ground around 5th, gradually fell back, showed effort until 100m out
10th: (12) Wonderful Town - ran 3-wide around 10th outside eventual winner, lacked needed kick
11th: (4) Red Genesis - trailed in far rear, showed effort along rails up to 200m pole, weakened
thereafter
12th: (9) Lagom - settled 3-wide around 10th, met traffic briefly at top of stretch, even paced
13th: (3) Time to Heaven - took economic trip around 10th, angled out, never fired
14th: (2) Victipharus - chased pace around 3rd, in contention until 300m out, faded
15th: (17) Bathrat Leon - set pace and sustained lead until 400m pole, ran out of steam
16th: (5) Deep Monster - raced 3-wide around 13th, advanced to 4th in backstretch, outrun
17th: (15) Admire Hadar - traveled in 16th, made headway to 4th in backstretch, unable to
respond