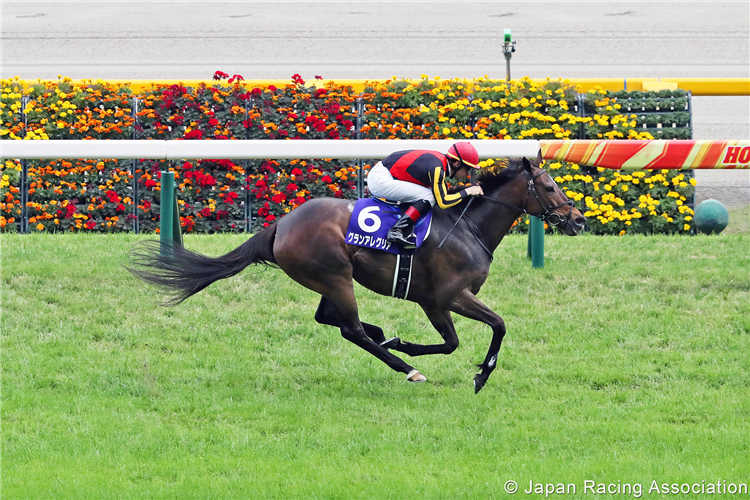 Eyeing consecutive wins in this weekend's eight-furlong test, Gran Alegria still figured colourfully in Thursday's (18 November) headlines following her final piece of fast work the previous day, while her top rival, Schnell Meister, definitely boasted more coverage.
"I expected to put an assistant up for the final workout this week," said Takahisa Tezuka, trainer of the German-bred three-year-old colt. "But, Tuesday I got a call from Takeshi Yokoyama asking if he could ride again this week."
The 22-year-old Yokoyama, who has pocketed three G1s this year, piloted Schnell Meister's winning debut at Sapporo in September, 2020 as well as this year's G1 Yasuda Kinen (1600m), where he finished third less than a month after winning the G1 NHK Mile Cup (1600m). That race and Schnell Meister's three other starts were ridden by Christophe Lemaire, who pairs with Gran Alegria in Sunday's Mile Championship.
Schnell Meister returned last month to capture the G2 Mainichi Okan (1800m) at Tokyo with a blistering final 600m time of 33s flat. On Wednesday (17 November), the Kingman-sired bay colt shone, working in tandem with the three-win, three-year-old Albilla, whom he easily overtook with no urging from Yokoyama. He clocked 1m 09.4s over 1000 metres on the Miho woodchip, with an 11.7s final lap.
"Last week his work was fantastic (1000 metres in 1m 06.8s with an 11.2s final lap) but I pushed him hard then and this week he is so much lighter on his feet!"
"I knew from the start that he was a very clever colt who was easy to ride. He has really improved from the Yasuda Kinen," exclaimed Yokoyama.
"I am so excited to be able to ride a horse like this," gushed Yokoyama, with youthful exuberance that belied the fact he has won three big races this year alone – the G1 Satsuki Sho (2000m) and the G1 Tenno Sho Autumn (2000m) with Efforia and the G1 Kikuka Sho (3000m) aboard Titleholder.
Schnell Meister has one win from two starts at Nakayama, a course often likened to Hanshin, but he will race at the latter for the first time. It will also be the first time to make the long trip west from his eastern base at Miho.
Also at Miho and still very much in a starring role, the five-year-old Deep Impact-sired Gran Alegria worked Wednesday, not under Lemaire but under stable jockey Makoto Sugihara. Gunning for her sixth G1, the mare worked on the Miho woodchip flat course and started some five lengths behind partner Leyenda, a six-year-old gelding and G3 winner. Moving inside as she turned into the stretch and with no signal from her rider, Gran Alegria shifted gears and with a decisive burst of power overtook her partner to finish a length and a half ahead, eliciting a blithe "The human doesn't have to do anything. She moves all on her own," from trainer Kazuo Fujisawa.
"It was largely a breeze but I think she's in good shape," Fujisawa said. Gran Alegria's time over the 1200 metres was 1m 20.3s, with the final 600 metres in 37.6s, the last lap time in 12.1s.
Coming off a third in the G1 Tenno Sho Autumn (2000m) at Tokyo on 31 October, Gran Alegria will have only three full weeks between races. She too has the long trip west to the Hanshin venue.
"There were no problems and her prep went smoothly. She won here last year and she's strong over the Hanshin 1600 (metres) so I'm hoping she'll try hard." Fujisawa holds a record five wins in the Mile Championship and, set for retirement at the end of February, this will be his last chance to make it six.
Fujisawa hasn't given up yet. "I don't have a next year, so I'm telling the horse and the staff 'Do your best!'"