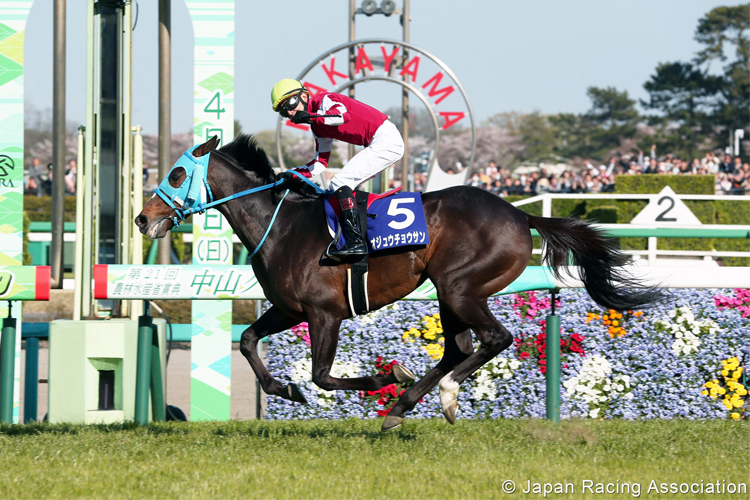 Overwhelming favorite Oju Chosan renewed Karasi's 2005-2007 record and claimed his fourth back-to-back Nakayama Grand Jump victory. This marks his 11th consecutive graded steeplechase win, and sixth J-G1 triumph which include two Nakayama Daishogai titles. Following his 2018 Nakayama Grand Jump victory, the son of Stay Gold was briefly switched to flat racing where he marked two wins out of three starts and finished ninth in the year-end Arima Kinen. Sent back to challenge the jumps, he kicked off this season in good form immediately claiming the Hanshin Spring Jump win. Oju Chosan has given trainer Shoichiro Wada all of his six J-G1 titles and jockey Shinichi Ishigami, who grabbed an additional one in the Nakayama Daishogai with Nihonpiro Baron last year, now celebrates his seventh.
The eleven-horse field broke evenly before Miyaji Taiga took the lead after the first jump (obstacle no. 5), followed by Meiner Prompt in second and Oju Chosan in third. Challenged by Nihonpiro Baron from the outside coming out of the first dip, Oju Chosan swiftly advanced to threaten the leader before the brush fence (no. 6) but settled in second and eventually behind Nihonpiro Baron in third at the sixth jump (no.5). As the three climbed out of the dip together and cleared the seventh jump (grand hedge no.7) side by side, Miyaji Taiga once again paved the way but was caught in the backstretch and was through while Oju Chosan approached the 11th jump (no.9) next to Thinking Dancer in front of the others. The heavy favorite saved ground rounding the final turn and held off the challenge from the eventual runner-up to secure his fourth title by a good 2-1/2-length margin.
"The pressure from the other runners during the run was enormous—this was definitely the toughest race I've ever experienced. Besides one, we cleared all of the jumps well and he stretched to the line beautifully. I had no doubts about his strength and it's a real joy to win four in a row," commented Shinichi Ishigami after the ceremony.
Thinking Dancer was settled in around sixth and mid-pack most of the journey, made headway after the 10th jump (no.8) and caught up with the eventual winner at the 11th obstacle (no.9). Although the sixth-pick chestnut was no match against the defending champion despite a good challenge up to the final jump (no.10), Thinking Dancer showed good stayer talent clearing the wire seven lengths ahead of the next finisher.
Fourth favorite Meiner Prompt tracked the leaders in second, then fourth near the pace and dropped back a bit after the seventh jump (no.7). However, after clearing the final jump in fifth, the seven-year-old gelding emerged with another gear and overtook two tiring runners down the stretch for third.

Other Horses :
4th: (6) Rapid Ship - traveled around 8th, gradually advanced after 7th jump (no.7), responded well after final
jump (no.10)
5th: (10) Taisei Dream - settled in 5th, made headway to close in on leaders after 10th jump (no.8), weakened
after final jump (no.10)
6th: (1) Nihonpiro Baron - raced behind Oju Chosan, advanced to 2nd after 5th jump (no.6), gradually fell back
after 7th jump (no.7)
7th: (8) Le Pere Noel - raced around 8th, unable to reach contention
8th: (2) Miyaji Taiga - set pace, faded after 10th jump (no.8)
9th: (11) Yamanin Sylphe - sat 3rd form rear, no factor
FF: (7) Toa Tsukihikari - trailed in rear throughout, unseated rider after final jump (no.10)
FF: (9) Shigeru Boss Zaru - ran 2nd from rear throughout, unseated rider after final jump (no.10)