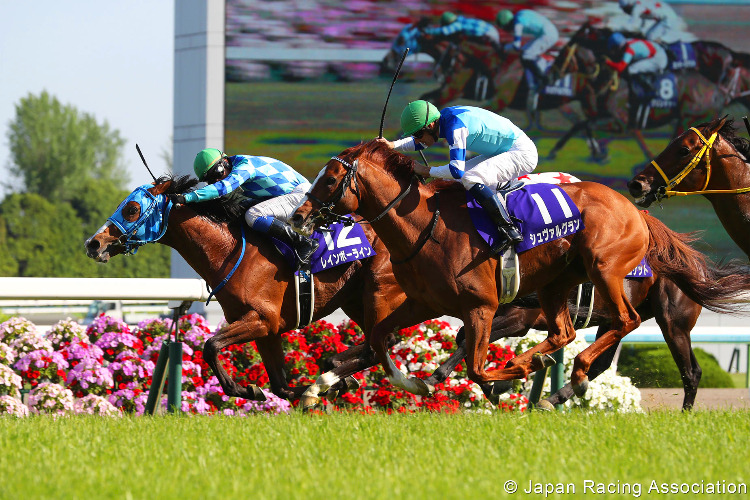 As the dawn of a new era approaches in Japan, the racing run in honor of the Emperor will take place on Sunday, April 28 at Kyoto Racecourse, located just south of the city of Kyoto. Kicking off the Golden Week holiday this year, the Emperor's Cup (Tenno Sho) is expected to draw big crowds once again to witness one of Japan's most historic races. Run twice a year in spring and autumn, this week's race will mark the 80th running of the spring showpiece, while being the 159th overall, when including the autumn Emperor's Cup races.
The race is for 4-year-olds and up, and is run over 3,200 meters on the outer turf course, providing a real stamina test for the runners. The applause that accompanies the horses the first time they pass the packed stands is one of the great moments in Japanese horseracing. This year's Grade 1 Tenno Sho (Spring) has attracted 15 nominations, and with no fillies or mares nominated, all horses will carry the set weight of 58kg. There are five 4-year-olds and five 6-year-olds among the entered horses, although 5-year-olds have won four times in the last 10 years. During that same period, second favorites have won the race five times, with the top market leader only having won once.
Lead up races to this year's Tenno Sho (Spring) have included the Grade 2 Nikkei Shinshun Hai run over 2,400 meters at Kyoto in January, the Grade 2 Nikkei Sho run over 2,500 meters at Nakayama, and the Grade 2 Hanshin Daishoten run over 3,000 meters at Hanshin, the latter two races both being run in March. As to be expected with such a prestigious race, total prize money amounts to JPY325 million, with JPY150 million going to the winner. The last seven years, the race has been run on firm ground, and the great Kitasan Black holds the record time, when he won in 2017 (following up his win in 2016) in a time of 3 minutes, 12.5 seconds. Jockey Yutaka Take has won the Tenno Sho (Spring) an incredible eight times, but for this race he will be away on his overseas travels again, riding in Hong Kong.
The big race will be Race 11 on the card at Kyoto on Sunday, with a post time of 15:40 local time. Final declarations and barrier draw will be announced later in the week. Here's a look at some of the top stayers expected to be in the lineup :
Fierement : The 4-year-old colt by Deep Impact is last year's Grade 1 Kikuka Sho (Japanese St. Leger) winner. That race was run over 3,000 meters at Kyoto, showing the horse's ability over a distance at the track. In just one race this year, he was beaten into second in the Grade 2 American Jockey Club Cup over 2,200 meters at Nakayama. His race jockey will be Christophe Lemaire, whose recent win on Saturnalia in the Grade 1 Satsuki Sho (Japanese 2000 Guineas) now means he has won every Classic race in Japan. Fierement is trained by Takahisa Tezuka. "After his last race, he was back at the stable and had a slight fever. In work after that he was good, although not quite finishing off so well because of his condition. He's since had a break at Northern Farm Tenei, and after returning, his training on April 10 was fine. He picked up speed well and moved without any problems," the trainer said.
Etario : Last year's Grade 1 Kikuka Sho (Japanese St. Leger) runner-up can be considered a little unlucky, having finished second in seven of his 10 career races. Sure enough, last time he finished second in the Grade 2 Nikkei Sho over 2,500 meters at Nakayama in March, his only race so far this year. He's never been out of the first two in three starts at Kyoto. Mirco Demuro has ridden the 4-year-old in his last three races, and will be hoping he can give him his first Grade 1 of the year. Trainer Yasuo Tomomichi commented: "Last time in the Nikkei Sho he took the bit from the start and ran well. Since that run, we've changed his blinkers to a lighter type and he's worked well in training, not showing any problem and running powerfully."
Meisho Tekkon : The Manhattan Cafe 4-year-old blew his opponents away last time when leading all the way to win the Grade 2 Nikkei Sho at Nakayama in March, carrying 55kg. He's five wins from 11 starts, and even though he'll have to carry an extra 3kg, as well as having a mixed track record at Kyoto, he remains a definite contender. The horse is trained by Yoshitada Takahashi, who found Grade 1 success with Fine Needle. Of Meisho Tekkon, the trainer said: "Since the start of the year he's become better, and the Nikkei Sho was the plan for him, and he was able to improve enough and get a result in that race. His back has gotten stronger and he seems a lot more mature now."
Glory Vase : The 4-year-old colt by Deep Impact has just had seven starts and has won three times and finished second twice. He was fifth in last year's Grade 1 Kikuka Sho (Japanese St. Leger), and he won his only race this year, the Grade 2 Nikkei Shinshun Hai over 2,400 meters at Kyoto. He is trained by Tomohito Ozeki. "There was some tiredness after his last race, so we've taken care with him and we've waited for this race next. He looks good and moves well, and demonstrated this in a piece of work on April 11," the trainer said.
Kafuji Prince : The 6-year-old has finished third and second in his last two races, the latest being the Grade 2 Hanshin Daishoten over 3,000 meters at Hanshin in March. Despite missing the whole of 2018 with leg problems, the son of Heart's Cry looks to have returned to form after his latest big race finish. Trained by Yoshito Yahagi, assistant trainer Takahide Ando said, "He really did well in his last race and he's had a break at the farm since. He returned to the stable on April 6, and he seems fine, with everything going according to plan so far."
You Can Smile : Followers of the 4-year-old colt would certainly have been smiling after his last race, when he ran out a comfortable winner of the Grade 3 Diamond Stakes over 3,400 meters at Tokyo in February. His last three races have been over 3,000 meters or longer, and he certainly seems like a horse that can see out the longer distances. He is another runner from the stable of trainer Yasuo Tomomichi. Even though You Can Smile will have to carry an extra 4kg this time, jockey Yasunari Iwata, who rode him for the first time in his last race, will be hoping he can provide him with another Tenno Sho victory, after his win last year aboard Rainbow Line.
Clincher
: The 5-year-old by
Deep Sky
will be taking on his 7th Grade 1 race this time, and while he's never actually pulled off a win at the very highest level, his record at Kyoto is certainly one to note, having never finished out of the first three at the track, including his second in the Grade 1 Kikuka Sho (Japanese St. Leger) in 2017, and his third place finish in the Tenno Sho (Spring) last year. His big race rider will be Kosei Miura.