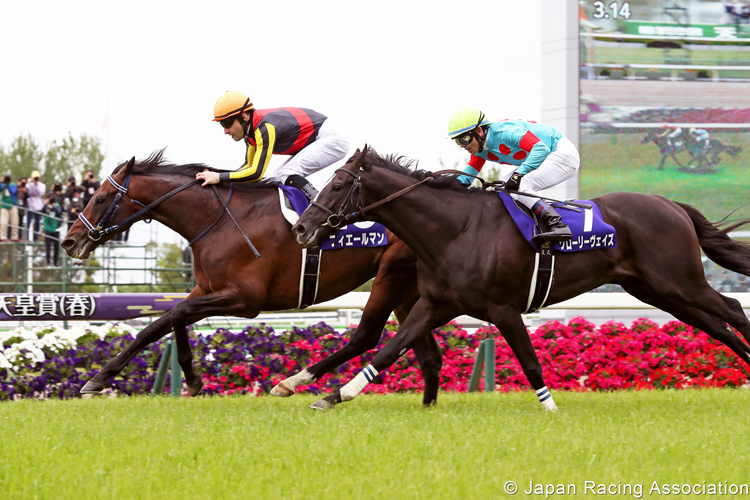 Fierement successfully captured this year's Tenno Sho (Spring) title as race favorite in only his sixth career start, the shortest in JRA history, to mark his second JRA-G1 victory after his three-year-old classics, the Kikuka Sho (Japanese St. Leger, G1, 3,000m) after which he was given the rest of the season off to prepare for his four-year-old campaign. The Deep Impact colt had come off a runner-up effort in the American Jockey Club Cup (G2, 2,200m) in January and stamped his claim as a first class stayer with another G1 victory over long distance at the highest level. Trainer Takahisa Tezuka claimed his fifth JRA-G1 title—the latest being the Kikuka Sho last year with Fierement. Jockey Christophe Lemaire won his 25th JRA-G1 title—his last being the Satsuki Sho (Japanese 2000 Guineas) with Saturnalia just two weeks ago—and became only the third jockey to have claimed all eight of JRA's major G1 titles (Satsuki Sho, Tokyo Yushun [Japanese Derby], Kikuka Sho, Oka Sho [Japanese 1000 Guineas], Yushun Himba [Japanese Oaks], Arima Kinen, Tenno Sho [Spring], Tenno Sho [Autumn]) after Takayoshi Yasuda and Yutaka Take.
Fierement broke smoothly but was unhurried and rated off the rails among the latter half of the 13-horse field for the early part of the 3,200-meter race behind a brisk pace set by Vosges, and moved a little further up to about seventh from the leader in front of the grandstand the first time around while still maintaining a relaxed rhythm. Making an early move approaching the last two corners, the Kikuka Sho victor took command soon after the 600-meter pole with Glory Vase breathing down his neck on his outside and the two horses continued their duel along the homestretch as they ran clear from the rest of the field. The son of Deep Impact, however, refused to surrender up to the wire, kept his nose stretched forward and finished a neck in front.
"It was a tough race to win but Fierement really showed his strength when we were challenged by Keita Tosaki's mount on the outside. He was able to relax early on which is important in a long-distance race like this. He wanted to go in the last two corners so I let him go and although the ground got slippery under him at the last corner, he was able to regain his balance and increase his speed at the straight. He's improving with every race and certainly proved he's of G1 quality with this win," commented Christophe Lemaire.
Glory Vase saved ground in mid-division about a length in front of Fierement. While overtaken by that rival after the first 1,000 meters, the four-year-old son of Deep Impact kept within close watch and stalked the eventual winner all the way to the homestretch before engaging in a fierce duel just missing by a neck for second.
Perform A Promise was rated further up in mid-pack around fifth or sixth, got a little keen in the backstretch but relaxed as the field started to increase the flow and showed good speed to duel for third with Etario who came with great force from racing way back early and outran that rival for the share while no match for the first two finishers.

Other Horses :
4th: (2) Etario - trailed in far rear, advanced after 1,000m pole, dueled with Perform a Promise at stretch,
weakened in last 100m
5th: (9) You Can - Smile ran 3rd to 4th from rear, angled out, passed tired rivals
6th: (1) Chestnut Coat - saved ground in 5th, failed to respond at stretch
7th: (6) Kafuji Prince - raced in 4th, ran gamely until 300m pole, weakened thereafter
8th: (3) Ridge Man - traveled 3rd to 4th from rear, lacked needed kick
9th: (11) Kento O - sat 2nd from rear, circled wide to lane, unable to reach contention
10th: (12) Clincher - hugged rails around 8th, never fired at stretch
11th: (5) Meisho Tekkon - chased leaders in 3rd, led briefly before final corner, dropped back at stretch
12th: (13) Lord Vent d'Or - tracked leader in 2nd, outrun after 3rd corner (2nd lap)
FF: (4) Vosges set pace, faded after 3rd corner (2nd lap), pulled up lame and diagnosed to have sustained a
partial rupture in his right fore superficial flexor tendon