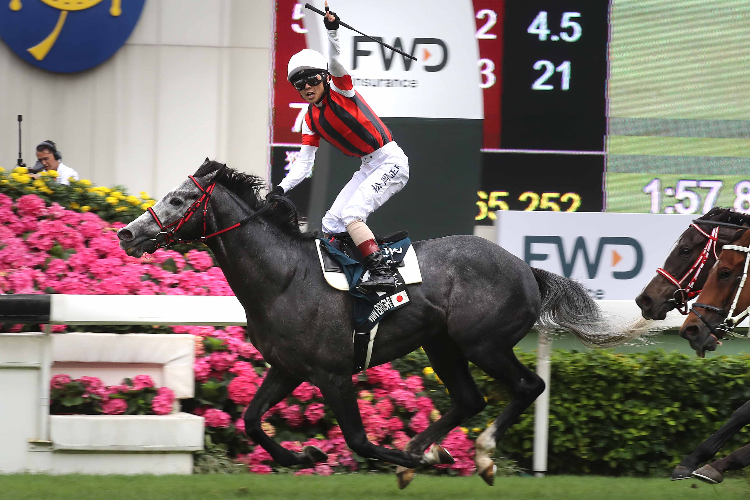 Win Bright made his first trip overseas one he will never forget as trainer Yoshihiro Hatakeyama's 5-year-old produced a record-breaking victory in the HK$24 million FWD QEII Cup on Sunday at Sha Tin Racecourse in Hong Kong.
Win Bright became the first horse to run the 2,000 meters at Sha Tin in under 1 minute, 59 seconds, clocking a winning time of 1:58.81 on good going under Masami Matsuoka, who also won his first Grade 1 race abroad.
Matsuoka, who has been in the saddle for all but one of Win Bright's 18 starts, was over the moon after holding off star Hong Kong stayer and betting favorite Exultant by three-quarters of a length as the tenth pick. Win Bright followed in the footsteps of his sire Stay Gold in capturing Hong Kong glory – Stay Gold won the 2001 Hong Kong Vase.
"We didn't get off to a good start but we still managed to travel in the position we wanted to and everything worked out in the end," said Matsuoka, who ended a personal G1 dry spell of 10 years, his last top-level triumph coming in the 2009 Tenno Sho (Spring). "It turned out to be a fabulous day."
Win Bright – out of the Admire Cozzene dam Summer Eternity – was joined on the podium by Japanese compatriot and Yoshito Yahagi-trained Lys Gracieux, who came in a narrow third behind Exultant. A third Japanese entry in the field of 13, Deirdre, placed sixth in the hands of superstar Yutaka Take.
The Lys Gracieux and Deirdre camps hailed Win Bright for the feat. Five-year-old Lys Gracieux's trainer Yoshito Yahagi felt the race was there for the taking after the mare finished second to Exultant in last season's Hong Kong Vase, but the afternoon belonged to Matsuoka's grey partner.
"I'm extremely disappointed," Yahagi said of Lys Gracieux, who went off as the second choice. "You always have your share of headaches when you have to prepare for a race overseas but things were running like clockwork this time and I really thought it was ours to win."
"But I want to congratulate Win Bright for winning the race for Team Japan; he did us proud."
Added Lys Gracieux's jockey Oisin Murphy, "My horse ran very well. You just have to tip your hat to the winner; he was the best horse on the day." "I'm thrilled with her, I was very happy during the race and I thought I had a good run off the back of Dark Dream, when I switched out in the straight I thought she might be good enough to win," he was also quoted as saying by the Hong Kong Jockey Club. "Fair play to the other Japanese horse, Matsuoka saved ground the whole way and the horse was too good on the day. Hopefully one day she'll get an elusive win here, but what a tough and consistent mare!"
The 50-year-old Take was plotting glory with first-time partner Deirdre but ended up a distant sixth in the driver's seat of Mitsuru Hashida's 5-year-old mare, although the horse was lively in the track work leading up to the race.
"It was my first time aboard her but she seemed to be sharp. She felt good in the paddock and during warm-ups," Take said. "If only she could keep up when the pace picked up around the next-to last turn because she was a bit too behind at the final turn."
"It's disappointing but I'm glad Win Bright was able to show what Japanese horses are made of."
Win Bright had drawn the No. 1 gate but failed to make the most of the favorable draw, sputtering out of his stall. Fortunately for Matsuoka, Win Bright was not boxed in and managed to recover during the 10-furlong journey, traveling mid-pack all the way to the final straight.
Matsuoka brought his ride off the railing down the homestretch and grabbed the lead with 100 meters to go. Exultant made a ferocious run from the outside but Win Bright fended him off as well as Lys Gracieux for the win, penciling himself in the record books as the fifth Japanese horse to capture the QEII Cup following Eishin Preston (2002, 2003), Rulership (2012) and Neorealism two years ago.
Exultant's trainer Anthony Cruz sung the praises of Japanese outsider Win Bright.
"It wasn't a perfect race and (jockey) Zac (Purton) said if he'd had an inside draw it might have been a different story, but he's run a very good race," Cruz said, according to the Hong Kong Jockey Club. "I knew the Japanese were the ones to beat, they love coming here."
Hatakeyama is already eyeing a return trip to Hong Kong – in December, for the LONGINES Hong Kong International Races. Having won all three starts in 2019, Win Bright, the first Stay Gold offspring to win a top-level race abroad, is now 8-for-18 for his career with earnings approaching 500 million yen (US$ 4.5 million). His next race could be as early as the Takarazuka Kinen at Hanshin Racecourse on June 23.
"I owe a huge debt of gratitude to the Hong Kong Jockey Club for allowing me to be here on this occasion," Hatakeyama said. "We didn't do anything special to prepare (for the race) but we were mindful of the heat and tried to keep him as fresh as possible."
"The best horses in the world will be here (in December) so hopefully we can become even stronger in Japan and earn another trip to come back here."
Take also finished sixth in another race on Sunday's cards at Sha Tin, in the HK$16 million, 1,200-meter Chairman's Sprint Prize with Nac Venus. Both Take and trainer Hiroaki Sugiura said Nac Venus appeared to be never in the race, the Hong Kong heat and humidity perhaps taking a toll on their 6-year-old mare who lagged behind in a field of nine topped by Beat the Clock, who led home a Hong Kong one-two-three in defeating the world's highest-rated sprinter – Santa Ana Lane.
"I was hoping for a better jump out of the gate than the one we had. She was far too calm," Take said, looking back on the race that lasted 1:08.26. "I thought we made up for the start during the trip and she fought hard until the last 200 meters or so, but was out of gas."
Added Sugiura, "I don't know if it was the heat or what but she was a lot quieter than her usual self. She usually has good gate speed but she got off to a poor start. She traveled well but not sure what happened. Maybe it was something in the workouts, I don't know."
FWD QEII CUP (G1, 2,000m, HKD 24 million)
Win Bright - 1st
Lys Gracieux - 3rd
Deirdre - 6th
CHAIRMAN'S SPRINT PRIZE (G1, 1,200m, HKD 16 million)
Nac Venus - 6th