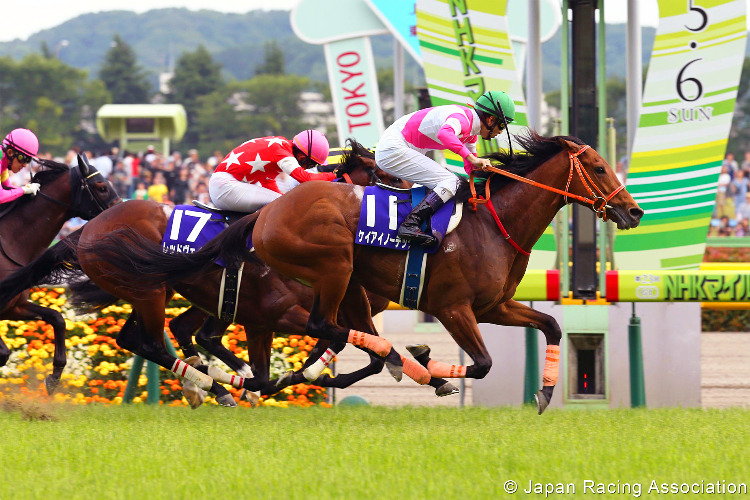 Over 70,000 racegoers witnessed a thrilling Grade 1 Tenno Sho (Spring) last Sunday at Kyoto Racecourse, enjoying every moment of the race, particularly the hard fought finish in the closing stages, before Fierement finally got the better of Glory Vase. The top flight action switches to Tokyo Racecourse on Sunday, May 5, when it's the turn of the 3-year-olds to step out over the tough Tokyo mile in the Grade 1 NHK Mile Cup.
The race was originally a Derby trial run over 2,000 meters, but has had its current status since 1996, and it became an international race in 2009. Competition looks tough this year, with 22 nominations for a maximum field of 18. There are five fillies among the entries, and they get to claim a 2kg weight allowance, making their race weight 55kg. No geldings are permitted to run.
Some of the runners are coming from big races run during the month of April, including the Grade 1 Satsuki Sho (Japanese 2000 Guineas) over 2,000 meters at Nakayama, the Grade 1 Oka Sho (Japanese 1000 Guineas) run over a mile at Hanshin, and the Grade 3 Arlington Cup, an official NHK Mile Cup trial race, also run over a mile at Hanshin. Some of the big name winners of the Grade 1 NHK Mile Cup have been El Condor Pasa (1998), King Kamehameha (2004) and Deep Sky (2008). The latter two both went on to win the Tokyo Yushun (Japanese Derby).
While first favorites have done quite well in recent years (five have won in the past decade), the race also throws up its share of surprises, such as Jo Cappuccino in 2009 at 40-1, and Meiner Ho O in 2013 at 34-1. Record time for the race is 1 minute, 31.4 seconds, set by Danon Chantilly in 2010. The big race this week will be Race 11 on the card at Tokyo on Sunday, with a post time of 15:40 local time. Final declarations and barrier draw will be announced later in the week.
Here's a look at some of the horses expected to be in the lineup :
Gran Alegria : The daughter of Deep Impact has created a big impression so far, particularly with her win in this year's Grade 1 Oka Sho (Japanese 1000 Guineas) when, in her first run as a 3-year-old, she broke the race record. Two of her three wins have been over a mile at Tokyo, showing she can handle the course and distance. Her trainer, Kazuo Fujisawa, continues to be surprised at what she has shown him. Assistant trainer Daisuke Tsumagari commented: "She can be very keen, but the jockey handles her well, and last time when she got to the front early, she just showed her natural speed and ability to go on and win. Since that race, she's been at the stable and looks very well, especially in her coat."
Admire Mars : The champion 2-year-old colt of 2018 has had two races this year, finishing second and fourth, the latest to Saturnalia in the Grade 1 Satsuki Sho (Japanese 2000 Guineas) over 2,000 meters at Nakayama. In one run at Tokyo, he finished second in the Grade 3 Kyodo News Service Hai over 1,800 meters in February. The Daiwa Major colt is trained by Yasuo Tomomichi. "He got going at the fourth corner in his last race, and I had the feeling he could run on well, but it seems he just needs a bit longer to get fully wound up. Fortunately he came out of the race well, and we've been able to aim him at this race next," the trainer said.
Danon Chaser : The Yasutoshi Ikee trained colt will be having his first race at Tokyo, but is three wins from five starts, and ran out a two-length winner in his latest race, the Grade 3 Kisaragi Sho over 1,800 meters at Kyoto in February, his only start as a 3-year-old. "In the Kisaragi Sho, the jockey did a good job finding the horse's natural rhythm and the horse consequently ran well. He came back to the stable April 9 after a break at Northern Farm Shigaraki. There's no big change with him, although he's developing gradually and getting bigger," the trainer said recently.
Fantasist : The dark bay colt is by Lord Kanaloa out of a Deep Impact mare, giving him a fine pedigree, and is three wins from six starts. His three wins came right at the beginning of his career as a 2-year-old, and he finished fourth in last year's Grade 1 Asahi Hai Futurity Stakes, putting him right up there on the form book. He could only finish 13th in the Grade 1 Satsuki Sho (Japanese 2000 Guineas) last time, but back in trip this time, he would have to have a good chance. The horse is owned and bred by Toshihiro Hirosaki, and his race jockey will be Yutaka Take, the rider having ridden the horse in every one of his starts so far.
Val D'Isere : Also by Lord Kanaloa, the colt has just three starts. He won the first two, and was unlucky last time in the Grade 3 Arlington Cup, where he didn't get a clear run and finished eighth, just 0.2 seconds behind the winner. There wasn't more than a head or a neck margin between the first six horses home in that race. "In the homestraight last time he didn't get a clear run just when the momentum was with him, so it was quite frustrating. However, the horse is a lot more relaxed than he was before and better generally," trainer Kunihiko Watanabe said.
Happy Hour : The Harbinger colt gave ex-jockey Koshiro Take his first graded race win as a trainer last time, when winning the Grade 3 Chunichi Sports Sho Falcon Stakes over 1,400 meters at Chukyo in March. The horse has three wins and two seconds from a seven-race career, and even though it will be his first time at Tokyo, he would make a popular winner if he manages to pull it off. "We've kept him at the stable since his last race and things are fine with him. Last time his back seemed to have become stronger, but now he's developed a lot more all round," the trainer commented.
Groove It : Some of the runners nominated for the NHK Mile Cup are trained by some of Japan's former top jockeys, and the well-bred Groove It is one of them, being trained by Mikio Matsunaga, who's enjoying a lot of success so far this year. The horse has only had three races, winning his first two over 1,400 meters on dirt. In his latest race, he finished second to Happy Hour in the Grade 3 Chunichi Sports Sho Falcon Stakes. "Last time it was his first run on turf, but he did just fine. Since then he's had a break at Northern Farm Shigaraki and came back to the stable on April 12. There seems no change with him and he's really moving well," Matsunaga said.
Iberis
:
The filly caused an upset last time when leading all the way in the Grade 3 Arlington Cup over a mile at Hanshin in April, just hanging on at the finish and rewarding her followers handsomely at a price of 35-1. Trainer Koichi Tsunoda, another ex-jockey turned trainer, will be hoping the daughter of Lord Kanaloa can give him his first ever Grade 1 victory. Assistant trainer Fumiaki Shibahara said, "She did very well last time, and it was good to see she could adjust to running over a mile. She was fine after the race and things are going well with her."