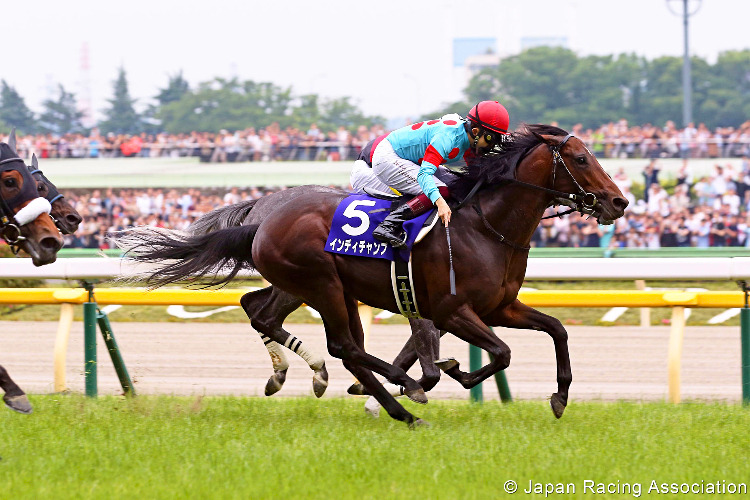 Fourth favorite Indy Champ claimed this year's Yasuda Kinen in his first G1 challenge, renewing the race record to 1:30.9, 0.4 seconds shorter than previously set by Strong Return in 2012. Raced between 1,400 and 1,800 meters, the four-year-old Stay Gold colt immediately broke his maiden in his debut start in December as a two-year-old and registered three wins out of six starts last year. This season, he claimed his first graded win in his kick-off start, the Tokyo Shimbun Hai (G3, 1,600m), and came off a fourth in his latest Milers Cup (G2, 1,600m) start in April. For trainer Hidetaka Otonashi, this is his 10th JRA-G1 triumph following the Takarazuka Kinen with Mikki Rocket last year. Since his latest victory with Mr. Melody in this year's Takamatsunomiya Kinen, jockey Yuichi Fukunaga is now the winning jockey of 24 JRA-G1 races, two of which are Yasuda Kinen titles—the other with Strong Return in 2012.
Indy Champ broke well and secured a rail trip in fifth up to the top of the straight. After struggling behind a wall of horses in early stretch, the four-year-old bay threaded out two furlongs out, displayed a good turn of foot up the hill and stretched strongly, overtaking the pacesetter in the final strides to clear the wire first.
"He was tuned up well, was in great shape, and had a good draw, so I just tried hard not to miss our break. He tends to get distracted when he's up front so I kept him off the pace. We were up against fierce competition, but I believed that he had a good chance as long as I didn't make any mistakes and he certainly responded beautifully to our expectations," commented Yuichi Fukunaga.
Sent off third favorite, Aerolithe went right to the front after a good break and set a solid pace with Guanciale within a couple of lengths behind in second. Demonstrating good stamina, the five-year-old daughter of Kurofune stubbornly held on to the lead only to be caught a few strides before the finish line by Indy Champ for a neck second.
Heavily favored filly Almond Eye, aiming for her sixth consecutive G1 victory, immediately met traffic after breaking from stall 14 and was forced to settle between horses in the latter half of the field, a half-length behind second favorite Danon Premium. Failing to shift out at the last corner, the Lord Kanaloa filly finally found room 300 meters out and unleashed her trademark burst of speed, which was timed the fastest of the field, but had too much ground to make up and was a nose short for third.
Other Horses :
4th: (6) Guanciale - tracked leader in 2nd, showed tenacity, weakened in final strides
5th: (4) Sungrazer - saved ground in mid-division, showed effort but lacked another gear in last 200m
6th: (7) Mozu Ascot - settled in mid-pack, responded outside eventual winner, but no match in last 200m
7th: (1) Keiai Nautique - sat behind favorite, switched to inside at early stretch, showed belated effort
8th: (8) Stelvio - was off a bit slow, raced 2nd from rear, failed to find clear path at early stretch, accelerated in
last 300m, timed 2nd fastest over last 3 furlongs
9th: (16) Logi Cry - advanced to 3rd from widest draw, ran gamely until 200m pole, weakened
10th: (13) Persian Knight - checked after break, trailed in rear, passed tired rivals at straight
11th: (3) Sakura Empereur - hugged rails in mid-group, checked 400m out, even paced
12th: (12) Lord Quest - traveled outside eventual winner, outrun in last furlong
13th: (9) Smart Odin - settled towards rear, circled wide, unable to reach contention
14th: (10) Fiano Romano - raced inside favorite, showed little at stretch
15th: (11) Entscheiden - ran 3-wide in mid-division, gradually fell back
16th: (15) Danon Premium - traveled 4-wide near favorite, never fired, faded after 300m marker