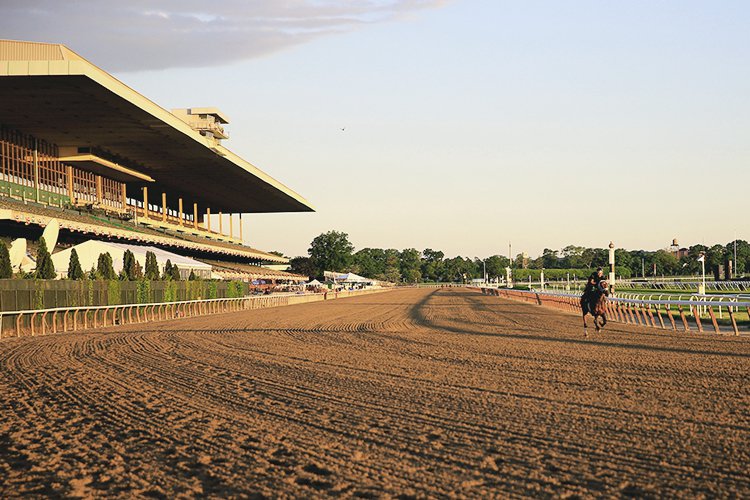 On the same terms as the Belmont Derby Invitational, Jodie raised a lot of eyebrows in the Belmont Oaks Invitational, throwing down the gauntlet for what could be an intriguing autumn campaign for the Daiwa Major daughter. The Hirofumi Toda-trained filly went off as the eighth betting favorite in a small party of nine, with third-year jockey Miyabi Muto handling the rein.
Though only 21, Muto showed poise and purpose aboard Jodie, coaxing his partner out of the gate and setting the pace for most of the race. It wasn't until Jodie came under pressure from Concrete Rose, the second favorite overall, midway through the final straight that she conceded the lead and crossing the line a respectable fourth, less than five lengths out of first.
Concrete Rose's jockey Leparoux felt Jodie played a part in changing the complexion of the race, which was expected to be dictated by top pick Newspaperofrecord before the race.
"I thought (trainer Chad Brown's) horse (Newspaperofrecord) would be on the lead unless they came for her, but I guess today they tried something new and took her back a little bit," Leparoux said.
"The Japanese horse wanted to go, so I was happy to be second and my filly relaxed beautiful for me the whole race. I knew at the quarter pole, I had a lot left. She made a big run at the end. It was nice."
Toda, naturally, gushed with praise for Jodie after her performance, which somewhat came out of the blue. Jodie has yet to win a graded race in Japan – she had two wins from nine starts, both by Muto – and in her most recent start, was coming off a 14th-place finish in the Yushun Himba (Japanese Oaks).
"Looking back at it overall, she ran a heck of a race," Toda said. "I thought she was very convincing. This trip is one we can build on going forward because it turned out to be a terrific experience for both the jockey and horse."
"We found out she can hold her own up to 2,000 meters, won't embarrass herself out there which now gives us a lot of options looking ahead."
Muto, one of the most promising riders in the Japan Racing Association, said Jodie had been adjusting well to Belmont Park ever since her arrival on June 29.
"Probably the most important factor was that she acclimatized to the conditions here very well," Muto said. "I also had the fortune of being part of an excellent team who offered more support than I could ever have asked for."
"(Jodie) got off to a clean start and I thought she traveled really well. She began pushing herself from the next to last turn but the winner had us marked and got us in the end, which was a shame."
Concrete Rose, trained by George Arnold II, held on for victory in 1:59.97 by almost three lengths ahead of Just Wonderful to collect the $400,000 winner's check.