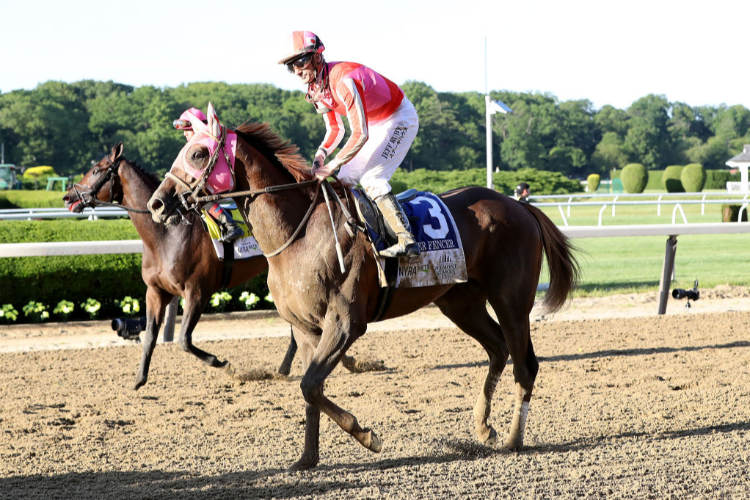 Master Fencer had turned heads this spring by finishing sixth and fifth in the Kentucky Derby and Belmont Stakes, respectively, with Julien Leparoux in the saddle as the colt took a shot at the American Triple Crown. But returning to the turf on Saturday – a surface he has never won on in Japan – the son of triple Grade 1 champion Just a Way passed the post second to last among 14 runners.
The glory in the 70th running of the Belmont Derby – the first leg of the Turf Trinity – belonged to Henley's Joy who cut a winning time of 1 minute, 58.29 seconds over 2,000 meters on firm grass at Belmont Park. The Michael Maker-trained long-shot at odds of 20 to 1 took home a prize of $535,000, over Social Paranoia.
Despite the result, Koichi Tsunoda, the trainer for Master Fencer, was anything but down after the race.
"He traveled well in a position we were happy with, considering how fast the pace was," Tsunoda said. "I thought this whole trip was very meaningful to us because until you actually go out and do something, there's no way of knowing what you can and can't achieve."
"Fortunately, we have an owner who has the guts and courage to take chances and thanks to his decision, we experienced a lot and learned a great deal from our time here. But above all, we're glad our horse got through it all in one piece."
With Suguru Hamanaka replacing Leparoux, Master Fencer – the first Japanese bred to run in both the Kentucky Derby and Belmont Stakes – tried to take the race early to a field that saw He's No Lemon scratched and Demarchelier pull up midway through.
But clearly not the same as he is on dirt where he flashes a devastating closing rush, Master Fencer was effectively out of contention and tired with two, three furlongs to go. Hamanaka, however, echoed the sentiments of the horse's trainer, saying Master Fencer's tour through the United States was more than about trying to win in a country where the Japanese contingent has not had the kind of success its had in other parts of the world.
"Speaking to the trainer he wanted me to push him towards the front so I did. There wasn't much pressure from elsewhere and managed to get a much better position than I anticipated," Hamanaka said of Master Fencer, out of Sexy Zamurai, by Deputy Minister.
"He's not the quickest to respond and tends to fall behind around the final bend so I wanted to make my move early, but we just couldn't stay when the pace started picking up."
"I owe a huge debt of gratitude to the owner, trainer and everyone else involved for this incredible experience – most of all Master Fencer himself, who I can't thank enough for his effort."