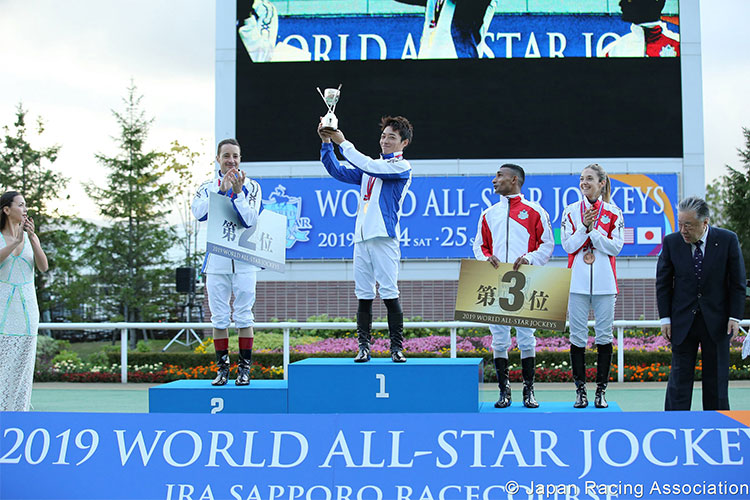 Yuga Kawada captured his first and much awaited World All Star Jockeys Series champion title this year with a total of 70 points. In his fourth challenge for the title, he bettered his personal best of an overall seventh marked in 2011. Kawada was placed fourth at the end of day one with 30 points after finishing third in the first two legs—with second-pick Ofukuhime and eighth-choice Gold Flag, respectively. He turned in a fifth in the third leg with fifth-favorite Vocazione before determining his overall victory by claiming the final leg with sixth-pick Precious Blue. It was a successful day for Kawada who also captured the G3 Keeneland Cup with Danon Smash.
Yuga Kawada: "I always feel relieved to have accomplished my job when I win a race but today, I'm delighted to receive this personal award. It's always a great opportunity for me to compete against top Japanese jockeys and great jockeys that gathered from around the world."
Christophe Lemaire was tied in second with 31 points at the end of day one after marking a win and a 12th. He registered a fourth and a third in the last two legs but was 12 points behind Kawada and failed to defend his title, finishing the series in an overall second.
Christophe Lemaire: "I was able to do really well this year but Yuga Kawada was too strong. I hope to participate in the series again next year. Thank you very much."
Finishing day one tied in second with Lemaire was Karis Teetan from Hong Kong who was only a point behind the leader after turning in a runner-up effort in the third leg but was an overall third with 53 points after registering a ninth in the last race. French rider Mickaelle Michel turned in a fifth and a fourth in the first two legs, respectively, and stood at the top after the third leg when claiming her first JRA win with third-choice Suave Aramis. She finished tenth in the fourth leg and was an overall third tied with Teetan.
Karis Teetan: "I am very happy to be here and on this podium, dead heat with Mickaelle. I'm happy to represent Hong Kong. I hope I'll be able to come back."
Mickaelle Michel: "I am really happy and honored to be awarded today as a representative of France and all female jockeys."
2019 WORLD ALL-STAR JOCKEYS POINT CHART
Standing
Jockey
Team
August 24, 2019
August 25, 2019
Total
Points
1st Leg
2nd Leg
3rd Leg
4th Leg
1
Yuga Kawada (JRA)
JRA
3rd
(15)
3rd
(15)
5th
(10)
1st
(30)
70
2
Christophe Lemaire (JRA)
JRA
1st
(30)
12th
(1)
4th
(12)
3rd
(15)
58
3
Karis Teetan (HK)
WAS
12th
(1)
1st
(30)
2nd
(20)
9th
(2)
53
3
Mickaelle Michel (FR)
WAS
5th
(10)
4th
(12)
1st
(30)
10th
(1)
53
5
Keita Tosaki (JRA)
JRA
4th
(12)
2nd
(20)
10th
(1)
7th
(6)
39
6
Yutaka Take (JRA)
JRA
2nd
(20)
10th
(1)
3rd
(15)
13th
(1)
37
7
Tomohiro Yoshimura (NAR)
WAS
6th
(8)
6th
(8)
7th
(6)
4th
(12)
34
8
Julien Leparoux (USA)
WAS
9th
(2)
14th
(1)
11th
(1)
2nd
(20)
24
9
Suguru Hamanaka (JRA)
JRA
7th
(6)
5th
(10)
9th
(2)
14th
(1)
19
10
Colm O'Donoghue (IRE)
WAS
14th
(1)
7th
(6)
12th
(1)
6th
(8)
16
10
Kosei Miura (JRA)
JRA
10th
(1)
8th
(4)
13th
(1)
5th
(10)
16
12
Lisa Allpress (NZ)
WAS
8th
(4)
9th
(2)
6th
(8)
11th
(1)
15
13
Nanako Fujita (JRA)
JRA
11th
(1)
11th
(1)
14th
(1)
8th
(4)
7
13
Fumio Matoba (NAR)
WAS
13th
(1)
13th
(1)
8th
(4)
12th
(1)
7
Team WAS (World All-Star) : 202 points
Team JRA : 246 points
*1st: 30 points / 2nd: 20 points / 3rd: 15 points / 4th: 12 points / 5th: 10 points / 6th: 8 points / 7th: 6 points / 8th: 4 points / 9th: 2 points / 10th: 1 point / 11th: 1 point / 12th: 1 point / 13th: 1 point / 14th: 1 point / S=Scratched: 6 points