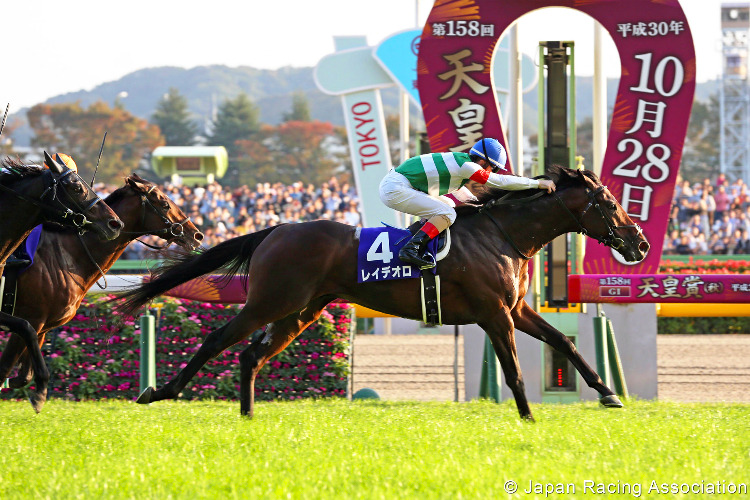 Immediately following the Kikuka Sho (Japanese St. Leger), the spotlight turns imperial. With the enthronement of the new emperor this week, what better timing than this coming Sunday, Oct. 27, for one of Japanese racing's most prestigious races – the Grade 1 Tenno Sho (Autumn).

Held twice a year, the Tenno Sho, which translates to "Emperor Prize," is run at Tokyo over 2,000 meters in the fall. The Japan Racing Association has christened the 160th running of the Tenno Sho the "Tennoheika Gosokui Keishuku" – or "Celebration of the Enthronement of the Emperor." It's not often that the race gets such a classy introduction, but this year's expected field of 17 is classy indeed.

It will include 10 Grade 1 champions, including last year's Horse of the Year Almond Eye, 2018 Tokyo Yushun (Japanese Derby) champion Wagnerian and this year's Satsuki Sho (Japanese 2000 Guineas) winner Saturnalia. The presence of Almond Eye alone is enough to draw in fans, but the first meeting of her and Saturnalia is even more of a magnet. The race will carry a hefty JPY325 million yen, including the winner's prize of JPY150 million.
The Tenno Sho will be the 11th race on the Sunday card of 12 at Tokyo Racecourse. Post time is 15:40 local time. Here's a look at some of the runners expected to be in the lineup :
Almond Eye : Solidly in center stage stands Almond Eye, who not once has failed to return on her fans' support in her nine career starts. With one second followed by seven straight wins, six of them top-level, one of them overseas, last out in the Yasuda Kinen (G1, 1,600m, Tokyo) the 4-year-old filly was poised to become only the third horse (in addition to T.M. Opera O and Almond Eye's sire Lord Kanaloa) to win six Grade 1s in a row. Interference at the break, however, threw a wrench into her historical bid, as she finished in third, a neck and nose behind the winner in her first mile race in over a year. On Sunday, Almond Eye returns without a prep to take on her first Tenno Sho and her first over 2,000 meters at Tokyo 2,000. Almond Eye returned to Miho Training Center on Sept. 25 and worked under Christophe Lemaire on Oct. 17, with the jockey expected to ride fast work again this week. "Even though her weight hasn't changed, she looks much more powerful," trainer Sakae Kunieda said. In the saddle, Lemaire will be gunning for his second straight win of the Tenno Sho (Autumn), and having won the spring version this year as well, his third straight Tenno Sho victory.
Saturnalia : Also by Lord Kanaloa and a year younger than Almond Eye, Saturnalia has lost only one of his six career starts. His wins include two Grade 1 events – the Hopeful Stakes as a 2-year-old and the Satsuki Sho. His only loss came in the Japanese Derby, where he broke slowly and raced from behind but made up ground to finish fourth, some three lengths behind the winner. Unlike his sire, Saturnalia has been given more distance and aced everything from 1,600 to 2,400 meters. Last out, and four months since the Japanese Derby, Saturnalia made good on that loss, breaking well and sent forward to race in second position in the Kobe Shimbun Hai (G2, 2,400m, Hanshin). He settled well under Lemaire amid a slow pace and won decisively by three lengths after a blistering last three furlongs unurged. Earlier a somewhat difficult horse, Saturnalia looks to have matured mentally over the summer and he'll need his cool as he competes against older horses for the first time. Christophe Soumillon, who rode Saturnalia's brother Epiphaneia to victory in the 2014 Japan Cup, is expected to be in the saddle on Sunday. A win by Saturnalia (or the other nominated 3-year-old, Run for the Roses) would make him only the third his age to win the race since it was reopened to 3-year-olds in 1987. Of the 14 three-year-olds that have participated in the past decade, only three have made the top three spots.
Danon Premium : Ready for revenge is the Deep Impact 4-year-old Danon Premium, who returns unraced since the Yasuda Kinen. The top 2-year-old of 2017, Danon Premium had started this year looking good, with two Grade 2 wins before his Yasuda Kinen bid. He went to the gate as the second choice, but the interference he received shortly after the break found him unable to recover. Forced to race from much further back than usual, Danon Premium finished last of 16 and was pulled up immediately by Yuga Kawada after crossing the finish line. "We kept him at the training center after that, and because his gait was off, we worked him in the pool and trotting ring. He's looking strong and I think we can expect good things from him," assistant trainer Teruhiko Sarubashi said. Danon Premium has two wins over 2,000 meters, one at Chukyo, the other at Nakayama. His two other starts at Tokyo other than the Yasuda Kinen saw him win over the mile on his second career start and finish sixth in the Japanese Derby.
Al Ain : A 5-year-old by Deep Impact, the Yasutoshi Ikee-trained Al Ain has proven consistent and a specialist at the distance. He has made the board all but twice in his 17 career starts and the money in 10 of them. Two of this five wins – the 2017 Satsuki Sho (in record time) and this year's Osaka Hai – have been over 2,000 meters. Last year, he finished fourth in this race, less than 2 1/2 lengths behind winner Rey de Oro after running second in the Sankei Sho All Comers (G2, 2,200m, Nakayama) the month before. This year, however, he returns straight from a fourth in the June 23 Takarazuka Kinen (G1, 2,200m, Hanshin), but has been looking good in work. After riding fast work on Oct. 10, Ikee said jockey Yuichi Kitamura confirmed Al Ain was "light on his feet and his breathing good."
Suave Richard : The Heart's Cry 5-year-old Suave Richard claimed the Osaka Hai last year, but in his six starts since has finished at best in third place – in fact, four times in third, all at the G1 level. Three of his five wins from 16 career starts have come over 2,000 meters. Last year he followed the Osaka Hai with a third in the Yasuda Kinen and began his fall campaign in this race, but finished in 10th place as the race favorite. This year, Suave Richard takes on the Tenno Sho from his third-place finish in the Takarazuka Kinen. Morning work has him looking good and a serious run could very well see a huge improvement on last year's results. Paired with Mirco Demuro for nine of his last 10 starts, the reins for the Tenno Sho (Autumn) are expected to go instead to a new partner, Norihiro Yokoyama, who rode fast work on Oct. 17.
Wagnerian : Last year's Japanese Derby champion, Wagnerian is one of three horses nominated by the Ritto-based Yasuo Tomomichi and has finished out of the money twice in nine career starts. By Deep Impact, Wagnerian has only had two starts this year, both over 2,000 meters – the Osaka Hai, in which he finished a close third, and the Grade 2 Sapporo Kinen on Aug 18, which saw him over the line in fourth place, only 0.2 seconds behind winner Blast Onepiece despite losing a shoe in the race. He is 2-for-2 at Tokyo, having won over 1,800 meters in addition to the Derby's 2,400 meters. Last year, Wagnerian was aimed at the Tenno Sho (Autumn), but was withdrawn after showing fatigue following his win of the Kobe Shimbun Hai. This year he is looking on his toes. "As a 3-year-old, he tended to overdo it and recover poorly, but not now," said Tomomichi, who also feels the distance suits more now. "He won against his age group over 2,400 meters, but up against older horses, I think 2,000 meters is good for him."
Other horses worth a mention are the 5-year-old Kurofune mare Aerolithe, who is coming off a second in the 1,800-meter Mainichi Okan at Tokyo on Oct. 6. The distance may be a stretch for her front-running style but an inside gate in the Tokyo 2,000 meters, which has only 130 meters to the first turn, would surely help. The Stay Gold-sired Win Bright aced the Queen Elizabeth II Cup at Sha Tin this spring and with a ninth in the All Comers as prep, he could shine again on Sunday.