The brilliant filly faces no easy task though in a field of 16 that boasts many other Grade 1 winners. Though none have come near Almond Eye's haul of five G1 victories, any number of contenders have a chance to turn the tables on the shoo-in favourite.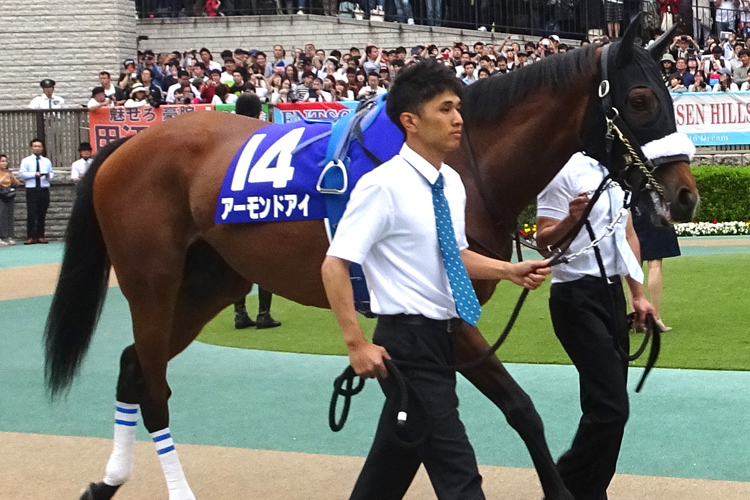 The daughter of sprint champion Lord Kanaloa races for the first time in nearly five months, returning from her unfortunate but admirable third-place in the G1 Yasuda Kinen over a mile, where interference at the start foiled her bid to match her sire's six-straight top-level victories.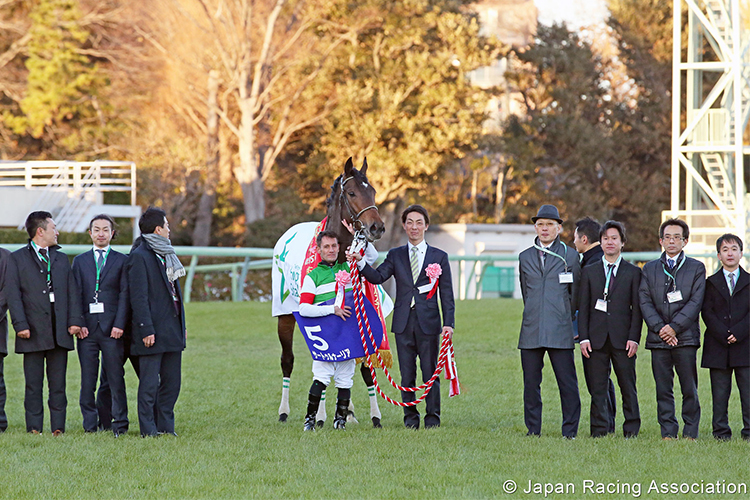 Christophe Lemaire rode Almond Eye in track work on 17 October and 23 October. Working in a trio on Wednesday, Almond Eye clocked 65.4s over 1000m with a 12.2s final furlong over a fast wood-chip track and just a touch of the whip in the final stride. Lemaire put her at "80 percent," saying she'd make up the difference in the race. "She's coming from five months off and it takes a while to get her up to peak, but I think she'll win this week. Almond Eye is the best horse in Japan," Lemaire said.
The Katsuhiko Sumii-trained Saturnalia, a three-year-old also by Lord Kanaloa, is seen as the horse most likely to steal the 150 million yen winner's share from Almond Eye. Currently with five wins from six starts, Saturnalia aced the G1 Hopeful Stakes as a two-year-old, then claimed the classic Satsuki Sho (Japanese 2000 Guineas) this spring, both over 2000 metres. A versatile runner, Saturnalia comes to the Tenno Sho Autumn gate with a winning prep in the G2 Kobe Shimbun Hai (2400m) on 22 September and will be paired with Christophe Soumillon.
On Wednesday, Soumillon rode Saturnalia for the first time and was impressed. "Of all the horses I've ridden, he is especially good." Clocking 82.3s on the woodchip flat course over 1200m and wrapping up with a crisp 11.7s last furlong, Soumillon said, "It wasn't me telling him what to do. He did it all by himself. He's very easy to ride and very confident and relaxed. He's in perfect shape."
The Tokyo 2000 metres is seen as an especially difficult course as there are less than 150 metres to the first turn. "I'd like to see a draw somewhere from one to eight," Soumillon said. The other number in question is age and whether Saturnalia can become only the third three-year-old in modern times to win the autumn version of the Tenno Sho.
Expected to be close on their heels at the betting windows is Wagnerian, winner of last year's G1 Japanese Derby. With five wins and all but two of his nine starts in the top three, Wagnerian started the year with a third in the G1 Osaka Hai over 2000 metres at Hanshin, and last time out lost both front shoes and still managed to finish fourth in the G2 Sapporo Kinen (2000m) on 18 August. "He has matured and is very eager to run. His strong point is being able to run well for a long distance," big race jockey Yuichi Fukunaga said.
All systems look go for the expected top picks and the rest of the field. Danon Premium, who was seriously affected by the jostling at the break of the Yasuda Kinen, is out for revenge.
Aerolithe hopes to take the sting off her two seconds in a row in the Yasuda Kinen and last out in the G2 Mainichi Okan (1800m) but may struggle to make the distance.
Suave Richard is still in the running despite not having won since the 2018 G1 Osaka Hai and may surprise with new partner Norihiro Yokoyama, who won the race in 2009.
Trainer Kazuo Fujisawa is chasing his seventh win in the Tenno Sho Autumn and is fielding two hopefuls – Run For The Roses and Go For The Summit.
Fellow trainer Yasuo Tomomichi ups him by one with two more entries in addition to Wagnerian -- 2016 Derby winner Makahiki and the four-year-old You Can Smile, who made the winner's circle in the G3 Niigata Kinen (2000m) on 1 September.
Heavy rain is expected in Tokyo on Friday, but only cloudy skies are predicted for the weekend, which means a fast track is likely on race day.