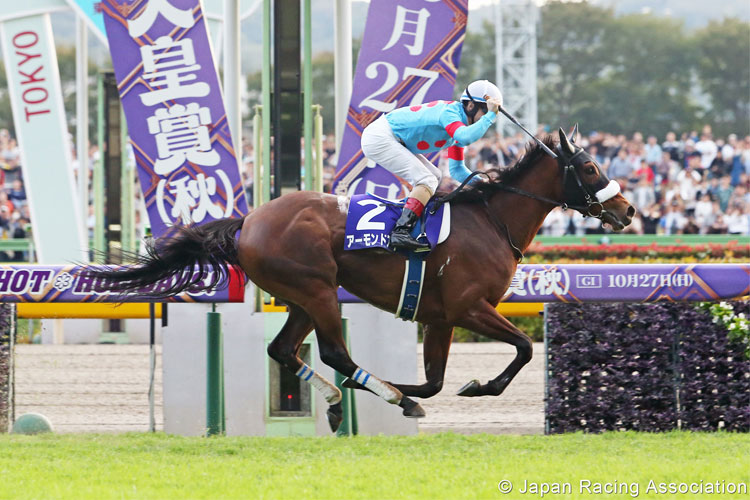 Heavily favored Almond Eye won this year's Tenno Sho (Autumn) in dominating fashion once again in a run which was just short by 0.1 second to renew the race record while easily conquering a formidable field which included nine other G1 winners. The 2018 Horse of the Year claimed last year's fillies' Triple Crown—the Oka Sho (Japanese 1000 Guineas, G1, 1,600m), the Yushun Himba (Japanese Oaks, G1, 2,400m) and the Shuka Sho (G1, 2,000m)—and the Japan Cup (G1, 2,400m). This year, after capturing the Dubai Turf (G1, 1,800m), she registered a third in the Yasuda Kinen (G1, 1,600m) where she encountered a disadvantage immediately after her break. This Tenno Sho (Autumn) triumph is trainer Sakae Kunieda's 16th JRA-G1 victory—his latest was last year's Japan Cup with the filly and latest Tenno Sho win was in the spring version of 2009 with Meiner Kitz. For jockey Christophe Lemaire, who had won last year's version with Rey de Oro and this year's Tenno Sho (Spring) with Fierement, this is his 27th JRA-G1 title—his most recent was the Sprinters Stakes victory with Tower of London four weeks earlier.
As expected, Aerolithe went straight to the front and set a slow pace with Stiffelio and Saturnalia on her heels while Almond Eye, who broke from an inner stall, was reserved in sixth to seventh on the rails. The field maintained its form of a long line entering the lane, giving little room for Almond Eye to shift out for her run. However, Christophe Lemaire calmly waited in early stretch and let the filly shoot out on an inner path, swooping past all competition by the furlong marker to cruise to a convincing three-length win.
"She was well rested after a long break and showed her true strength today. We were able to follow Aerolithe and Saturnalia in a good position, found a good opening on the rails and she just stretched beautifully from there. Personally, I'm delighted to have won the last Tenno Sho of the Heisei era and the first of the Reiwa era," commented Christophe Lemaire.
Third favorite and 2017 Best Two-Year-Old Colt Danon Premium traveled a half-length in front of the eventual winner in fifth up to the final turn, fought with Aerolithe, Saturnalia and Almond Eye briefly before the furlong pole and secured the runner-up seat, holding off the persistent challenge from Aerolithe by a neck.
Sent off sixth favorite, five-year-old mare Aerolithe set the pace spurting well from stall five and although no match for the winner, dug in strongly fending off the strong closing You Can Smile and Wagnerian for third.
Other Horses :
4th: (6) You Can Smile - took economic trip in 13th, switched to outside, showed belated charge, timed fastest over last 3 furlongs
5th: (14) Wagnerian - traveled in 12th, turned smoothly into lane, accelerated in last 200m, failed to threaten
6th: (10) Saturnalia - chased leaders in 3rd, ran gamely until 200m pole, weakened thereafter
7th: (4) Suave Richard - ran behind winner around 9th, quickened in last 100m, belatedly
8th: (15) Win Bright - raced 3-wide in 8th, switched to outside at early stretch, even paced
9th: (3) Keiai Nautique - saved ground 2nd from rear, showed effort along rails but never a threat
10th: (8) Makahiki - sat 3rd from rear, circled wide, passed tired rivals
11th: (11) Go for the Summit - hugged rails around 11th, lacked needed kick at stretch
12th: (7) Stiffelio - stalked leader in 2nd, gradually fell back after 400m pole
13th: (1) Cadenas - trailed in far rear, unable to reach contention
14th: (16) Al Ain - made headway to 7th from widest stall in backstretch, never fired at stretch
15th: (13) Run for the Roses - traveled 3-wide around 10th, showed little at stretch
16th: (12) Dreadnoughtus - advanced to 4th from wide draw, faded after 3rd corner