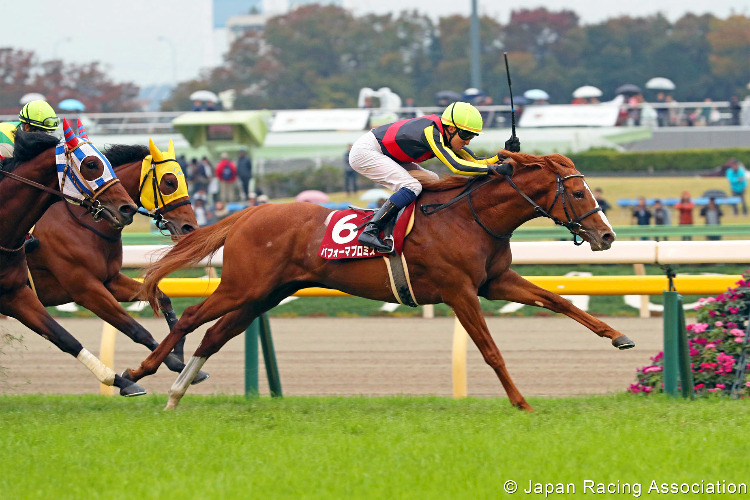 In between the top-level Tenno Sho (Autumn) and the Queen Elizabeth II Cup comes the Grade 2 Copa Republica Argentina on Sunday, Nov. 3 at Tokyo Racecourse. A handicap over 2,500 meters paying JPY57 million to the winner, it's a race whose past winners have been known to provide keys to later surprises in big places where stamina is a definite plus.
The only race other than the Grade 2 Meguro Kinen to be run over 2,500 meters at Tokyo, the Copa Republica Argentina was the key prep to darkhorse wins in 2008, when Screen Hero won it, then landed the Japan Cup that same month as the 41-to-1 race ninth pick. In 2015, Gold Actor won the Copa Republica Argentina and one month later bagged the Grade 1 Arima Kinen (The Grand Prix) as eighth choice. Suave Richard won in 2017 and picked up his first Grade 1 win four months later with the Osaka Hai, and, last year's winner Perform a Promise surprised as this year's Tenno Sho (Spring) when he came in third as the eighth choice.
Of this year's 16 nominees, the top two finishers of the May 26 Meguro Kinen – Look Twice and Ice Bubble – are expected to head the choices. Last year's runnerup Muito Obrigado makes a repeat appearance and Happy Grin, the NAR top turf horse of 2018, takes on his first race since moving to the JRA ranks. Oju Chosan, awarded Best Steeplechase Horse for the past three years in a row, continues his bid for glory on the flat as well.
The Copa Republica Argentina is the 11th race on the Tokyo Sunday card of 12. The race gets under way at 15:35 local time. The likely top picks are :
Ice Bubble : A Deep Impact-sired 4-year-old colt, Ice Bubble has only missed the top three spots in three of his 12 starts thus far. Reaching the graded-stakes level this spring, the gray colt finished second to Look Twice in the Meguro Kinen. Returning in early August, he took on the Kokura Kinen (G3, 2,000m) and surprised with a seventh-place finish, a good run nonetheless, at only 0.4 seconds off the winner. Trainer Yasutoshi Ikee had planned to start his fall campaign with the October Stakes, a listed race at Tokyo over 2,000 meters, but when a typhoon caused the race to be postponed, Ice Bubble was withdrawn. This will be his first race in nearly 3 months but he is looking good in track work and the colt has notably matured since his condition-race runs this time last year. If his second in the Meguro Kinen, which came after a 4-month layoff, is any indication, he should be able to do well on a return to the Tokyo 2,500m.
Look Twice : Running under the race top weight of 57kg (2 kg more than Ice Bubble) will be the 6-year-old Look Twice. A highly consistent son of Stay Gold, Look Twice has six wins and 7 seconds from 19 starts and has only missed the board three times. Last year he took on the Copa Republica Argentina as his first graded-stakes race and finished eighth, 0.5 seconds off the winner. This year, however, he has posted a second, sixth, fifth and a win at the graded-stakes level, all over 2,000-2,500 meters. Trained by Hideaki Fujiwara, who trained last year's winner here Perform a Promise, Look Twice returns directly from his win of the Meguro Kinen, which he clinched in record time under 55kg. An injury during track work led to his withdrawal from the Kyoto Daishoten and the long span between races is cause for some concern. However, Look Twice has consistently performed well following time off in the past and expectations are high.
Muito Obrigado : A 5-year-old son of Rulership, Muito Obrigado was the runnerup here behind Perform a Promise last year. It was only his second start at the graded-stakes level but the second-place finish has proved his best in the four starts that followed, three of them Grade 2 events, one Grade 1 and all in the 2,000-2,500 meter range. Muito Obrigado has posted sixth, seventh, eighth and a fifth in those four starts and also returns without a prep from the Meguro Kinen, which followed his Osaka Hai (G1, 2,000m) bid. He has three wins over the Tokyo 2,4000m and the venue and distance should suit. He is looking good in work, and clocked 78.6 seconds over six furlongs (12.2 seconds over the final furlong) on Oct. 23 on the Ritto woodchip flat course. He will carry 56kg, which is 1kg more than last year.
Noble Mars : Ninth-place finisher here last year, the 6-year-old Jungle Pocket-sired Noble Mars returns for a second try. His seven starts since the 2018 Copa Republica Argentina have all been at the graded-stakes level, and from his six starts this year he has finished a best third, only 0.1 seconds behind winner Mer de Glace in the Grade 3 Kokura Kinen. Last out, in the Kyoto Daishoten (G2, 2,400m), Noble Mars raced midfield and was able to finish in fourth place, half a second behind the winner. His top-level bid in the Takarazuka Kinen put him over the line in sixth place, preceded by five Grade 1 winners. Though he ran 13th in last year's Japan Cup, he posted two seconds at Tokyo last year and the venue does appear to suit.
African Gold : A 4-year-old gelding by Stay Gold, African Gold has only two previous starts in graded-stakes company, both of which came after a huge leap up in class and resulted in double-digit finishes. His last four races, however, have shown more consistency and stability, with a win and second, including his win of the Rokusha Stakes last out, a 2,400-meter listed race at Tokyo. It was his second start since being gelded and he won it handily from a good position under Yuichi Fukunaga. African Gold will carry 55kg this time, 1kg less than he did in the Rokusha Stakes. The reins this time are expected to go to Christophe Lemaire, currently tied for the top of the jockey ranks with Yuga Kawada.
Oju Chosan : Another son of Stay Gold, jump champion Oju Chosan is now 8 years old. Challenged over the flat from the summer of 2018, Oju Chosan was 2 for 2 (including a win over the Tokyo 2,400m) when he then took on the Grade 1 Arima Kinen (The Grand Prix). Though he finished in ninth place, 0.8 seconds behind the winner, it was a far-from-humiliating performance, given that six of those that beat him over the line were proven Grade 1 champions on the flat. Oju Chosan followed up the Arima Kinen with two jump races, won both and, on Oct. 6, returned for his first race in six months and his first flat race in eight months to finish 10th of 15 in the Rokusha Stakes, racing under his regular jump partner Shinichi Ishigami. Given his ability to hold his own with some of the best flat racers, Oju Chosan should not be overlooked. The extra half furlong this time out is a plus and Masami Matsuoka, who rode Oju Chosan's debut at Tokyo, is expected to take the reins.