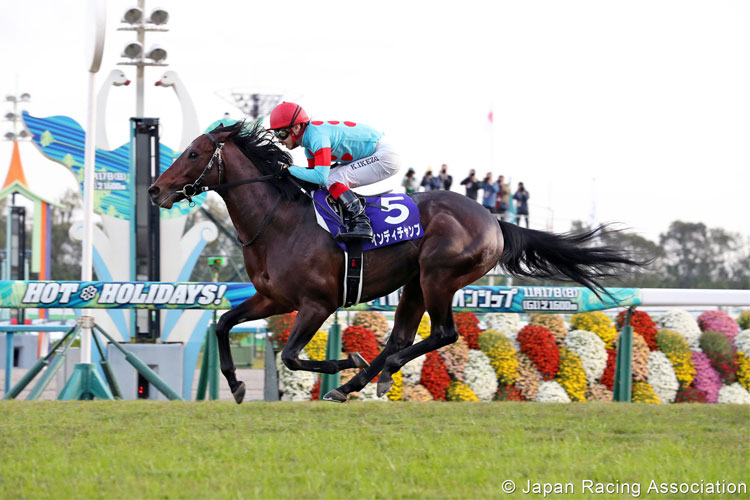 This Year's Yasuda Kinen winner Indy Champ claimed the Mile Championship to become the seventh horse following Maurice in 2015 to claim both spring and autumn G1 mile races in the same year. The Stay Gold colt, who kicked off his autumn campaign with a third in the Mainichi Okan (G2, 1,800m) on October 6, is headed for his first overseas challenge in the Hong Kong Mile (G1, 1,600m) to be held on December 8. This win marked trainer Hidetaka Otonashi's 11th JRA-G1 title following the Yasuda Kinen, which he won with this horse, and his third Mile Championship victory following his win with Company in 2009 and Mikki Isle in 2016. Jockey Kenichi Ikezoe marked his 25th JRA-G1 win following his 2018 Arima Kinen with Blast Onepiece, and his fourth Mile Championship title following his win with Durandal (2003 and 2004) and Eishin Apollon (2011).
Third pick Indy Champ broke smoothly and hugged the rails in fifth, eyeing Danon Premium on the outside. The bay turned the last corner two wide, steered slightly to the outside entering the lane to position himself again inside the race favorite. The two colts dueled strongly to nail the frontrunner 200m out, from where the Stay Gold colt unleashed a powerful kick and pulled away, leaving the race favorite behind for his second G1 title.
"I was asked to ride at short notice (in place of regular rider Yuichi Fukunaga who is under suspension) but wanted to deliver a good result since the colt was a Yasuda Kinen champion. I was told that he is a bit unstable at the start but he broke well and we were able to race in good position while eyeing Danon Premium. He responded really well when asked at the lane," commented Kenichi Ikezoe.
Race favorite Danon Premium broke sharply from stall 14 and eased back to travel two wide in fourth, made early bid turning the last corner and nailed the leader passing the 200m pole but was immediately overtaken by the winner for a 1-1/2-length second.
Sixth choice Persian Knight broke slowly to travel 10-12th from the front. As the field spread wide coming into the lane, the 2017 champion and last year's runner-up positioned himself right behind Indy Champ and chased the winner with a powerful late charge to the wire but was a neck short of the runner-up in third.
Other Horses :
4th: (3) My Style - set pace, showed tenacity after overtaken by winner, weakened in final strides
5th: (1) Danon Kingly - hugged rails behind winner, showed effort but no match for top finishers
6th: (11) Catedral - sat 2nd from rear, quickened between horses, timed fastest over last 3 furlongs
7th: (9) Kurino Gaudi - raced around 7th, lacked needed kick, failed to threaten
8th: (2) Guanciale - chased leaders in 3rd along rails, weakened in last 100m
9th: (4) Red Olga - traveled around 10th, ran willingly until 100m out
10th: (15) Diatonic - ran in 13th, angled out, showed brief effort, even pace in last 200m
11th: (8) Primo Scene - settled 3-wide around 8th, lacked needed kick at stretch
12th: (13) Time Trip - was off slow, trailed in rear, passed tired rivals at stretch
13th: (6) Fiano Romano - stalked leader in 2nd, ram gamely until 300m out
14th: (12) Mozu Ascot - sat 4-wide around 9th, failed to respond at stretch
15th: (17) Leyenda - raced 3rd from rear, unable to reach contention
16th: (10) Al Ain - positioned around 10th, never fired at stretch
17th: (16) Emeral Fight - traveled in 14th, circled wide, no factor