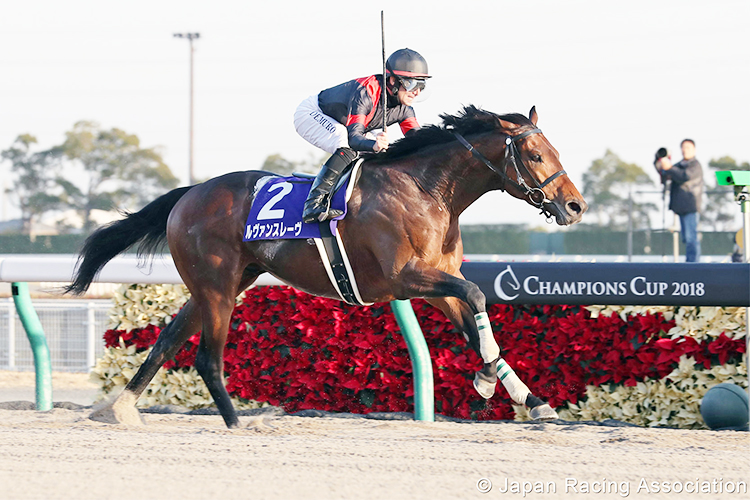 Following on from the Japan Cup, there's a change of venue and track surface for this week's Grade 1 Champions Cup, a race to be run at Chukyo Racecourse. It's a dirt race run over 1,800 meters on the left-handed Chukyo track, and the race always attracts some of the best dirt horses in Japan. It's an international race too, but no runners from overseas will be in the lineup this time around.
The race was originally known as the Japan Cup Dirt when it was first run at Tokyo in the year 2000, over a distance of 2,100 meters. It was then switched to Hanshin in 2008 and the distance was shortened to 1,800 meters. Since 2014 the race has been run at Chukyo, giving the Aichi Prefecture track another Grade 1 race day, after the Takamatsunomiya Kinen which is held in March.
The race starts in front of the stands and takes in just over a circuit of the track, with a downhill run from about the 1,000 meters point, leading to the relatively short homestretch of about 410 meters, which rises for almost 200 meters before flattening out towards the finish line. The race is for 3-year-olds and above, and this year there are 20 nominations for a maximum field of 16. Four first favorites have won in the last ten years, and in that same period, 5-year-olds have come out on top with four victories, while 4-year-olds have won three times. Last year's winner, the 3-year-old Le Vent Se Leve, was the fourth 3-year-old to win in the race's history, and equaled the race record time of 1 minute 50.1 seconds, also recorded by Sound True in 2016 and Gold Dream in 2017.
Some of the races runners in the Champions Cup have taken in earlier this year have included a couple of races in November, the Grade 3 Tokyo Chunichi Sports Hai Musashino Stakes over 1,600 meters at Tokyo, and the Grade 3 Miyako Stakes over 1,800 meters at Kyoto, as well as the Grade1 February Stakes over 1,600 meters at the beginning of the year. Prize and incentive money for this year's 20th Champions Cup will be awarded to the first ten horses, with JPY100 million going to the winner.
Final declarations and the barrier draw will come out later in the week. Post time for the race on Sunday will be 15.30 local time, and the Champions Cup is Race 11 on the Chukyo card. 
Here's a look at some of the dirt performers expected to take their chance in the race :
Chrysoberyl : The 3-year-old colt by Gold Allure is unbeaten in five starts on dirt and looks to be quite a dirt star in the making. Even though three of his wins have come in NAR races, his habit of being well up with the pace early and then accelerating away to win looks impressive. Trainer Hidetaka Otonashi said, "We haven't overdone it with him, and even with a couple of months between races I thought it might have been difficult for him during the summer, but he's still come out and won, like last time too, and now his winning streak has stretched to five."
Gold Dream : Now a 6-year-old, Gold Dream is one of the most consistent dirt horses in Japan, and he won the Champions Cup in 2017 under Ryan Moore. He just found Inti too good for him in this year's Grade 1 February Stakes, but another big run can be expected here. "As a horse that runs on late in his races, he started almost too well last time and took the bit early. He wasn't able to run straight at the end because he couldn't get a clear run, but it still wasn't a bad result," said trainer Osamu Hirata.
Omega Perfume : The 4-year-old colt by Swept Overboard has only ever run on dirt and his thirteen career races have yielded six wins, and he's only been unplaced twice. He's coming off a second place finish in the JBC Classic over 2,000 meters at Urawa in November. Trainer Shogo Yasuda commented: "We can look to this race after his performance in the JBC Classic, where due to the small oval track at Urawa, he wasn't able to really demonstrate his speed. He's come out of that race fine and we're making sure there's no tiredness about him."
Chuwa Wizard : A horse that has always placed in the first three in all his races, the 4-year-old colt has built himself a good reputation, and comes here off the back of a narrow win in the JBC Classic at Urawa recently. He also won the Grade 3 Heian Stakes at Kyoto over 1,900 meters in May. "It was a tight finish last time, but he just got up to win and it was a gutsy performance. He's managing to string some good results together," assistant training staff at the stable of trainer Ryuji Okubo said.
Time Flyer : The 4-year-old by Heart's Cry has been known more as a turf horse up to now, but has had three races on dirt since August and trainer Kunihide Matsuda will let him take his chance here. "He'd trained well before the Sirius Stakes, but in the actual race he wanted to get on with things early on, and because he'd lost weight and we had taken the hood off him, these things possibly contributed to his loss. With just the one turn in his last race, and with the hood back on, he ran a smoother race," the trainer said.
Westerlund : Having only had two races this year, the 7-year-old gelding is just three races from his last Champions Cup, where he finished second as the eighth favorite. Coming off a third place finish in the Grade 3 Miyako Stakes over 1,800 meters at Kyoto in November, things could just go right for him here, especially with jockey Christophe Soumillon expected to take the ride. Trainer Shozo Sasaki said, "He ran well last time, and his effort was better than I thought it might be. Despite that uncertainty, he showed a lot of power, and just not having enough at the end could have been due to it being his first race for some time. It was a good run to take him into this race."
Inti : Despite his poor result last time, the 5-year-old by Came Home is always an exciting horse to watch, and the fact that he's won seven of his eleven career races speaks for itself. This year's Grade 1 February Stakes winner will be looking to make amends for his last race, and follow in the footsteps of Gold Dream, who claimed the February Stakes/Champions Cup double in 2017. So too is trainer Kenji Nonaka. "He got very excited going into the first corner last time, and never raced kindly after that, leading to his poor result at the end. He does have this characteristic, but after his last race, there was little damage, and in fact less than what there might have been if he had run his usual race. He's currently very well in himself."
Vengeance : This will be the first Grade 1 race for the 6-year-old, having been a fairly surprising winner of the Grade 3 Miyako Stakes at Kyoto. Trainer Hiroyuki Oneda commented: "Last time the leaders in the race went off at a good pace, but he showed he was up to performing well in the way he could chase them down as the race went on, and showed a good turn of foot in the homestretch to go on and win. He's come out of that race well and there's no change with him."
Wonder Lider
:
Another runner from the stable of trainer Shogo Yasuda, the 6-year-old by
Statue of Liberty
comes into the race off a good win in the Grade 3 Chunichi Sports Hai Musashino Stakes over 1,600 meters at Tokyo in November. The trainer is pleased with the horse's condition. "After his last race, he walked and cantered on the Tuesday and was much less stiff than he was two starts ago after the Green Channel Cup. Given his condition, and the fact the jockey thinks 1,800 meters will suit him, we've decided to take on this race with him," the trainer stated.