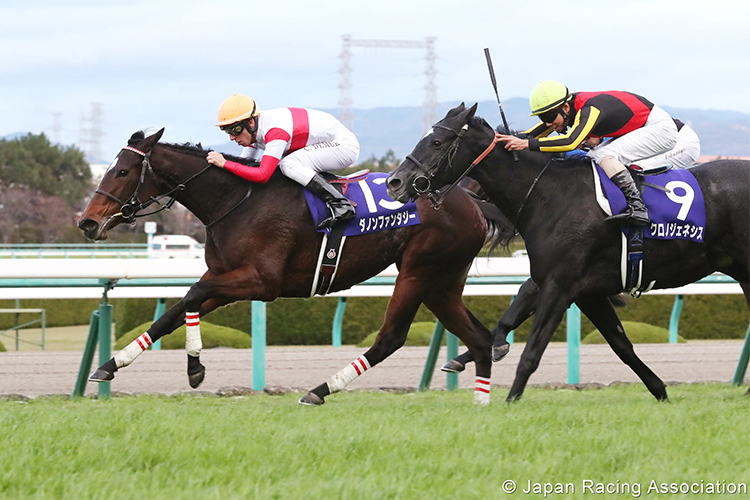 This coming Sunday and next, the JRA turns the spotlight onto the budding talent in this season's 2-year-olds, and it's ladies first with the Grade 1 Hanshin Juvenile Fillies on Dec. 9, followed by the Asahi Hai Futurity Stakes the week after at Hanshin Racecourse.
This year, the Hanshin Juvenile Fillies sees 19 fillies nominated for a full deck of 18 with many of those set to take on their first top-level race have only a few races underneath their belts – some only one prior start.
Of the 19 nominees, three are expected to pull out – Wiesbaden, Sano Honey and Medetashimedetashi – which will leave a final lineup of 16. All will carry 54kg over the 1,600 meters on the outer turf course at Hanshin Racecourse, west of Osaka in neighboring Hyogo Prefecture.
The winner will earn JPY65 million from a purse of JPY140.2 million and be virtually assured of the title of Best 2-Year-Old Filly at the 2019 JRA Awards.
The 1,600-meter outer course at Hanshin, where races are run to the right, is also the course used for the Grade 1 Oka Sho (Japanese 1000 Guineas), the first race in the fillies' triple crown. The Hanshin Juvenile Fillies starts along the backstretch and covers 444m before hitting the first turn. With three furlongs to the finish line, the track dips two meters for 400 meters, then rises steeply over the last 200 meters, making it a formidable test of stamina as well as speed.
The race record is held by seven-time Grade 1 champion and the 2008, 2009 JRA Horse of the Year Vodka, who cut a time of 1 minute, 33.1 seconds in 2006. The Hanshin Juvenile Fillies will be the 11th race on Hanshin's Sunday card of 12, with post time of 15:40 local time.
The early favorites for the 71st running of the Hanshin Juvenile Fillies are :
Cravache D'Or : Her Mitsumasa Nakauchida stablemate Ria Amelia may command more of the pre-race spotlight but this Heart's Cry daughter looks more than capable of stealing the show Sunday. Cravache d'Or, out of the Giant's Causeway dam Path of Dreams, won her September debut – the mile at Hanshin – against the boys and then followed up with a runner-up finish in the Grade 3 Saudi Arabia Royal Cup (1,600m) on Oct. 5. The performance in the Saudi Arabia Royal Cup was particularly impressive, raising a lot of eyebrows as Cravache d'Or went toe-to-toe against her half-brother Salios, who won in a course record for 2-year-olds and is tipped by many for next week's Asahihai Futurity Stakes. Cravache d'Or may have conceded first place but her time of 1 minute, 32.9 seconds also bettered the old record. Her jockey Yusuke Fujioka said the race would have been even closer if not for the positioning turning for home. "I don't think we could have asked for more out of her in the previous start," assistant trainer Teruhiko Saruhashi said. "It was a good performance. We always felt the challenge for her was going to come away from the race itself – traveling to the racetrack, all the waiting around, warming up, that sort of thing. Maybe because it was her second time out, but she handled everything much better than we expected." With ample space in between starts, Cravache d'Or has been working out well which only strengthens her case as a legitimate contender. "She's been training good at the stable since. She isn't nervous and is all set to go," Saruhashi said.
Maltese Diosa : The Hanshin Juvenile Fillies will be the Kizuna daughter's fourth start and take it from the jockey who rode Maltese Diosa in the Saffron Sho that she has a very bright future ahead of her. "Kizuna's kids come in all shapes and sizes but this one is nice and easygoing," Yutaka Take said, after steering her to victory on Sept. 29 at Nakayama. "I'm really looking forward to what she does from hereon." While the Takahisa Tezuka-trained filly dropped her August debut to a fellow Hanshin Juvenile Fillies entry – Woman's Heart – Maltese Diosa won her two following starts with a closing rush reminiscent of her father. Hironobu Tanabe will return to the saddle after missing the Saffron Sho but to a new and improved partner, who has been putting in the work for what will be her first graded test. "I liked the way she won her last start. She's racing at a much higher level than I had imagined," Tezuka said. "She looks a full size bigger since the previous race, looking more powerful than her weight would suggest." The trainer is convinced if Maltese Diosa can break well, she has every chance of ending up in the winner's circle. "We've been working on her start and we think if she can just get a solid jump out of the gate, she should have no problems during the trip," he said. "She's an easy ride and can handle the traffic. She won't take a backseat here, even in this company."
Resistencia : Just two starts into her career, the Takeshi Matsushita-trained filly is already drawing comparisons to her sire Daiwa Major for her pace and racing instincts. Resistencia, out of the Argentinian dam Malacostumbrada, comfortably won her Oct. 14 debut before capturing her first graded title on Nov. 2, the Grade 3 Fantasy Stakes. She may not have the explosiveness of Ria Amelia or Woman's Heart, but her ability to stay under control could prove priceless amid an inexperienced field running more on potential and blood rather than tactics. "She was great in her work last week. No complaints there," Matsushita said. "She weighs the same as she did for her last start but looks much sharper, which probably says something about the condition she's in. The jockey (Yuichi Kitamura) said there's a sensitive side to her, but she still improved from her first race to the second. The 1,600 meters is well within her range."
Ria Amelia : Trainer Mitsumasa Nakauchida could be back with another No. 1 choice after winning the race with Danon Fantasy a year ago. Ria Amelia, by Deep Impact out of the Rockport Harbor dam Ria Antonia, debuted in stunning fashion in June, when she won by eight lengths at Hanshin. She followed up in her second start, the Grade 3 Artemis Stakes on Oct. 26 at Tokyo, by going from last to first on the final straight alone, beating eight horses to victory. There were some concerns whispered after the rising star put on 20kg ahead of the Artemis Stakes but the filly, under jockey Yuga Kawada, laid those questions to rest by bursting through the last three furlongs in a race-record 33 seconds flat. Assistant trainer Teruhiko Saruhashi said all the noise came from outside the stable, never inside. "She was not fat despite what her weight may have suggested," Saruhashi said. "She just grew and started filling out, simple as that. I will not say she has no issues whatsoever after the way she's raced so far, but I'm also not particularly worried either. We've been communicating with the jockey and everyone else on the team after the races so we're in good shape." The lone knock on Ria Amelia is that she has competed in only small fields – she was up against just six in her maiden race – but as the daughter of a Breeders Cup Juvenile Fillies winner and a Japanese thoroughbred legend, she is primed to win this Hanshin Juvenile Fillies. "She's been putting in the work since her last race at a constant," Saruhashi said. "She was born a brilliant racehorse so I'm not sure how much better she can get. I don't see a huge difference in her from the last start, but she's shaping up really well."
Woman's Heart
: One of three 2-for-2 graded winners in the race alongside Resistencia and Ria Amelia, expectations are high for Woman's Heart, who hails from a stable rich in Grade 1 tradition – trainer Katsuichi Nishiura won three top-level races with
T M Ocean
and two with
Kawakami Princess
. Woman's Heart, by Heart's Cry out of
Lady of Persia
, has closed out her first two races in under 33 seconds including the Grade 3 Niigata Nisai Stakes on Aug. 25. While she has yet to run clockwise, there's no reason to think that will stop Nishiura's latest prodigy from adding to the stable's already glorious trophy-case. "She put in the practice she needed to a week ago," Nishiura said. "There's no telling how she will handle running to her right but given what I've seen in the workouts, I don't think there will be any issues. It will come down to what kind of a kick she can show down the stretch, but I'm expecting a third win in a row."