It was cleanup day Sunday, Dec. 8, as Japan's team to the Hong Kong International Races scored a record three wins from the four Grade 1 turf events held at Sha Tin Racecourse.
An incredible showing by Japan-based horses claimed victories in the Hong Kong Vase, Hong Kong Mile and Hong Kong Cup, in international fields represented by Ireland, Great Britain, France, Hong Kong and Japan. In sharp contrast to last year, when Hong Kong horses swept all four races, the home team managed only to maintain its grasp on its traditional stronghold, the Hong Kong Sprint.
Japan's horsemen flew in with a team of nine, including seven Grade 1 champions – Lucky Lilac, Deirdre, Admire Mars, Normcore, Persian Knight, Indy Champ and Win Bright– to take on the races first contested by a Japanese horse in 1993 and first won by a representative of Japan two year later.
Raceday was bright and somewhat breezy, with temperatures climbing steadily and the track condition an official "good." The No. 4 race, the Hong Kong Vase, kicked off the international races, where Japan's three contenders in the 2,400-meter turf event wowed the crowd as they came home in first, second and fourth place amid a field of 14.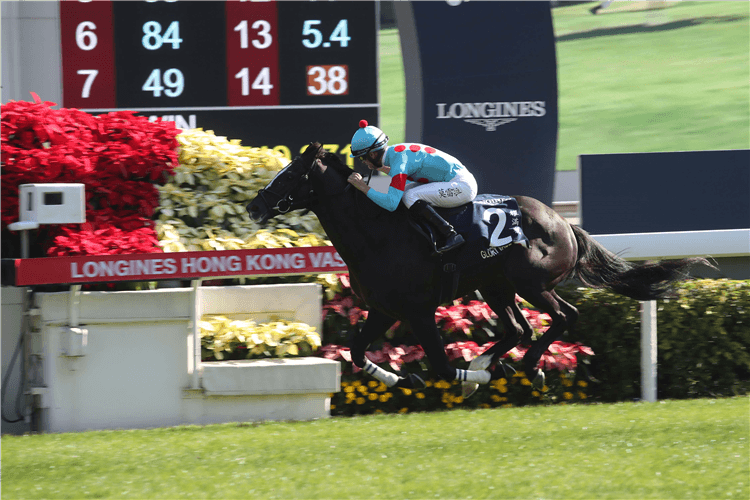 The 4-year-old Deep Impact colt Glory Vase, runnerup in this year's Grade 1 Tenno Sho (Spring), captured his first top-level race in topping the Vase field by 3 1/2 lengths under Joao Moreira with a time of 2 minutes, 24.77 seconds. Glory Vase, who gave Japan its third victory in the Hong Kong Vase, was followed by Lucky Lilac, a 4-year-old daughter of Orfevre partnered with Christophe Soumillon. The 5-year-old mare Deidre, who captured the Grade 1 Nassau Stakes at England's Goodwood Racecourse this summer and whose last six starts have all been outside of Japan, finished in fourth place behind Hong Kong's Exultant.
It hadn't been the smoothest of runs for Glory Vase. Moreira said he had experienced traffic problems. "Just before turning for home, I was feeling a bit trapped," he said. "But I got a gap and dashed in there and I knew I was the winner. He was attacking the front." Trainer Tomohito Ozeki, based at Miho Training Center, said that despite the colt's loss last out in the Grade 2 Kyoto Daishoten, he had felt the ground at Sha Tin "would really suit him and so we decided to bring him here."
Next up as Race No. 5 on the card of 10 at Sha Tin was the Hong Kong Sprint. Danon Smash, fourth in this year's Grade 1 Takamatsunomiya Kinen and third in the top-level Sprinters Stakes, was the only foreign-based horse in the field of 13 after Australia's In Her Time had to be scratched earlier in the day. However, Danon Smash, whose sire Lord Kanaloa had triumphed in the Hong Kong Sprint in both 2012 and 2013, proved no match for Hong Kong's sprinters and disappointed with an eighth-place finish. Beat the Clock, Hot King Prawn and Aethero took the top three spots, respectively.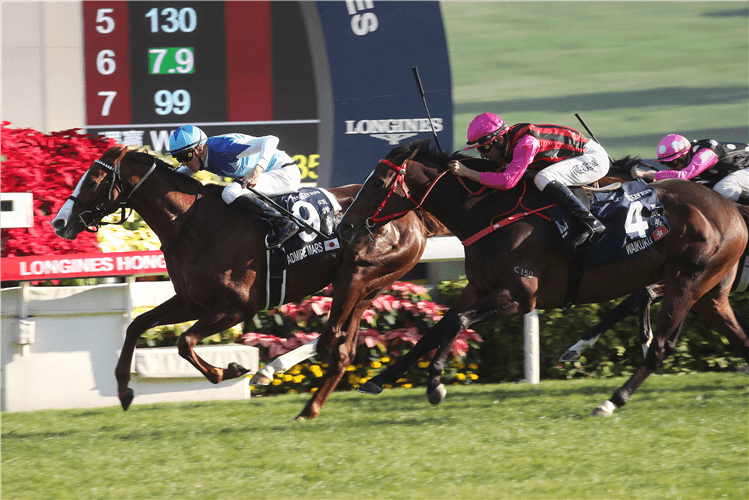 Japan weighed in heavy with four representatives in the Hong Kong Mile – all of them Grade 1 winners – and once again took home the first-place bounty, as Admire Mars, a 3-year-old colt trained by the Ritto-based Yasuo Tomomichi and winner of this year's Grade 1 NHK Mile Cup, topped the field of 10 under Soumillon with a time of 1 minute, 33.25 seconds. It was the fourth win of the Hong Kong Mile for Japan.
Hong Kong's Waikuku finished second, followed by seven-time Grade 1 winner Beauty Generation in third place. Japan's Normcore, with Christophe Lemaire up, followed a close fourth with Persian Knight (piloted by Oisin Murphy) on her heels in fifth. Indy Champ, ridden by Damian Lane, came home in seventh place, but only some two lengths behind the winner.
The victory was an emotional one for Admire Mar's connections. Owner Riichi Kondo had passed away only three weeks ago and, in the presentation ceremony at Sha Tin, his wife held a photo of the flamboyant owner who had given Japan many champions but had yet to win at Hong Kong. Tomomichi wore a suit that had belonged to Kondo and had been refitted for the trainer to wear on this special occasion. He also sported the very tie Kondo had worn for Admire Mar's win of the Grade 1 Asahi Hai last year. "To be honest, I thought it would be tough for a 3-year-old to win the race," Tomomichi said. "But, when I arrived in Hong Kong on Tuesday, I saw that the colt was doing very well and was extremely relaxed and I started to think he had a chance." Last year, Tomomichi's Vivlos ran second to Hong Kong's Beauty Generation. With Admire Mars' win, Tomomichi admitted that "it felt good to have beaten him this year."
Soumillon, who had actively sought the ride on Admire Mars, paid tribute to the late owner and said, "I am happy and proud to take these colors so high today. To be honest, I saw that Beauty Generation didn't quite have the magic he had last year and I knew we had a chance. In fact, I saw the odds on (Admire Mars) when I rode out and I thought they were way too long."
The eighth race of the day and last of the international races – the Hong Kong Cup, a 2,000-meter event – had been thought ready to be claimed by Japan's Almond Eye. The super filly's withdrawal due to an elevated temperature shortly before her scheduled departure from Japan threw Hong Kong's richest race wide open. Japan's Win Bright took top honors, landing Japan its sixth win of the Cup and with it nearly HKD16 million.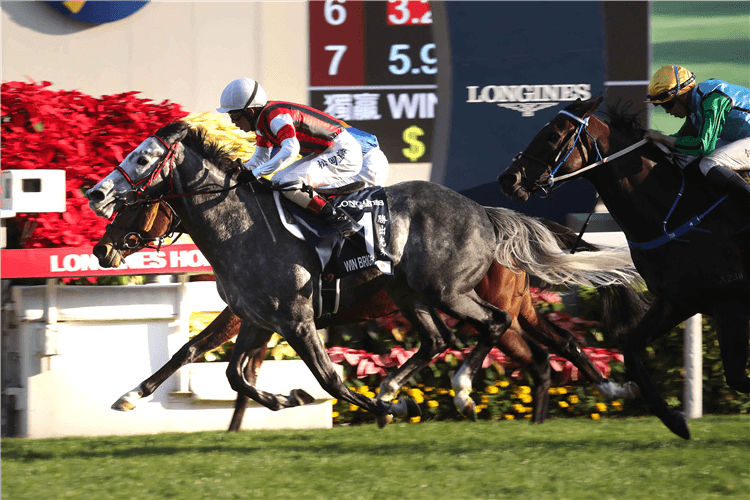 Win Bright, a 5-year-old son of Stay Gold, winner of the 2001 Hong Kong Vase, captured his second Grade 1 race in Hong Kong this year following victory in the Grade 1 Queen Elizabeth II Cup at Sha Tin in April. The Aidan O'Brien-trained Magic Wand finished second, with Hong Kong's Rise High in third.
Trained by the Miho-based Yoshihiro Hatakeyama, Win Bright clocked 2 minutes, 0.52 seconds. "He hadn't performed very well in his last two starts," Hatakeyama said. "But after he got here, his condition improved and thanks to the Hong Kong Jockey Club and the very good support provided to us, we are very happy to have had him here."
Win Bright was ridden by Masami Matsuoka, the only Japanese jockey to ride one of the nine horses from Japan. When asked what it was about Sha Tin Racecourse that the horse seemed to like so much, Matsuoka, who has ridden all but one of the horse's 20 starts, said, "He has always liked right-handed tracks."