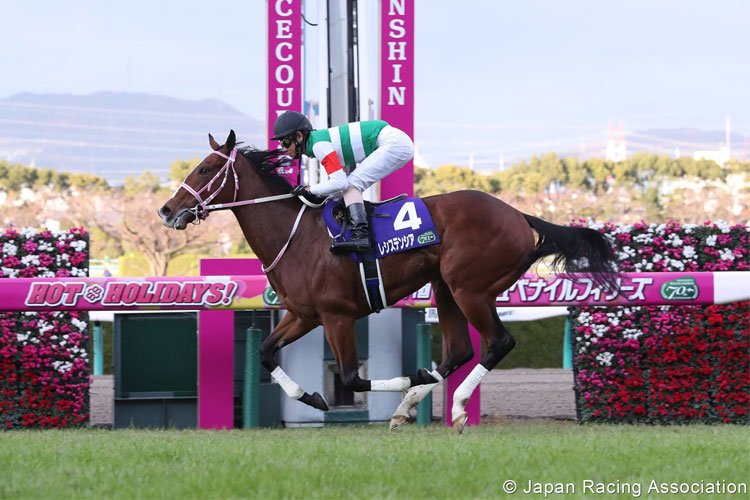 Fourth favorite Resistencia showcased a perfect trip under Yuichi Kitamura to dominate the Hanshin Juvenile Fillies in an amazing 1:32.7, 0.4 seconds faster than the record set by Vodka in 2006. The Daiwa Major filly easily put a five-length margin between herself and the rest of the field at the wire while displaying the fastest last three-furlong drive. After immediately breaking her maiden in her October debut start and claiming last month's G3 Fantasy Stakes, both 1,400m races, the unbeaten top two-year-old filly proved her unquestionable strength over the mile distance. Opening his yard in 2015, trainer Takeshi Matsushita now celebrates his first JRA-G1 triumph and sixth graded win while jockey Yuichi Kitamura has now three JRA-G1 wins under his belt, his latest was with Chrono Genesis in the Shuka Sho this year.
Breaking from stall no.4, Resistencia was quickest out of the gate, setting a solid pace with Lotus Land and Woman's Heart on her heels up to the last turn. First to enter the lane, the Daiwa Major filly steadily pulled away, outdistancing the other runners from the 3-furlong point with commanding speed and romped to an easy and convincing five-length victory.
"I knew she had the necessary speed as long as she broke well so I concentrated on keeping her relaxed in the middle stages. We were hoping she would mature mentally and I'm happy to see that she was calm and relaxed today. She was so strong and has so much potential—her future is definitely something to look forward to," commented jockey Yuichi Kitamura after the race.
In her first grade-race challenge, Saffron Sho winner Maltese Diosa sprinted well sitting off the pace on the outside in fourth and then move up to good striking position in third. Although the sixth pick was no match to the winner, the daughter of Kizuna stretched well to the wire, fending off a strong and persisting challenge from Cravache d'Or and nosed out her rival for the runner-up seat.
Third favorite Cravache d'Or took a wide trip in mid-field and with the second fastest late drive, tackled her tiring frontrunners, catching up with Maltese Diosa at the furlong pole but lacked the final kick and was a nose late for third.
Breaking from the second widest gate, heavy race favorite Ria Amelia was reserved in the rear and after hitting the straight second from last, was unable to unleash her good turn of foot and finished sixth.
Other Horses :
4th: (3) Woman's Heart - chased leaders in 3rd, advanced to 2nd after 300m out, weakened in last 200m
5th: (1) Yamakatsu Mermaid - hugged rails around 8th, switched to outside at early stretch, showed effort until
100m out
7th: (2) Kawakita Ajin - saved ground around 10th, ran gamely until 200m pole, weakened thereafter
8th: (6) Christie - ran 3-wide around 5th, struggled to find clear path, lacked needed kick
9th: (13) J'Ai la Peche - sat 3-wide around 10th, passed tired rivals at stretch
10th: (5) Buon Voyage - settled around 5th, outrun after top of stretch
11th: (8) Autumn Red - raced around 10th, found little room in early stretch, even paced
12th: (7) Lotus Land - stalked leader in 2nd, fell back after 300m out
13th: (12) Himesama - raced inside favorite near rear, unable to reach contention
14th: (14) Sweet Melina - took economic trip near rear, never a threat
15th: (16) Elena Avanti - traveled 4-wide around 5th, faded after 4th corner
16th: (11) Luce della Vita - positioned 4-wide around 10th, no factor