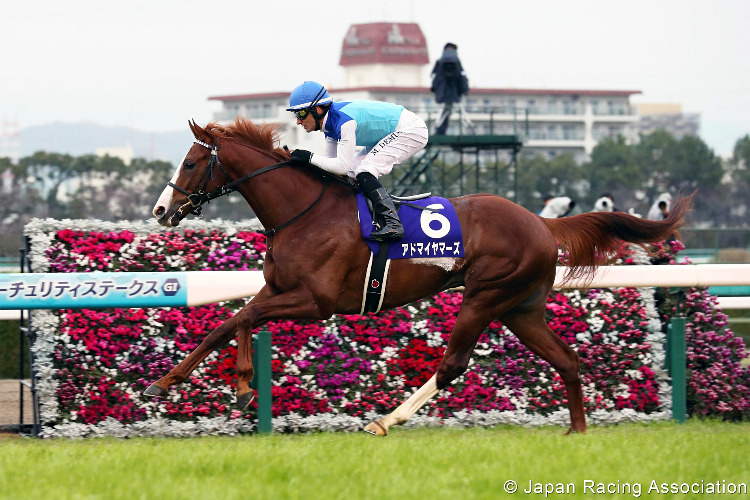 The focus for Japanese racing on Sunday, Dec. 15, remains on the 2-year-olds, only this time it's the turn of the colts in the Grade 1 Asahi Hai Futurity Stakes, to be run at Hanshin Racecourse, the same venue as last week's race for fillies. The track is currently celebrating its 70th anniversary. Races for 2-year-olds were first run in Tokyo in 1946, and the early races of what is now known as the Asahi Hai Futurity Stakes were run over sprint distances. In 1962 the race was run over its current distance of a mile and was held at Nakayama until the switch to Hanshin in 2014. It became a Grade 1 race in 1984 and an international Grade 1 in 2010.
This year sees 17 nominations, among which is one filly, Kurino Premium. The race has been a stepping stone for some big names in Japanese racing, including Narita Brian (1993), Fuji Kiseki (1994) and Rose Kingdom (2009), as well as more recently Danon Premium (2017) and just last year Admire Mars, recent winner of the Longines Hong Kong Mile. While the Hopeful Stakes' elevation to Grade 1 status gives connections eyeing next year's Classics a preliminary race to aim for, the Asahi Hai Futurity Stakes is also a good place to start when assessing a young horse's prospects.
Step races leading into this year's race have included the Grade 3 Saudi Arabia Royal Cup over a mile at Tokyo in October, Grade 2 Keio Hai Nisai Stakes over 1,400 at Tokyo in November, and Grade 2 Daily Hai Nisai Stakes over 1,600 meters at Kyoto, also in November. In the last 10 years, foreign jockeys have claimed the race six times, while four first favorites have obliged in that same time frame. The race record, since it has been held at Hanshin, belongs to Danon Premium, who won in a time of 1 minute, 33.3 seconds in 2017. The winner's prize money is set at JPY70 million this year.
The 71st running of the Grade 1 Asahi Hai Futurity Stakes will be Race 11 on the card on Sunday, with a post time of 15:40 local time. Here's a look at some of the colts expected to be in the lineup :
Salios : Big things can be expected from Salios, a colt by Heart's Cry who has won both his starts to date, the latest the Grade 3 Saudi Arabia Royal Cup, and despite its Grade 3 status, some good horses have come from that race over the years. Salios is trained by Noriyuki Hori, a trainer with 11 JRA Grade 1s to his name, and assistant trainer Kazutomo Mori recently commented on the horse's progress. "He's been at the farm, as well as Northern Farm Tenei, before returning to the stable three weeks ago. All is well with him and he's getting tuned up nicely. Since the spring, he's looked as if he could develop into a very nice horse," he said. Jockey Ryan Moore is set to take the ride on Salios.
Red Bel Jour : The Deep Impact colt won this year's Grade 2 Daily Hai Nisai Stakes in November, adding to his other win in his debut race in June. He had put on 28kg before his last race, but it's a sign of him growing and becoming stronger, and he is expected to be about the same weight for this race, maintaining his condition as before. In a workout on the woodchip course at Ritto on Dec. 4, he posted a four furlong time of 52.5 seconds, with a final furlong time of 12.2 seconds.
Taisei Vision : Already with prize money three times that of his purchase price at the 2017 Select Sale, the colt by Turtle Bowl is coming off a win in record time of the Grade 2 Keio Hai Nisai Stakes. The Northern Farm bred colt is trained by Masayuki Nishimura, who has held a training license since 2014 and is looking for his first JRA Grade 1 victory. What better man to help him do it than jockey Yutaka Take, who is lined up for the ride on Taisei Vision.
Lauda Sion : In the Silk Racing Co. Ltd. ownership, the Real Impact colt was third in this year's Grade 3 Kokura Nisai Stakes in September, and was last seen slogging out a win in heavy ground in the Open Class Momiji Stakes over 1,400 meters at Kyoto in October. It will be the first time for him to travel further than 1,400 meters, but he is another interesting runner and deserves respect.
Pale Ale : The big, striding colt was beaten favorite last time when having to settle for third behind Red Bel Jour in the Daily Hai Nisai Stakes, but in reality has done little wrong so far in his career, with a win and a second besides the last race. His piece of work at Ritto on the woodchip course on Dec. 4 saw him record a six furlong time of 79.5 seconds, closing out the final furlong in 11.6 seconds. He is trained by Japan's leading trainer Takayuki Yasuda, and his big race jockey this time is expected to be Oisin Murphy.
Bien Fait : The Kizuna colt had his first three races in Hokkaido this summer, and certainly proved his worth when winning the Grade 3 Hakodate Nisai Stakes over 1,200 meters two starts ago. He has since finished second to Taisei Vision in the record setting time of the Keio Hai Nisai Stakes. Ridden by jockey Yusuke Fujioka in every race so far, the rider looks set to partner him again in a bid to give trainer Kazuya Nakatake his third JRA Grade 1 win.
Win Greatest
:
It is one win and two seconds from three starts for the
Screen Hero
colt. His second place most recently came when just going down to Red Bel Jour in the Daily Hai Nisai Stakes. Jockey Masami Matsuoka has ridden the horse in all of his races so far, and is expected to team up with trainer Takafumi Aoki once again, as they plot a revenge seeking run here. The trainer said, "The horse started well last time, and thinking ahead to this race, we didn't want him to be too forward in the run last time. The jockey knows the horse well and thinks he doesn't have to be right on the pace. Since his last run, the horse has been at the stable and everything has been fine with him."