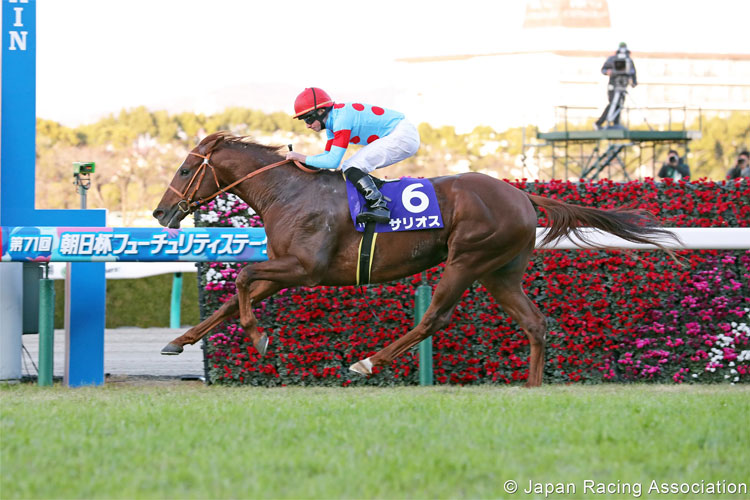 Heavy favorite Salios captured the Asahi Hai Futurity Stakes title undefeated in three starts since his debut in June and did so in record 1:33.0, 0.3 second faster than the previous record set by Danon Premium in 2017. After breaking his maiden in his debut start over 1,600 meters, the Heart's Cry colt renewed the course record in his grade-race debut, the Saudi Arabia Royal Cup (G3, 1,600m) in which he stopped the clock in 1:32.7. Trainer Noriyuki Hori won his 12th JRA-G1 title, his latest being the 2017 Takarazuka Kinen with Satono Crown. Ryan Moore who has been riding under a short-term license since November 16 won his eighth G1 victory—his first since the 2017 Champions Cup with Gold Dream and second in the Asahi Hai Futurity Stakes after his victory with Asia Express in 2013.
Salios slid into a nice spot from a good draw and chased the leader who set a rapid pace, in fourth position and off the rails and outside a rival, and edged closer to the front before the last turn as the field began to gather speed for the stretch run. The chestnut made use of his big strides to make an early start and take command at the head of the stretch as the front runners began to tire and was in full gear when Taisei Vision came with great force from behind, maintaining a clear lead right up to the wire for a 2-1/2-length victory.
"He was a lovely horse. The track ran very fast, but he's a colt that's not short-paced and he was still very green on the turn so he should run even faster in the future. He's a big powerful colt and when I sat on him you get the impression that he's very strong already, but he should improve and be even better as he gets older being the size that he is and hopefully he'll carry on," commented Ryan Moore.
Taisei Vision sat well off the pace two to three wide in 12th position, had to turn wide for the stretch run and made ground rapidly to close in on the eventual winner but was unable to cause a serious threat while besting the rest of the field by more than a length.
Lightly regarded
Gran Rey
, who had just debuted in early October and had come off a win in his second career start later that month, traveled second from last along the rails and loomed to contention with the fastest finish (last 3F) to make ground along the outside for third.
Other Horses :
4th: (14) Tagano Beauty - raced in 14th, turned wide, showed 2nd fastest late drive but overtaken by third-place
finisher just before wire
5th: (13) Prince Return - wide trip around 11th early, further out in early stretch, showed belated charge
6th: (1) Jun Light Bolt - took economic trip around 10th, lacked needed kick
7th: (2) Bien Fait - set rapid pace, maintained lead until 300m out, weakened in last 100m
8th: (16) Lauda Sion - traveled 2-wide around 8th, showed brief effort, even paced in last 200m
9th: (7) Win Greatest - settled behind winner around 6th, checked 300m out, lost momentum
10th: (12) Red Bel Jour - was off a bit slow, ran around 12th, unable to reach contention
11th: (4) Triple Ace - raced inside winner, gradually fell back after final corner
12th: (11) Carinito - trailed in rear, circled wide, passed tired rivals
13th: (5) Meiner Grit - traveled around 9th, never threatened
14th: (10) Egremni - sat behind winner in 5th, checked at early stretch, dropped back
15th: (15) Meisho Titan - chased leader in 2nd, tired from early efforts
16th: (3) Pale Ale - saved ground in 7th, faded in stretch