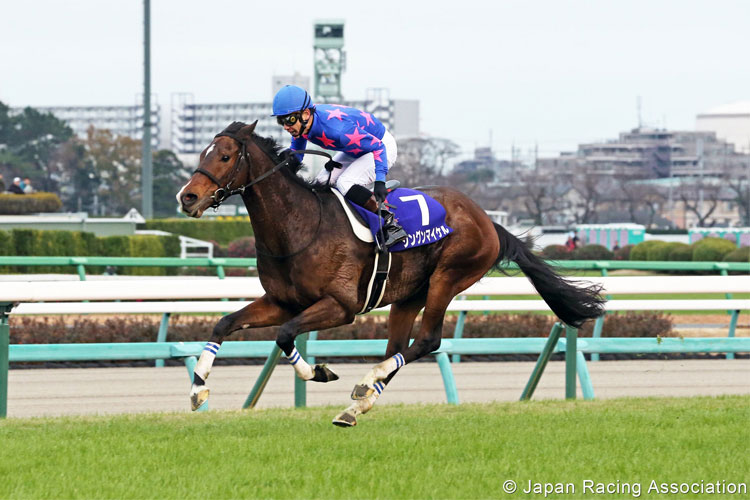 Five-year-old Shingun Michael captured his first J-G1 triumph while marking his third consecutive graded win. After debuting as a three-year-old, the Shingun Opera horse was winless in his first eight career starts in flat races and was switched to steeplechase racing at the end of the same season. The bay broke his maiden in his third start over fences which was followed by another two wins. This year, he scored his first graded win in June's Tokyo Jump Stakes (J-G3, 3,110m) and collected another grade-race trophy in his most recent start, the Tokyo High-Jump (J-G2, 3,110m) in October. For trainer Keiji Takaichi, this is his first G1 and ninth graded title over both flat and jump races while jockey Mitsuki Kaneko celebrates his first G1 and fourth graded victory, all in jump races.
Shingun Michael broke well and was reserved under Kaneko in sixth to seventh while Delightful set the pace up to the final stages. The field began to make their bids coming out of the second to last dip with Shingun Michael also making headway and ascending to second right behind Bright Quartz immediately after clearing the 10th jump (fence no.4). After jumping the final fence (no.5) beside Bright Quartz, the five-year-old gelding shook off all challenge and maintained a good two-length margin from the top of the stretch to the finish line for his first J-G1 triumph.
"I'm thrilled to have won (a G1 title) at last—it's a dream come true. Today I let my horse run in a comfortable rhythm while keeping an eye on the favorite (Thinking Dancer) and third-pick (Delightful). I frantically urged him in the stretch and he gave everything he had. I would like a chance to challenge the 2016-18 Best Steeplechase Horse Oju Chosan next," commented jockey Mitsuki Kaneko.
Sixth favorite Bright Quartz was settled a couple of lengths behind Shingun Michael but caught up with the eventual winner by the sixth jump (no.5), crept up to fourth at the ninth obstacle (no.3) and inherited the lead at the 10th fence (no.4). Although caught by Shingun Michael at the last jump (no.5), the five-year-old bay ran well to the wire to secure second.
Sent off fourth pick Meisho Dassai sat on the heels of Thinking Dancer in third, was unhurried while the others made their bids near the ninth obstacle (no.3), cleared the last fence (no.5) in fifth and showed a good stretch drive to nose out the race favorite in the final strides for third money.
Race favorite Thinking Dancer made a clean break from the farthest stall and chased the pace saving ground a few lengths behind in second up to the second from last fence (no.4) but gave way to the eventual winner and runner-up entering the straight behind in third and held on well only to be caught by the fast closing Meisho Dassai to finish fourth.
Other Horses :
5th: (10) Le Pere Noel - chased leaders in 3rd or 4th, dropped position after 5th jump (fence no.6), showed effort
after 10th jump (fence no.4)
6th: (13) Meadowlark - traveled in 5th, advanced to 3rd after 7th jump (fence no.7), weakened in last 200m
7th: (2) Yokagura - positioned 11th until final corner, improved position at stretch
8th: (6) Shigeru Roninaji - settled behind winner in 7th, lacked needed kick after 7th jump (fence no.7)
9th: (1) Toyo Peace - was off a bit slow, ran 2nd or 3rd from rear, passed tired rivals after 9th jump (fence no.3)
10th: (9) Delightful - set pace, maintained lead until 10th jump (fence no.4), faded
11th: (14) Seagal Fountain - sat in 8th, weakened after 9th jump (fence no.3)
12th: (8) Thracian Code - raced in 9th, failed to keep up with front runners after 5th jump (fence no.6)
13th: (3) South of Border - traveled in 11th, gradually fell back after 10th jump (fence no.4)
14th: (11) Shun Cruise - ran 3rd from rear, no factor
15th: (4) Three Cause Line - broke poorly, trailed in rear throughout