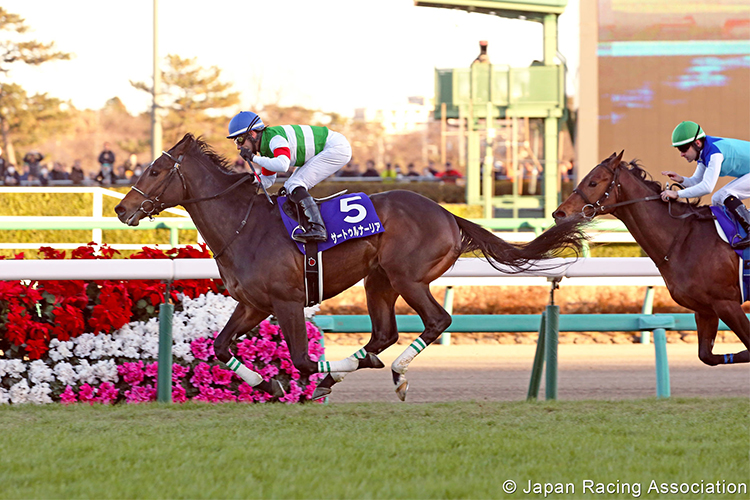 This coming Saturday (December 28th) will be the closing day of the year for Japanese racing under the JRA, and it's the Grade 1 Hopeful Stakes that brings the curtain down on another exciting year for all those connected with Japanese horseracing, both in Japan and overseas. The final big race will be run at Nakayama Racecourse, and is for 2-year-olds. This year sees 17 nominations for the 2,000 meters race on the inner turf course, and with the extended distance in comparison with the Hanshin Juvenile Fillies and Asahi Hai Futurity Stakes, the other Grade 1 races for 2-year-olds, the Hopeful Stakes can be a good starting point for connections looking at next year's Classic races.
The Hopeful Stakes was first run in 1984 and was previously known as the Radio Nikkei Hai Nisai Stakes. The race has had a varied history to date, with name changes, and different tracks and distances over the years, but things have settled down somewhat since the race has been run at Nakayama since 2014, and given its Grade 1 status in 2017. Some famous horses that have won the race include Agnes Tachyon (2000), Victoire Pisa (2009), Japan Cup winner Epiphaneia (2012) and Rey de Oro (2016), to name but a few. Rey de Oro holds the record time for the race since it's been run at Nakayama, winning in a time of 2 minutes 1.3 seconds.
Lead up races to this year's Hopeful Stakes have included the Hagi Stakes over 1,800 meters at Kyoto, Ivy Stakes over 1,800 meters at Tokyo, both Listed races run in October, and Grade 3 Tokyo Sports Hai Nisai Stakes run over 1,800 meters at Tokyo in November. First favorites have won the Hopeful Stakes for the last three years (Saturnalia was last year's winner), and foreign jockeys have won the race in the last four years. The final Grade 1 of the year carries a winner's purse of JPY 70 million, something in the region of US$ 600,000. Saturday's race will be Race 11 on the card at Nakayama, with a post time in Japan of 15:30.
Here's a look at some of the colts expected to play a part in the 36th running of the Hopeful Stakes :
Contrail : The colt by Deep Impact has a similar reputation to recent Asahi Hai Futurity Stakes winner, Salios, going into the race. Both are considered very good colts in the making, and Contrail is coming off a five-length win in record time of the Grade 3 Tokyo Sports Hai Nisai Stakes in November. The horse only marked his debut in September, when he ran out an easy winner at Hanshin over 1,800 meters. He's owned by Shinji Maeda and trained by Yoshito Yahagi, a trainer who's enjoyed so much success this year, and won the Arima Kinen with Lys Gracieux last Sunday. Contrail put in a strong piece of work on the woodchip course at Ritto Training Center on December 18th, working with stablemate Smart C'est la Vie, and posting a six-furlong time of 80.2 seconds, with a final furlong time of 11.8 seconds.
Wakea : An expensive purchase at the 2017 Select Sale, the colt by Heart's Cry is out to prove that he's worth every penny and that's certainly been the case so far. Bred at Northern Farm, he made his debut in June, and after winning his first race over 1,800 meters at Tokyo, he went on to win the Listed Ivy Stakes, run on soft ground, by three lengths. Heart's Cry means such a lot to jockey Christophe Lemaire, and after winning aboard Wakea last time, he said, "It was a comfortable win and I think he'll be able to race over further. He'll improve more from now." Trainer Takahisa Tezuka recently commented on the horse, saying "It'll be the first time for him to run right-handed this time, and when he races left-handed, he can lean in a little, so going right-handed should be fine. I think he can handle the extra distance."
Weltreisende : The colt only made his debut in September, but posted a strong win at Kokura over 1,800 meters on his first appearance, and then followed that up with a win in the Listed Hagi Stakes at Kyoto in October. He justified favoritism in both those races. He's by multiple Grade 1 winner Dream Journey, and is trained by Yasutoshi Ikee, the handler who also trained Dream Journey. The colt worked with his race jockey Oisin Murphy on the woodchip course at Ritto Training Center on December 19th, posting a six-furlong time of 80.7 seconds, closing out the final furlong in 11.5 seconds.
Authority : Another unbeaten colt going into the Hopeful Stakes, the son of Orfevre won his first start over 1,800 meters at Hakodate in July, before going on to win comfortably in the Fuyo Stakes at Nakayama in September, over the same course and distance as the Hopeful Stakes. He's another runner for the Silk Racing Co. Ltd. ownership and is trained by Tetsuya Kimura. "One of the keys with him will be to keep him relaxed before the race. It'll be his first time at the track and to be in a race with a lot of runners, and he'll need to get experience with these things," the trainer said.
Black Hole : All the colt's races have been in Hokkaido, and one of his two victories from three starts came in the Grade 3 Sapporo Nisai Stakes over 1,800 meters in August. Trainer Ikuo Aizawa hopes the Gold Ship colt can give him his first Grade 1 success since 1999. The trainer said, "It was a good performance last time and he certainly ran a strong race. I don't think there'll be much in it this time when he takes on the other strong runners here."
Rhinebeck
:
The well-bred colt by Deep Impact out of
Apapane
is two wins from three starts, with both wins coming at Chukyo over 1,600 meters, and had to settle for third last time behind Contrail in the Grade 3 Tokyo Sports Hai Nisai Stakes in November. The horse is trained by Yasuo Tomomichi, who has won three Grade 1s so far this year. In trackwork on the woodchip course at Ritto Training Center on December 18th, Rhinebeck clocked a six-furlong time of 82.0 seconds and closed out the final furlong in 11.9 seconds, picking up speed from the third corner in his piece of work with two other horses.