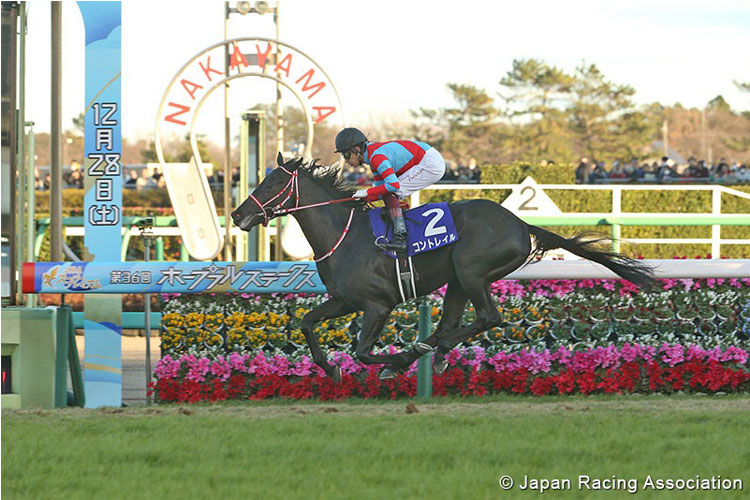 Race favorite Contrail continued undefeated in his third career win in the G1 Hopeful Stakes. Breaking his maiden in his September debut over 1,800 meters, he scored an overwhelming 5-length victory in the following Tokyo Sports Hai Nisai Stakes (G3, 1,800) in November where he set a new course record. Trainer Yoshito Yahagi had just won the Arima Kinen with Lys Gracieux last week before registering his ninth JRA-G1 title in the Hopeful Stakes. Jockey Yuichi Fukunaga won his third JRA-G1 title this year after his victories in the Takamatsunomiya Kinen with Mr Melody and the Yasuda Kinen with Indy Champ and 25th overall.
Contrail broke sharply from an inside draw and was immediately eased two wide in fourth position behind Panthalassa who rushed out from stall nine to set a brisk pace over the 2,000-meter course. The Deep Impact colt gradually moved up through the last two corners, was already at the heels of the leader 400 meters out, then extended his strides effortlessly as soon as he took command passing the furlong pole and pulled away for a 1-1/2-length victory.
"He was really strong. I didn't have to do anything but just sit on him. He's always been a good starter and I didn't want to pull him back too much but was able to settle him behind another runner—although he was racing well up front I was confident that we could make it through to the end. He does tend to be a little keen but the training staff had conditioned him to be in a good motivated mood so it worked well in the race. He really changed his gear effortlessly but did show a little lost once up front—still a little green, and no wonder Ryan (Moore) drove him the way he did in his last run—but the colt really showed his potentials towards his three-year-old campaign next year," commented jockey Yuichi Fukunaga.
Weltreisende was held back after a smooth break and rated in mid-field around sixth or seventh between horses while keeping close watch on the race favorite ahead. The Dream Journey colt made headway with 600 meters to go and entered the straight right behind and outside Contrail but was no match for the winner while besting the rest of the field by two lengths.
Wakea raced off the pace in mid-field, shifted to the outside for the stretch run and closed in impressively but had too much ground to make along the outside for third place.
Other Horses :
4th: (13) Rhinebeck - advanced to 3rd from widest stall, showed tenacity, weakened in last 100m
5th: (11) Authority - sat 3-wide around 8th, ran gamely until 200m out
6th: (9) Panthalassa - set pace, led until 200m pole, tired thereafter
7th: (3) Blooming Sky - tracked leader in 2nd early, outrun after final corner
8th: (10) Dear Theory - saved ground around 10th, angled out, showed little at stretch
9th: (1) Black Hole - hugged rails behind winner, lacked needed kick at stretch
10th: (12) Rugby Boy - settled 2nd from rear, unable to reach contention
11th: (4) Galore Creek - raced 3-wide in 6th, dropped back after 3rd corner
12th: (6) Narino Montagne - traveled 3-wide around 8th, gradually fell back
13th: (8) Kurino Brave - bumped in first 200m, trailed in rear, no factor