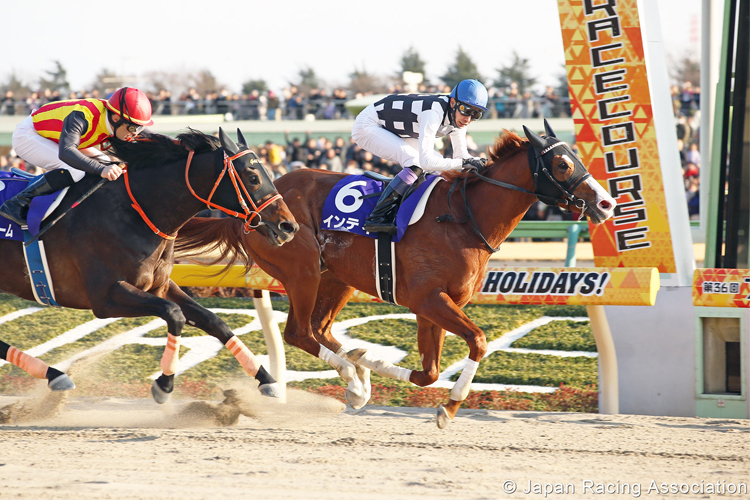 The much-anticipated return of Grade 1 horseracing action in Japan takes place on Sunday, Feb. 23 at at Tokyo Racecourse, when the February Stakes, one of just two Grade 1 dirt races on the JRA calendar, will be run. The 1,600-meter race has attracted 24 nominations, although no fillies or mares have been nominated, and one noticeable absentee is last year's Grade 1 Champions Cup winner and Dirt Horse of the Year, Chrysoberyl, who will be representing Japan on Saudi Arabia's upcoming big race day.
The February Stakes was established in 1984 and was then a Grade 3 race known as the February Handicap. Its gradual class elevation continued until the 1997, when it became a Grade 1 race, and 2007 marked the year it took on international status. This year sees the 37th running of the race, which is for 4-year-olds and up, and all runners are set to carry 57kg.
Many among the field are coming off runs in the Grade 2 Tokai TV Hai Tokai Stakes, run over 1,800 meters at Kyoto in January, and also the Grade 3 Negishi Stakes, run over 1,400 meters at Tokyo in February. With Inti's win in the race last year, favorites have now won four out of the last 10 February Stakes, while 5-year-olds have won the race five times in the same time period, and 10 times since 2000. Moanin holds the record time for the race, winning in 1 minute, 34.0 seconds in 2016. The winner from the maximum 16-runner field will receive JPY100 million (around US$920,000).
The big race will be Race 11 on the Tokyo card on Sunday, with a post time of 15:40 local time. Here's a look at some of the runners expected to play a part in the race :
Mozu Ascot : The American bred 6-year-old by Frankel won the Grade 3 Negishi Stakes over 1,400 meters at Tokyo in February, in what was his first race on dirt in a 20-race career so far. While there are obviously more experienced dirt horses in the lineup, he could prove a tough one to beat here. "It was his first start on dirt last time, and despite not getting off to the quickest start, he didn't mind the kickback and ran on well late to win, showing his ability to run on dirt. He's a high-class horse as he's shown in his turf races, which have included a win in the Grade 1 Yasuda Kinen," said assistant trainer Yusaku Oka. Mozu Ascot is trained by Yoshito Yahagi and his big race rider will be Christophe Lemaire.
Inti : Last year's winner gave jockey Yutaka Take his fifth win in the February Stakes, and he'll be partnering him again this year in a bid to give Inti a place in the record books, by becoming just the second horse to win the February Stakes twice. The 6-year-old needs to be well up with the pace and given a smooth run, but the Tokyo track and the rider's record in the race certainly give him a good chance. His trainer Kenji Nonaka said, "I was happy with his last run where he finished third, especially considering he had to carry 58kg. His condition will improve for that run, and with just the one turn in this next race, it'll be better for him." Inti has won seven of his 13 races and has only been unplaced three times.
Arctos : It will be the first race this year for the 5-year-old Arctos, but what grabs attention more than anything about him is his record in dirt races at Tokyo. Admittedly, this will be his first Grade 1, but from six races on dirt at the track, he has won five times and finished second once, with all those races being over 1,400 or 1,600 meters. "He's had a break at the farm and has come back refreshed, so his condition is good and he's been training well," trainer Toru Kurita said.
Sunrise Nova : The 6-year-old by Gold Allure is a consistent dirt performer and has a more than 50% success rate of finishing in the first three from his 25 career starts. He finished seventh in last year's February Stakes, and comes into the race fresh this year – this being his first run in 2020. Trainer Hidetaka Otonashi said, "He got a good position in the Musashino Stakes last time, but it got tough for him on the run for home down the Tokyo home straight. He's in good enough condition for his next run here."
Vengeance : Now a 7-year-old, Vengeance shows no sign of losing his sharpness, as could be seen in his first race this year, the Grade 2 Tokai TV Hai Tokai Stakes in January, where he finished second, just ahead of Inti. Trainer Hiroyuki Oneda is pleased with the horse. "He was in good shape for his last run, and among that field he had one of the best closing three furlong times in the race. He won the Miyako Stakes in a faster time, but with this latest race, I think he's done well," Oneda said.
Wide Pharaoh : Trained by Katsuhiko Sumii, who last won the February Stakes back in 2006 with Kane Hekili, Wide Pharaoh is a 4-year-old colt who has just had five starts on dirt, but they include a course and distance win in 2019. The horse is coming off a run in the Grade 3 Negishi Stakes early this month. "It was a big run for him last time in a strong field, and he got into the race well and ended up finishing fifth, despite having to carry 58kg. There was nothing negative about it," said assistant trainer Takashi Kotaki. Jockey Yuichi Fukunaga looks set for the ride.
Mikki Wild : The Northern farm bred 5-year-old has achieved five wins and five seconds from 15 races, and despite a slightly disappointing run in the Grade 3 Negishi Stakes last time, connections have no reason to think he can't put in a good run in the February Stakes. "Everything was fine with him at the stable before his last race. In the race itself he started well and got into the flow of things, but just lacked a bit at the end. It gives us something to work on before his next run," said trainer Takayuki Yasuda.
Bulldog Boss
: No 8-year-old has ever won the February Stakes, but the NAR runner will aim to put the more fancied runners in their place, and it shouldn't be forgotten that
Copano Rickey
won the race in 2014 at odds of 272-1. While Bulldog Boss put in some good performances in NAR races last year, his first run this year will really be on the big stage. Trainer Tadashi Kayo said, "He's new to the stable, so it's difficult to assess him and to know when he gives his best. One thing I will say is he doesn't seem like an 8-year-old."