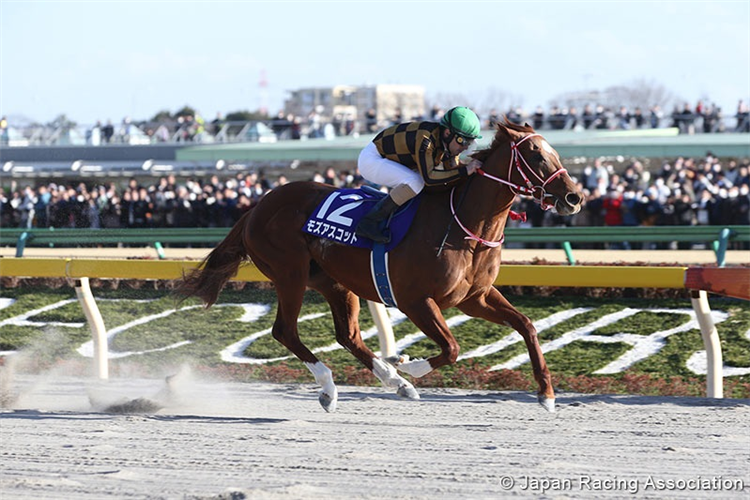 Race favorite Mozu Ascot captured his second G1 victory in this year's February Stakes and has become the fifth horse to claim G1 titles both on turf and dirt following Kurofune, Agnes Digital, Eagle Cafe and Admire Don. After his G1 triumph in the 2018 Yasuda Kinen (1,600m) and struggling with two G2 runner-up efforts after that, he immediately showed his talent on dirt by winning his first outing on the surface in the Negishi Stakes (G3, dirt, 1,400m) earlier this year. His connections have announced their intentions of racing the six-year-old chestnut in the Doncaster Mile (G1, 1,600m) in Australia on April 4th. With last year's Arima Kinen victory (Lys Graciuex) and the Hopeful Stakes win (Contrail) that followed, Mozu Ascot's trainer Yoshito Yahagi has now become the first trainer since Kunihide Matsuda in 2004 and second overall to capture three JRA-G1 titles consecutively. Jockey Christophe Lemaire has now 28 JRA-G1 wins—his latest was in last season's Tenno Sho (Autumn) with Almond Eye.
The full gate of 16 opened with Wide Pharaoh and Arctos sprinting to the front to lead the field while Mozu Ascot was settled behind last year's winner and second favorite, Inti in mid-division. After entering the straight in sixth to seventh, the race favorite came looming up from the inside, took over the lead from Time Flyer before the furlong marker and galloped strongly and unthreatened to the wire for a 2-1/2-length victory.
"He broke well and we were able to settle right behind Inti as planned. His acceleration was extraordinary. Although he is a newcomer in dirt racing, he adapted immediately to the surface and gave his best today. After a couple of seconds in the past, I myself, am happy to have won the February Stakes at last," commented Christophe Lemaire.
Seven-year-old K T Brave broke well from a wide stall and sat a length or two behind the eventual winner in mid-pack. The longest shot on the board angled out sharply at early stretch and while displaying a tremendous burst of speed, tagged the tiring Time Flyer first before shaking off a stubborn Wonder Lider 50 meters out for second.
Sunrise Nova traveled outside Wonder Lider two to three lengths behind K T Brave and was late in making his bid entering the lane second from last, but with the fastest last three-furlong speed, the third-pick showed a strong stretch charge pinning Wonder Lider at the wire for third.
Other Horses :
4th: (16) Wonder Lider - hugged rails around 12th, angled out to lane, responded well
5th: (4) Time Flyer - tracked leaders in 3rd, led briefly before 200m pole, weakened in last 200m
6th: (8) King's Guard - saved ground in rear trio, showed impressive late kick but never a threat
6th: (11) Mogiana Flavor - trailed in rear, showed belated charge on inner route but never threatened
8th: (10) Nonkono Yume - ran wide in 11th, passed tired rivals at stretch
9th: (2) Arctos - pressed pace in 2nd early, took lead at early stretch, outrun in last 200m
10th: (7) Vengeance - settled 4-wide in 7th, showed effort, weakened in last 100m
11th: (14) Mutually - was off slow, sat 3-wide in rear trio, showed brief effort at stretch
12th: (3) Wide Pharaoh - set pace, ran gamely until 300m out, faded
13th: (1) Bulldog Boss - took economic trip in 6th, ran out of steam after 300m out
14th: (5) Inti - chased leaders around 4th, faded after 300m out
15th: (13) Derma Louvre - raced in 9th, showed little after turning final corner
16th: (6) Mikki Wild - traveled 3-wide around 4th, gradually fell back