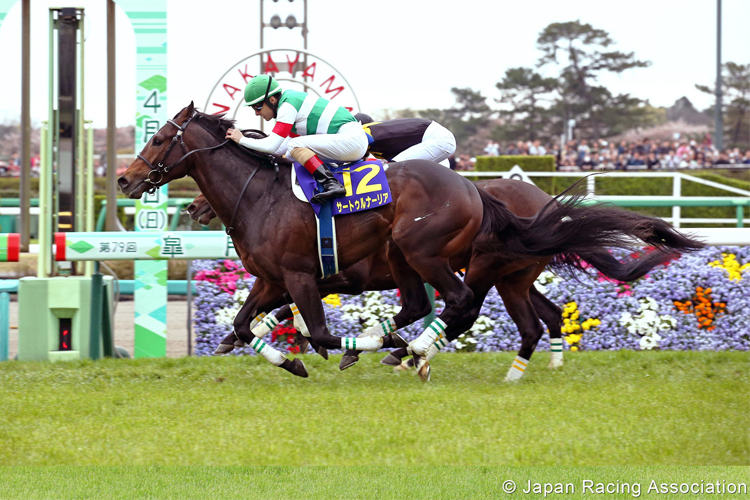 It's the turn of the colts this coming Sunday (April 19), when Nakayama Racecourse stages the first leg of the Triple Crown here in Japan. It will be the 80th running of the first colts' Classic, and as is usual at this time of year, there's a lot of excitement as to whether there's another Triple Crown winner waiting in the wings this time around. There have been just seven horses in Japanese horseracing history to achieve the feat, and already it's been nine years since Orfevre took full honors in 2011. It was Duramente back in 2015 that has recently come the closest, with his wins in the Satsuki Sho (Japanese 2000 Guineas) and Tokyo Yushun (Japanese Derby) in that year.

This year sees 19 nominations for the race, which is run over 2,000 meters on the inner turf course at Nakayama. The start is in the homestretch and runners must negotiate four corners in the race to take them just over a circuit of the inner course, and it effectively means tackling the rise in the homestraight twice. Some of the races leading into this year's Satsuki Sho (Japanese 2000 Guineas) have included last year's Grade 1 Hopeful Stakes (run over the same course and distance), last December's Grade 1 Asahi Hai Futurity Stakes (run at Hanshin over a mile), and the Grade 2 Hochi Hai Yayoi Sho (Deep Impact Kinen), also run over the Satsuki Sho course and distance in March.

All the colts carry the same allotted weight of 57kg, and the winner's check this year is JPY 110 million. Last year's winner, Saturnalia, helped boost the favorite's record in the race a little, but it still only means the favorite has won just three times in the past decade. Record time for the race was set by Al Ain in 2017, when he won in a time of 1 minute 57.8 seconds. The race time this Sunday is 15:40 and it will be Race 11 on the Nakayama card.

Here's a look at some of the exciting prospects for the first colts' Classic of the year :
Salios : One of a few unbeaten horses among the nominations, big things are expected of the Heart's Cry colt, as he steps out for his first race as a 3-year-old. His three wins so far have all come over 1,600 meters, and have seen him always up with the pace, before producing an extra gear at the finish of his races. Trainer Noriyuki Hori commented: "He showed last time in the Asahi Hai Futurity Stakes what he's capable of. At the final corner, he was able to circle the other runners and get to the lead, and knew what to do from that point on. He's still a young horse and inexperienced, and we'll have to see from now what he can do." Damian Lane is expected to ride Salios, as he did in the horse's debut race.
Contrail : Another unbeaten colt, Contrail has already bagged over JPY100 million in prize money from his three victories, which have included the Grade 1 Hopeful Stakes over the Nakayama course and distance at the end of last year. The Deep Impact colt is trained by Yoshito Yahagi, who's currently enjoying another good year. The colt is reported to be in good shape. "Since his last race, this has been the target for him. He's had a break at Oyama Hills and returned to the stable on March 18. Everything's fine with him, and while he is a little on his toes, it would seem only natural for a horse like him," said assistant trainer Yusaku Oka. Jockey Yuichi Fukunaga looks set to partner him again in Sunday's race.
Darlington Hall : Sired by five-time Grade 1 winner, New Approach, the Godolphin owned colt has two wins from four starts, including a victory in his latest race, the Grade 3 Kyodo News Hai (Tokinominoru Kinen) over 1,800 meters at Tokyo in February. Stable staff for trainer Tetsuya Kimura think the horse is coming along well. "At the end of last year, the horse's balance wasn't so good, but it's improved since he's been at the farm. In his last race, the jockey did well to get the win, and now in training these past two weeks, the horse has a more balanced feel to him," reported assistant trainer Yu Ota. Mirco Demuro, four-time winner of the Satsuki Sho, looks likely to get the ride on Darlington Hall.
Satono Flag : Christophe Lemaire gets the ride on the Deep Impact colt for trainer Sakae Kunieda, and the horse has only ever run in 2,000 meters races, proving he'll have no problem seeing out the trip here. His latest win in his fourth career start came in the Grade 2 Hochi Hai Yayoi Sho (Deep Impact Kinen) over the Satsuki Sho course and distance in March, when the going was yielding. Trainer Sakae Kunieda commented: "It was his highest level race last time, and he certainly did well, thanks to the jockey getting him out from the inside and finding the best ground for him on the outside. I can have no complaints about the horse, given his record time win as a juvenile, and his ability to handle soft ground."
Weltreisende : Trainer Yasutoshi Ikee knows all about the progeny of Dream Journey, a horse that he also trained, and he's so far been able to get good results from this son of the 2009 Takarazuka Kinen winner. The horse has never finished out of the top two places in his four starts, and the highlight has probably been his second place finish to Contrail in the Grade 1 Hopeful Stakes. He also finished second in his one race this year. "It would have been good to have won last time, but his prize money is good enough to get into this race. He's shown his ability and I think he can improve from here," the trainer said recently.
Galore Creek : The colt by Kinshasa no Kiseki is two wins from four starts, having won on his debut over 2,000 meters at Tokyo, and then notching a win in his latest race, the Grade 2 Fuji TV Sho Spring Stakes at Nakayama over 1,800 meters in March. Trainer Hiroyuki Uehara said recently, "It wasn't such a fast finish to the race last time, but it showed that he can adjust to how a race is run, and the distance of 2,000 meters poses no problems. He's in good shape since his last race and we've just been keeping him ticking over in training." It looks like a big race ride for visiting jockey Lyle Hewitson.
Cortesia : Last week's Oka Sho winning jockey, Kohei Matsuyama, is in the form of his life, and he gets another shot at a big win here when he partners the Symboli Kris S colt, Cortesia. The horse showed what he's capable of when he won the the Grade 3 Kisaragi Sho over 1,800 meters at Kyoto in February. "I thought he really did well to win last time, and he set a great closing three furlong time in the 33 seconds range. It's encouraging to get a win like that," said his trainer, Takashi Suzuki.
L'Excellence : Another colt that goes into the race unbeaten, the Northern Farm bred son of Deep Impact will have to make the step-up to Grade 1, but after winning the Listed Sumire Stakes over 2,200 meters at Hanshin in March, he showed once again how powerful he is in a finish, and that he can see out a longer distance. He's trained by Manabu Ikezoe, and he's set to be ridden by Yuichi Kitamura.