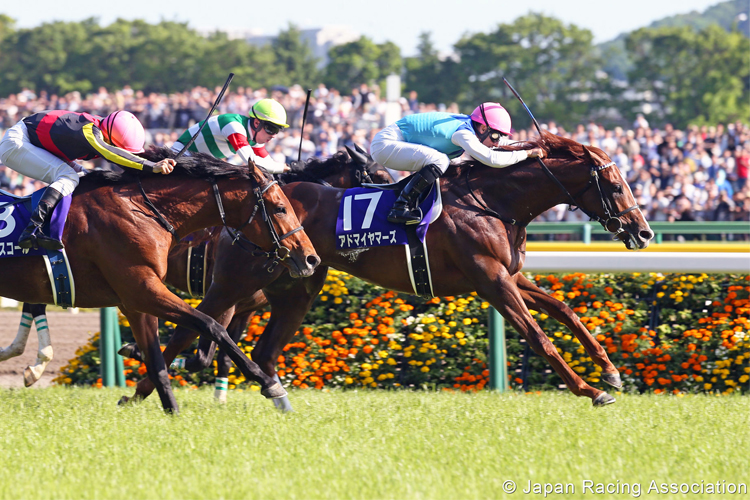 For the next 5 weeks, Tokyo Racecourse is in the spotlight with its annual gala of top-level racing – five big races one after the other, including the Yushun Himba (Japanese Oaks) and the Tokyo Yushun (Japanese Derby).
Sunday, May 10, kicks it all off with the 25th running of the NHK Mile Cup, a race carrying a 105-million yen winner's prize and open to 3-year-old Japan-bred or foreign-bred fillies and colts.
This year sees 22 Japan-based 3-year-olds nominated for the race. Eighteen of them will make the final cut, which includes a lottery to decide which six of nine youngsters with the same level of earnings will be given the chance to run in the 2020 no-spectator version of the NHK Mile Cup.
Highlighting the members and expected to emerge the race favorite is the filly Resistencia, voted the 2019 JRA Best Two-Year-Old Filly after she rewrote the record books winning last year's Hanshin Juvenile Fillies. Closely following her, at least in popularity if not in that order over the finish line, will be four colts -- Satono Impresa, Taisei Vision and Luftstrom – on which the odds on all are expected to be in the single digits come raceday.
The Tokyo mile starts in the backstretch, and participants have more than 500 meters of straight running before the first turn. From there, they sweep around the wide-open left-handed course into the homestretch, famous for its length (525 meters) and its hill that rises sharply soon after the field straightens for home and continues for about 200 meters. It's a test that truly proves the best.
Colts carry 57 kg, fillies 2 kg less. It's the 11th race on the Tokyo Sunday card and post time is 3:40 p.m.
Danon Chantilly holds the race record of 1 minute 31.4 seconds set in 2010. Normcore holds the course record of 1 minute 30.5 seconds set last year in the Victoria Mile.
Here is a look at the expected top choices.
Resistencia – The Daiwa Major-sired Resistencia, who has yet to finish out of the top three spots in her five career starts, ran second in the Oka Sho (Japanese 1000 Guineas) a length and a half behind Daring Tact and returns for her third start this year gunning for her second big win. Resistencia shone from her debut and extended her winning streak to three with a record-setting victory by 5 lengths in the Dec. 8 Hanshin Juvenile Fillies (G1, 1,600 meter). Three months later, she started her 2020 campaign with a third-place finish in the Grade 2 Tulip Sho before running in the Oka Sho. Trainer Takeshi Matsushita says, "She came out of the Oka Sho well despite the heavy ground, and looked good last week working under the jockey." That "jockey" is Christophe Lemaire, currently No. 2 in the jockey rankings and pegged for the ride, his first race paired with Resistencia. Despite her record to date, three concerns remain. It will be Resistencia's first time to travel far from her Ritto base, her first time racing to the left and, though still competing within her age group, she will be up against colts for the first time. She does have the support of her bloodline, however. Three Daiwa Major progeny have won the NHK Mile Cup thus far, including 2019 winner Admire Mars.
Taisei Vision – Taisei Vision, by the Irish-bred Turtle Bowl, has a very impressive three wins and two seconds from five starts that, except for his debut, were all graded-stakes events. Those include a record win of the Keio Hai Nisai Stakes (G2, 1,400) at Tokyo. Taisei Vision has yet to win at the top level, but on his fourth start and first time over the mile, he ran second to Salios in the Dec. 15 Asahi Hai Futurity Stakes, his only previous Grade 1 bid. He returned to the track 4 months later to win the Arlington Cup (G3, 1,600) at Hanshin Racecourse last out on April 18 and did it impressively, winning by 2 lengths despite a 10-kg weight gain from last race. Both horse and trainer Masayuki Nishimura are chasing their first Grade 1 win, but Shu Ishibashi, expected to ride, has two to his name, as well as three graded-stakes victories this year, all of them over the mile. In fact, 13 of Ishibashi's 20 graded-stakes career wins have been over 1,600 meters of turf, and in last year's NHK Mile Cup he brought race 14th pick longshot Cadence Call home in second.
Satono Impresa – Son of Deep Impact Satono Impresa makes a leap up in class this time, going to the gate with only three starts behind him, all of them wins. His first graded-stakes victory was notched last out in the Mainichi Hai (G3, 1,800) at Hanshin on March 28 under Yutaka Take. Though Satono Impresa has yet to prove his speed on the clock, since none of his previous starts have been over fast ground, he looked especially sharp gaining the top from far off the front last out, with a turn of foot that should translate well to a fast track. Trained by Yoshito Yahagi, it will be the colt's first trip east from Ritto and his first time racing to the left. Take is expected to be in the saddle again this time as well. Though Satono Impresa's sire never raced at anything under 2,000 meters, his dam, the French-trained Sahpresa, made the trip to Japan three years in a row from 2009 and recorded 3-4-3 in the Grade 1 Mile Championship.
Luftstrom – Another unbeaten colt with only three career starts thus far is Luftstrom, by champion sprinter Kinshasa no Kiseki. Trained by the Miho-based Noriyuki Hori, Luftstrom only debuted in late January and won his first graded-stakes race last out on April 11 in the New Zealand Trophy, a Grade 2 mile turf event at Nakayama. A bit slow out of the gate, he was forced wide by the eventual runnerup going in to the straight, but rallied despite the loss in ground to win by half a length. All Luftstrom's starts have been over the mile, all at Nakayama. However, his ability to run at speed over distance should translate well to the long stretch of Tokyo. Hori says the colt's weak point, his right hind, is much improved and that his heart and lungs are strong.
Gilded Mirror – With two wins and two seconds out of six starts, Gilded Mirror has failed to make the top three spots one time, the only time former jockey Mikio Matsunaga gave her longer than a mile. One of two Orfevre fillies expected to make the final lineup (Shine Garnet is the other) Gilded Mirror took on her first graded-states race last out in the Arlington Cup (G3, 1,600, Hanshin), finished second and won her ticket to the NHK Mile Cup. Though Gilded Mirror has raced primarily in the lower levels, she has proven competitive, finishing second only a neck behind Satono Impresa in the Feb. 16 Kobushi Stakes, a mile 1-win race at Hanshin, and in second 2 lengths behind Taisei Vision in the Arlington Cup. Though it will be her first time at Tokyo, she won her debut at the left-handed Chukyo venue and has traveled far from her Ritto base for a third-place finish at Nakayama. Gilded Mirror has also raced against colts in all but one of her starts. Like her sire, she is known to have her difficult moments, but expected partner Yuichi Fukunaga is a strongpoint. Only five fillies have won the NHK Mile Cup before, the last being Aerolithe in 2017.
Others of interest include the Sakae Kunieda-trained Succession, who has, in five career starts, notched three wins over the mile, including his debut at Tokyo over yielding ground. He is primed, having finished third last out in the Spring Stakes (G2, 1,800, Nakayama) on March 22 in what was his only start at a distance other than the mile.
Shine Garnet has two wins over the mile and gave a brilliant performance in topping a largely male field last out in the Grade 2 Falcon Stakes over 1,400 meters at Chukyo.
Despite interference the Screen Hero-sired Win Greatest finished third only a neck behind the runnerup in the New Zealand Trophy (G2, 1,600, Nakayama) on April 11. Based at Miho, he finished second in his debut over the Tokyo mile over yielding heavy going. He is primed and improvement expected.