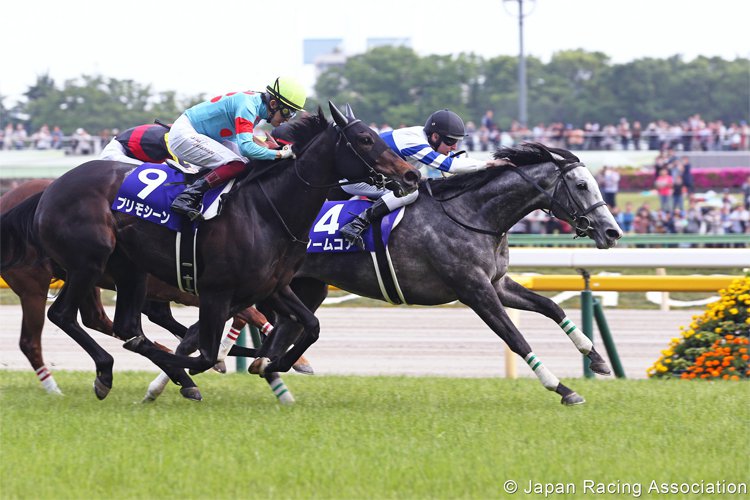 It's the turn of the older fillies and mares this coming Sunday (May 17), when the Grade 1 Victoria Mile will be the second of a string of five consecutive top-level race weeks held at Tokyo Racecourse, which will include the Yushun Himba (Japanese Oaks) and Tokyo Yushun (Japanese Derby). A relatively new race on the Grade 1 calendar in Japan, the Victoria Mile gives older fillies and mares a chance to race against each other over the tough Tokyo mile, and the race has produced some interesting results since the inaugural race in 2006, as well as confirming the superior quality of some of the big-name winners of the race. Vodka (2009), Buena Vista (2010), and Apapane (2011) would certainly fall into the latter category.
There are nineteen nominations for the race this time, including four Grade 1 winners, and all horses are set to carry 55kg. The maximum number of runners is set at eighteen. A couple of races that some of the fillies and mares have taken on leading up to the Victoria Mile are the Grade 3 Kyoto Himba Stakes over 1,400 meters in February, and the Grade 2 Sankei Sports Hai Hanshin Himba Stakes over 1,600 meters in April. Five-year-old mare Sound Chiara showed what form she's in by winning both of these races.
Favorites in the Victoria Mile have fared very poorly, with only three winning in the history of the race, and the last one to win was Verxina in 2013. In the last ten years, 4-year-old fillies have won the race six times, showing their dominance in the race. It was the 4-year-old filly last year, Normcore, who showed the way home in a record time of 1 minute 30.5 seconds. Among the nominations this year, she is bidding to become the third horse in the history of the race to win in consecutive years, following on from Verxina (2013 and 2014) and Straight Girl (2015 and 2016). Connections of the winner this time will receive JPY105 million, and for the first time this year, automatic entry to the Breeders' Cup goes to the winner of the Victoria Mile.
The 15th running of the Grade 1 race for fillies and mares will be Race 11 on the Sunday card at Tokyo, with a post time locally of 15:40.
Here's a look at some of the runners expected to attract interest :
Almond Eye : Needing no introduction whatsoever, the six-time Grade 1 winner will be making her eagerly awaited first appearance of 2020, after the disappointment of the cancelled Dubai meeting. Trainer Sakae Kunieda hopes the 5-year-old mare can put that, and her only finish outside the top three last time in the Grade 1 Arima Kinen (The Grand Prix), behind her. "After her unfortunate result last year in the Arima Kinen, she still travelled to Dubai, but because of the cancellation there, she returned to Japan and saw out the quarantine, before going to Northern Farm Tenei. She came back to the stable on April 30, and not having had a recent race, she's not tired at all and is in good condition," said the trainer.
Loves Only You : Last year's Grade 1 Yushun Himba (Japanese Oaks) winner will also be having her first run of the year, after last being seen finishing third in last year's Grade 1 Queen Elizabeth II Cup in November. She boasts an impressive four wins from five starts record, and has already earned more than her expensive price tag at the 2017 Select Sale. The 4-year-old is by Deep Impact and is trained by Yoshito Yahagi. Assistant trainer Shigeki Miyauchi commented: "She came back to the stable on April 29, and the next day she worked under jockey Ryusei Sakai. The horse looks very powerful and I think she can be effective over a mile." Jockey Mirco Demuro combines well with her and looks set to take the ride again on Sunday, looking for a Grade 1 double in consecutive weeks.
Sound Chiara : The 5-year-old mare was seventh in last year's Victoria Mile, her only Grade 1 race to date. However, with her recent record of three straight wins, including both the Kyoto and Hanshin Himba Stakes races, it wouldn't be too much of a shock to see her put in another good run here. Also by Deep Impact, she has only ever finished unplaced three times in her seventeen race career. "She's been at the stable since her win in the Hanshin Himba Stakes, and she's relaxed and has come out of that race well. She's been able to put in good performances in her races and that's a real plus," said trainer Akio Adachi.
Normcore : Last year's winner is back for another try, and although she's versatile when it comes to distance, her last run in the Grade 1 Takamatsunomiya Kinen over 1,200 meters in March left a bit to be desired. The mile is arguably her best distance, however, as she has won three times over 1,600 meters, including twice at Tokyo. Her trainer, Kiyoshi Hagiwara, said, "The Takamatsunomiya Kinen was her first race since Hong Kong, and although her closing time was not so bad, I didn't think she'd run like she did over 1,200 meters. Since then she's had a break at the farm, returning to the stable on April 29. All being well, from now she'll get tuned up and be in similar condition as she was for the race last year."
Danon Fantasy : Another Grade 1 winner among the nominations, Danon Fantasy has a 50% win strike rate, and is looking to change things around after she finished fifth, when favorite, in the Grade 2 Sankei Sports Hai Hanshin Himba Stakes last time, when she was beaten by just over two lengths. The stable thinks she'll improve for her last run. "She was coming back from a spell last time and was plus 22kg, and even allowing for her developing, I think she was a bit heavy. It was still an encouraging run, and she'll be better for having that race," said assistant trainer Yuya Katayama. The 4-year-old is once again due to be ridden by Japan's leading jockey, Yuga Kawada.
Primo Scene : The 5-year-old mare races in the Silk Racing Co. Ltd colors, and while she is a bit of an enigma when it comes to consistency, she is still very capable on her day. Last year's Victoria Mile was one of those days, when she finished second to Normcore, her best finish in a Grade 1. In her latest race, the Grade 3 Lord Derby Challenge Trophy over 1,600 meters at Nakayama in April, she was sent off favorite and finished fifth. Admittedly, she was a bit unlucky, as assistant trainer Yu Ota pointed out. "She had to race to the outside last time, while the first few horses home got to run on the inside, and that was the difference. She's been at the farm since, and on her return to the stable we'll be looking to get her in shape for the race," said the assistant handler.
Scarlet Color
:
The 5-year-old mare by
Victoire Pisa
might not have caught the eye too much in her three Grade 1 races so far, but in her only race this year, she got in a good strong finish to place second behind Sound Chiara in the Grade 2 Sankei Sports Hai Hanshin Himba Stakes over 1,600 meters in April. Trainer Ryo Takahashi was pleased with that run. "She didn't get off to such a fast start last time, but was able to finish strongly at the end. We still have some leeway with her, and the way she ran in that trial race was encouraging," said the trainer.