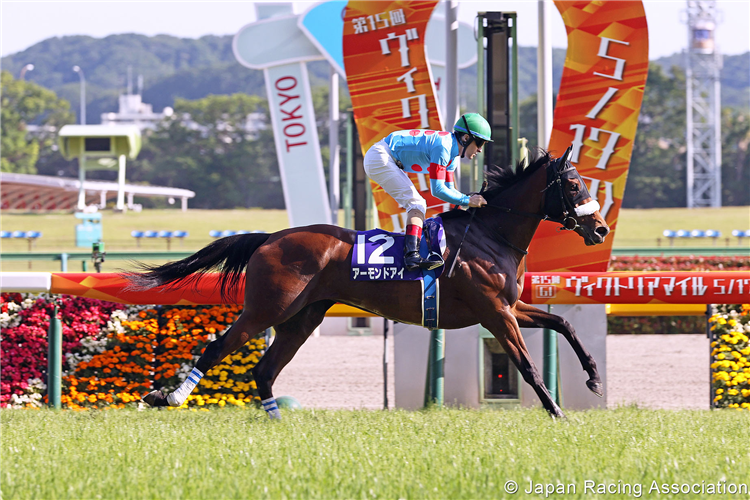 Overwhelming race favorite Almond Eye claimed this year's Victoria Mile in 1:30.6, only 0.1 second off the track record. This race was her first start after returning from the UAE for the intended start in the Dubai Turf to defend her title. Capturing the fillies' Triple Crown—the Oka Sho (Japanese 1000 Guineas, 1,600m), the Yushun Himba (Japanese Oaks, 2,400m) and the Shuka Sho (2,000m)—and the Japan Cup title in her three-year-old season, and the Dubai Turf (1,800m) and the Tenno Sho (Autumn) (2,000m) last year, this win marks her record-tying 7th turf G1 title along with Symboli Rudolf, T.M. Opera O, Deep Impact, Vodka, Gentildonna and Kitasan Black. Trainer Sakae Kunieda claimed his 17th JRA-G1 title following last year's Tenno Sho (Autumn), which he won with this horse, and jockey Christophe Lemaire won his memorable 30th JRA-G1 title following his Tenno Sho (Spring) victory with Fierement two weeks earlier.
Five-year-old Almond Eye broke smoothly and settled in good position around sixth from the pacesetter, Trois Etoiles, who set a rapid pace. Chasing Sound Chiara through most of the trip, the Lord Kanaloa mare edged forward turning the corners, entered the lane fourth from the front and dislodged an admiringly powerful drive through the homestretch, easily overtaking the front horses by the 200-meter pole and further accelerating for a four-length victory.
"I think she's matured well, as she was relaxed from the paddock to the start of the race. I was able to position her in good position behind Sound Chiara and race her in her own rhythm without getting any pressure from the outside. She felt good during the race and displayed her powerful strides at the end. She's a legend horse and will surely win more G1 races going forward," commented jockey Christophe Lemaire.
Fourth pick Sound Chiara also broke well from the outermost stall and traveled in third rounding the corners. Though overtaken by Almond Eye 300 meters out, the Deep Impact mare ran tenaciously in the lane, nailing Trois Etoiles in the last 100 meters and holding off the fast-closing Normcore before the wire for second place.
Breaking slowly from stall 16, defending champion Normcore traveled in mid-division, around 6-7th from the front, and displayed an impressive turn of speed that timed the second fastest in the last three furlongs to cross the wire in third, just a neck behind the runner-up.
Other Horses :
4th: (13) Trois Etoiles - set pace, showed tenacity after being passed by winner, weakened in last 100m
5th: (7) Danon Fantasy - keen to go early, took economic trip in 6th, lacked needed kick
6th: (4) Shigeru Pink Dia - ran behind winner around 8th, responded well but was too late
7th: (1) Loves Only You - saved ground around 8th, boxed in at top of stretch, even paced
8th: (5) Primo Scene - sat 3-wide around 8th, dropped position before final corner, showed belated charge
9th: (2) Beach Samba - saved ground in 13th, struggled to find clear path, quickened in last 200m
10th: (3) Shadow Diva - settled in 12th, switched to outside at early stretch, passed tired rivals
11th: (15) Arusha - trailed in rear, improved position in last 200m
12th: (6) Tosen Bless - was off a bit slow, hugged rails near rear, never a threat
13th: (11) Satono Garnet - raced in 14th, circled wide, unable to reach contention
14th: (17) Contra Check - tracked pacesetter in 2nd, outrun after 300m out
15th: (14) Scarlet Color - ran 4-wide around 8th, showed little and dropped back at stretch
16th: (10) Megere Su - traveled around 4th near winner, faded after 400m pole
Scratched: (8) Dimension - due to lameness in her right foreleg
Scratched: (9) Therapeia - due to phlegmon in her right foreleg