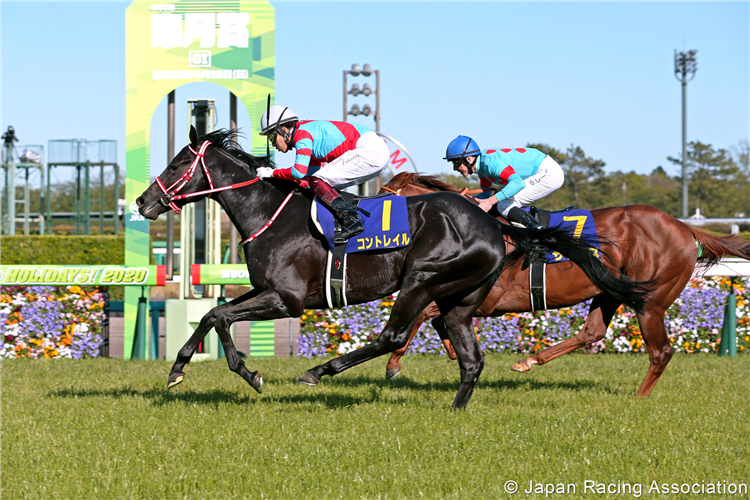 The son of the late, great Deep Impact is expected to start at short odds in Japan to become the sixth horse this century to win the first two colts classics, following Neo Universe (2003), his own sire (2005), Meisho Samson (2006), Orfevre (2011) and Duramente (2015).
A close second in popularity is archrival Salios, who was handed his first loss with a second in the Satsuki Sho, and the two are – according to the headlines, at least – turning the 87th running of the Japanese Derby into a match race.
Rounding out this year's trio of expected single-digit picks is Satono Flag, another Deep Impact colt, who has raced solely over 2000m and has three wins from his five starts to date. Taking in only his second top-level event, the colt finished fifth in the Satsuki Sho and has one win at Tokyo.
Contrail has won over 1800m and 2000m, including two Grade 1 races and the G3 Tokyo Sports Hai Nisai Stakes (1800m) last year at Tokyo. He takes on the classic distance of 2400m for the first time. This week, an assistant to trainer Yoshito Yahagi breezed the colt up the 4-furlong hill course in 52.6 seconds.
"He has surpassed all my expectations so far and improved with each of his races," said the 59-year-old Yahagi.
Australian ace Damian Lane, who rode Salios in the Satsuki Sho, is again pegged for the ride on Sunday. This week, a trainer's assistant rode work, taking the colt up the hill at Miho in 1m 08.8s over five furlongs, then over the flat. "He was calm and limber and everything is going according to plan," was the word.
Satono Flag worked on the Miho woodchip flat on Wednesday, clocking 1m 06.5s over five furlongs under an assistant to trainer Sakae Kunieda. There was no urging from the rider, but the colt's movement was sharp. Satono Flag will partner with the 51-year-old jockey icon Yutaka Take, who holds the record for most Derby wins at five.
The Heart's Cry-sired Wakea got the nod from trainer Takahisa Tezuka after the colt's workout over the Miho flat on Wednesday. He clocked 1m 06.6s for five furlongs and a 12.2s final furlong under urging.
"He has got better with each bit of fast work and I see nothing at all now that would be cause for concern," Tezuka said.
Regular partner Christophe Lemaire has the ride in the Derby.
Third-place Satsuki Sho finisher Galore Creek is said to have improved in the interim and looked good in final work as well.
Two longshots who looked sharp this week are Cortesia and Deep Bond, the latter coming off a win in the G2 Kyoto Shimbun Hai (2200m) at Kyoto on 9 May.