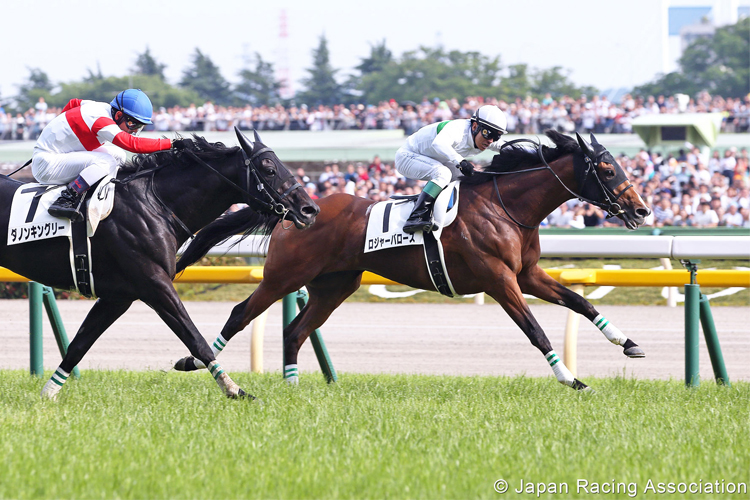 Following on from the Yushun Himba (Japanese Oaks) last Sunday, it'll be the 87th running of the Tokyo Yushun (Japanese Derby) this coming week (May 31), and the venue will be Tokyo Racecourse once again. The second colts' Classic of the year is run over 2,400 meters on the turf track, and there have been 23 nominations, including Satsuki Sho (Japanese 2000 Guineas) winner Contrail, as well as the next four horses to finish behind him in that race, in their bids to change the placings in the Derby.
The Tokyo Yushun (Japanese Derby) was first run in 1932, and since its inception that year, there have only been seven Derby winners to go on and win the Triple Crown (the last one was Orfevre in 2011), proving that winning all three legs of the series of races is a very tough thing to do. A slightly better number of 23 indicates how many horses have been able to capture the Satsuki Sho (Japanese 2000 Guineas) and the Tokyo Yushun (Japanese Derby) in the same year, but have failed in their quest to win the final race, the Kikuka Sho (Japanese St. Leger). The last horse to win the first two legs was Duramente in 2015, who was also the last favorite to win the Derby.
There will be a maximum of 18 colts in this year's race, and many are coming off runs in the Grade 2 Hochi Hai Yayoi Sho (Deep Impact Kinen) over 2,000 meters at Nakayama in March, and the Grade 2 TV Tokyo Hai Aoba Sho (an official Derby trial) over 2,400 meters at Tokyo in May, as well as the Grade 1 Satsuki Sho (Japanese 2000 Guineas), run over 2,000 meters at Nakayama in April.
All colts are set to carry 57kg, and total prize money this year is JPY 432 million (about US$ 3.9 million), with JPY 200 million going to the winner. Only three first favorites have won in the last ten years, and last year big outsider Roger Barows not only blew the more fancied runners away, but also set a new record time for the race, winning it in 2 minutes 22.6 seconds.
Final declarations and the barrier draw will be available towards the end of the week.
Here's a look at some of the colts taking on this year's Derby :
Contrail - Last year's Grade 1 Hopeful Stakes winner remains unbeaten, and after his Satsuki Sho (Japanese 2000 Guineas) win, it's looking like he'll start the favorite for this year's Derby. He's had just the one run at Tokyo, which was over 1,800 meters as a 2-year-old, but given that he seems to be going from strength to strength, the horse seems to be able to handle any challenge that comes his way. Assistant trainer Yusaku Oka said, "He had a break at the farm after his last race and came back to the stable on May 6. In his recent work uphill, all went well, and he showed good speed. He's a horse with a lot of ability. From now going into the race, we'll up his workload."
Salios - The striking chestnut colt is by Heart's Cry, and is also a Grade 1 winner after his victory in last year's Asahi Hai Futurity Stakes. His only defeat came at the hands of Contrail last time, and as trainer Noriyuki Hori says, he was just a little unlucky to come out of the race second best. "It was a difficult race last time, and he didn't change leads in the homestraight, as well as not getting the best ground, making things tough for him. It left him a bit tired after the race, but we've kept him at the stable since and his condition should be good enough to put him in contention for the Derby," said the trainer. Jockey Damian Lane has already ridden Salios twice, and is set to ride him this time too.
Satono Flag - The Northern Farm bred Satono Flag achieved a hat-trick of wins from the end of last year through to his victory in the Grade 2 Hochi Hai Yayoi Sho (Deep Impact Kinen) at Nakayama in March. He then finished a respectable fifth in the Grade 1 Satsuki Sho (Japanese 2000 Guineas) in April. Trainer Sakae Kunieda is satisfied with his horse's progress. "His three straight wins indicated what condition he's in, and last time he'd moved up well by the fourth corner to make a challenge, but just lacked a little at the end. Since then he's been at the stable and seems to be fine, with no tiredness after his last run", said Kunieda. Satono Flag looks likely to be Yutaka Take's Derby ride.
Weltreisende - One of two nominated runners for trainer Yasutoshi Ikee, the Dream Journey colt has only been unplaced once in five starts, and that was when he finished eighth to Contrail last time. It'll be his first time to race at Tokyo, but he's run pretty well at different tracks so far. Trainer Ikee commented: "The race wasn't run to suit him last time with the ground as it was. However, looking to the Derby with him, he's been working well and running smoothly in training, and he should come on for that last race."
Galore Creek - Trained by Hiroyuki Uehara, Galore Creek was the horse that got closest to Contrail and Salios in the Satsuki Sho (Japanese 2000 Guineas) last time, and although it looks as if it'll be tough to repel those two again, his good win two starts ago, together with his debut win at Tokyo over 2,000 meters, gives the stable enough confidence for the Derby. "It was a slow pace last time and different from when he won two starts ago, but even so he showed a lot of staying power to put in a good performance. He knows how to race, so we don't have to work him so hard in training," said the trainer, who's looking for his first Derby victory and his seventh Grade 1 success.
Bitterender - The Orfevre colt is already taking after his sire when it comes to a bit of unpredictability, having been unable to see things out in the Satsuki Sho (Japanese 2000 Guineas) when he finished fourteenth, but he came back with a bang last time when winning the Listed Principal Stakes over 2,000 meters at Tokyo early this month. That got him his ticket to the Derby, and trainer Ikuo Aizawa is pleased with him. "Coming out like he did last time to win was a big result, especially when considering he lost a shoe between the third and fourth corners. We'll be monitoring his progress in training from now," stated the trainer.
Darlington Hall - The Godolphin runner rallied late last time to finish sixth behind Contrail, and that's been the only time he's finished outside the top three in his five starts, which have included two wins. With a bit more fluidity to his run, it would put him in contention here. Assistant trainer Yu Ota commented on the horse: "Last time his balance was not so good, and he didn't get off to such a good start. He was fine after the race, and in recent training he's felt more balanced, so I want him to be at his best next time." Darlington Hall is jockey Mirco Demuro's Derby ride.
Valcos - The colt by Novelist is yet another horse that can't be overlooked, coming off a second place finish most recently in the Grade 2 TV Tokyo Hai Aoba Sho, run over the course and distance of the Derby early this month. He's trained by Yasuo Tomomichi, and the trainer liked the way he ran last time. "He put in a big run in the Aoba Sho, and responded well to the pace. He's a powerful horse with stamina, and he's come out of that last race well," said Tomomichi. Jockey Kosei Miura is expected to ride Valcos, and with no Grade 1 victory to his name, he would love to win this one.
Deep Bond - Something of a bargain buy at the 2018 Hokkaido Select Sale, the Kizuna colt put his run in the Satsuki Sho (Japanese 2000 Guineas) behind him, and came back to win the Grade 2 Kyoto Shimbun Hai this month over 2,200 meters. Assistant trainer Tatsuo Taniguchi said, "There was a short time between the Satsuki Sho and the Kyoto Shimbun Hai, and we were worried about how he might be, but he managed to win. He's a big horse with a long stride, and it looks like the Derby distance will suit him."
And finally, mention should be made of
Wakea
after his two easy wins over 1,800 meters at Tokyo as a 2-year-old, followed up by his third place finish in the Grade 1 Hopeful Stakes last year, and his second place finish in his one run this year, the Grade 2 Hochi Hai Yayoi Sho (Deep Impact Kinen) over 2,000 meters at Nakayama in March. Jockey Christophe Lemaire keeps up his association with Heart's Cry once again here, with the latter being Wakea's sire.