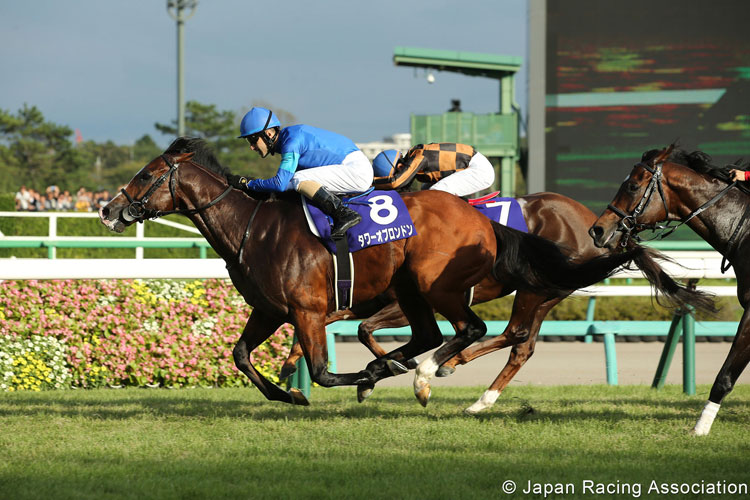 It's the Grade 1 Sprinters Stakes this coming Sunday (October 4), as top-level races in Japan get going once more after the summer break, although spectators will still have to wait a bit longer before being able to catch the action live at the track. The Sprinters Stakes is one of two Grade 1 sprints on the JRA calendar, the other being the Takamatsunomiya Kinen, held in the early spring. This year will be the 54th Sprinters Stakes, and it will be held at Nakayama Racecourse, the regular venue for the race. Run over 1,200 meters on the outer turf track, the start is in the backstretch and runners must negotiate two turns, the first of which is a gentle curve that eventually leads to the sharper turn into the homestraight of 310 meters, with a rise on the final run to the line. The race became an international Grade 1 in 1994, and while there won't be any overseas challengers in this difficult year, it will surely remain firmly on the radar for connections in other countries.

There are 20 nominations for a maximum 16 runner field in this year's Sprinters Stakes, and with the absence of last year's winner, Tower of London, the race has a fairly open look to it, with a number of new kids on the block taking on the more tried and tested sprinters. Lead up races to the big sprint have included the Grade 3 Keeneland Cup over 1,200 meters at Sapporo in August, the Grade 3 TV Nishinippon Corp. Sho Kitakyushu Kinen, also run in August over 1,200 meters at Kokura, and the most recognized trial race, the Grade 2 Sankei Sho Centaur Stakes run over 1,200 meters at Chukyo in September.

The spoils over the last ten years have been divided equally among 4, 5, and 6-year olds, each of them winning three times in that period. First favorites in the race have been clawing back some respectability of late, with four of them winning in the past decade, the latest being Fine Needle in 2018. Record time for the race is held by the great Lord Kanaloa, when he won in a time of 1 minute 6.7 seconds in 2012. Prize money this year is distributed to the first ten horses to cross the line, with the winner receiving JPY130 million. The Grade 1 Sprinters Stakes will be Race 11 on the Sunday card at Nakayama, with a post time of 15:40 here in Japan.
Here's a look at some of the runners expected to be in the line-up :
Gran Alegria - Likely to start a warm favorite on the day, the 4-year-old filly by Deep Impact is already a two-time Grade 1 winner, and has shown she has speed and ability in equal measure, as well as versatility. What's more, she was able to beat Almond Eye in her last outing, the Grade 1 Yasuda Kinen in June. Connections are also upbeat about her chances. "She ran a strong race in the Takamatsunomiya Kinen, which was her first time at the trip. In the Yasuda Kinen, she put in a good late spurt from the fourth corner, so in both races she ran very well. She's had a summer break and has come back to the stable looking bigger and stronger," said assistant trainer Masaru Oehara. Perhaps the only thing Gran Alegria has to overcome is the Nakayama track, as it will be her first start at the course, but with leading jockey Christophe Lemaire in the saddle, and his more than 25% win strike rate at the track, there would seem little to worry about.
Danon Smash - The 5-year-old son of Lord Kanaloa is still looking to win his first Grade 1 race, but tuned up for this race with a one length win in the Grade 2 Sankei Sho Centaur Stakes over 1,200 meters at Chukyo a few weeks ago, justifying favoritism at the same time. Six of his nine career wins have come over 1,200 meters, and in last year's Sprinters Stakes he had to settle for third behind Tower of London. Trainer Takayuki Yasuda has a way with sprinters (he's won the race three times) and he hopes he can break through here again with Danon Smash. "He drew an outside gate last time, but by the third corner had got himself into a good position and went on to win well. I feel he'll come on quite a bit for that run," said the trainer recently.
Mozu Superflare - The American bred mare by Speightstown is bidding to become just the sixth horse in history to win both the Takamatsunomiya Kinen and the Sprinters Stakes in the same year. She likes to be well up with the pace, if not setting it, and she just found Red en Ciel too good for her last time in the Grade 3 TV Nishinippon Corp. Sho Kitakyushu Kinen at Kokura in August. She invariably comes on for a run, and would have to have a big part to play here. Trainer Hidetaka Otonashi commented: "She was coming off a break last time, but still put in a good showing in a race that was run at a fast pace. She returned from the farm recently, and has been moving well in training."
Mr Melody - The 5-year-old Mr Melody is a pretty consistent sprinter, and is just looking to find the form that saw him win the Takamatsunomiya Kinen in 2019. He finished third most recently to Danon Smash in the Grade 2 Sankei Sho Centaur Stakes at Chukyo in September. Ten-time JRA Grade 1 winning trainer Hideaki Fujiwara, who won the race with Straight Girl in 2015, hopes his stable can land another Sprinters Stakes. "It was a good run last time, coming back from a spell, and he wasn't far off the winner, so we could take a lot from that run. He came out of the race well and he's the type to improve for a run," said assistant trainer Nobuyuki Tashiro. The American bred Mr Melody will be reunited once again with jockey Yuichi Fukunaga.
Red En Ciel - The Northern Farm bred 6-year-old flew home last time in the Grade 3 TV Nishinippon Corp. Sho Kitakyushu Kinen over 1,200 meters to record his sixth career win and maintain his impressive strike rate of finishing in the first three. Trainer Yasushi Shono thinks the blinkers fitted last time helped the horse a lot. "He hadn't had good results recently, and I thought perhaps it was because of his age, but with the blinkers on last time, he ran a much better race, just like he had done previously. He had a break at the farm after his last run and everything's been fine with him since," said the trainer. Jockey Mirco Demuro will get the big race ride, and it will be his first time to ride the horse.
Diatonic - Another runner for trainer Takayuki Yasuda, Diatonic has a similar profile to stablemate Danon Smash, in as much that he's also a 5-year-old by Lord Kanaloa. Some might say the similarity stops there, but two starts ago he won the Grade 3 Hakodate Sprint Stakes to notch his first win over 1,200 meters. He couldn't perform on the heavy track last time, but his trainer isn't put off by that. "He has raced on a heavy track before, but last time was just too much and he never got into the race at all. There was no damage after that, and since he's been back at the stable at Ritto, he seems well within himself," said Yasuda. With jockey Yutaka Take heading to France for the Arc de Triomphe, Norihiro Yokoyama is scheduled to ride Diatonic.
Kurino Gaudi - The 4-year-old colt by Screen Hero has had a mixed career to date, and started out running over longer distances. Among his efforts in sprint races, earlier this year he passed the post first in the Takamatsunomiya Kinen, only for him to be demoted to fourth for causing interference. While he remains a work in progress on the sprinting scene, trainer Norio Fujisawa is doing his best to get the horse to the top of his game. "He started slowly last time, but did get into the race in the homestraight and finished well. He raced with a tongue-tie and there weren't any problems, so I was pleased about that. We've taken care of him since that race and he's currently in good shape," said the trainer.