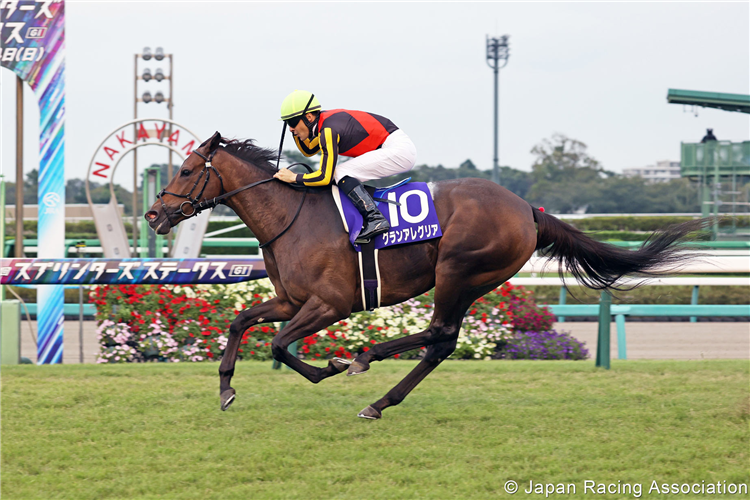 Race favorite Gran Alegria gave her sire Deep Impact his first Sprint G1 title in grand fashion as the proven miler, with two G1 titles at a mile in the Oka Sho (Japanese 1000 Guineas, G1, 1,600m) last year and the Yasuda Kinen (G1, 1,600m) this spring, also proved a different class at 1,200 meters. Already showing signs of handling the shorter distance when finishing second in the spring sprint G1, the Takamatsunomiya Kinen, the bold filly weighing over 500kg showed both speed and power to excel in both categories. Trainer Kazuo Fujisawa claimed his third Sprinters Stakes title after Taiki Shuttle in 1997 and Tower of London last year and 31st JRA-G1 title overall. Christophe Lemaire won his second Sprinters Stakes title after his first with Tower of London last year and is now a winner of 31 JRA-G1 titles—his last G1 victory was in the Victoria Mile with Almond Eye.
Gran Alegria was off slow and raced second from the rear, plenty of distance from pacesetter and second favorite Mozu Superflare. While gradually picking up speed, the Deep Impact filly was still well behind a rapid pace and looked far from being a threat turning for home, but as soon as Christophe Lemaire gave a little smack after shifting his mount to the outside for a clear run, Gran Alegria mowed down the whole field with every stride to take command 50 meters out and pulling away to a two-length victory.
"I can't believe how strong she is! She was a little slow to get into the rhythm and we were much further back than expected but we did not panic if not a little worried that we may not be in time as the pace was fast—in a normal situation we may not have made it—but she certainly showed what she is made of and she just carried on while some of the front runners started to weaken," commented Christophe Lemaire.
Third favorite Danon Smash missed a beat at the start but quickly gained his rhythm, chased the leaders along the rails around fifth and had a perfect trip coming into the straight. The son of Lord Kanaloa stayed well as the early leaders began to weaken in the last 100 meters, but had little left to chase the eventual winner while managing to hold off the late charging A Will a Way.
Tenth choice A Will A Way was unhurried after the break and eased back, trailing in the rear up to the final turn, but showed a tremendous turn of speed while having to make up much ground along the outside lane to finish 1/2-length behind Danon Smash in third.
Other Horses :
4th: (7) Mr Melody - sat 7th early, advanced after 3rd corner, took brief lead 100m out but overtaken by top 3
finishers
5th: (15) Kurino Gaudi - raced 3-wide in 13th, circled wide, showed belated charge
6th: (13) Red en Ciel - ran 3-wide around 11th, switched to outside at early stretch, passed tired rivals
7th: (5) Meisho Glocke - traveled around 5th, angled out, even paced
8th: (1) Daimei Princess - hugged rails around 8th, ran gamely until 50m out, outrun thereafter
9th: (6) Right on Cue - settled 3-wide around 5th, lacked needed kick in last 200m
10th: (2) Mozu Superflare - set fast pace, led until 100m out, ran out of steam
11th: (14) Eighteen Girl - sat in 14th, failed to find clear path 200m out, never a threat
12th: (4) King Heart - raced around 8th, showed effort until 100m out
13th: (9) Diatonic - ran 4-wide around 8th, met traffic 200m out, lost momentum
14th: (8) Daimei Fuji - traveled around 11th, unable to reach contention
15th: (11) Love Kampf - tracked leaders in 3rd, dropped back at stretch
16th: (12) Bien Fait - pressed pace in 2nd, faded after 200m pole