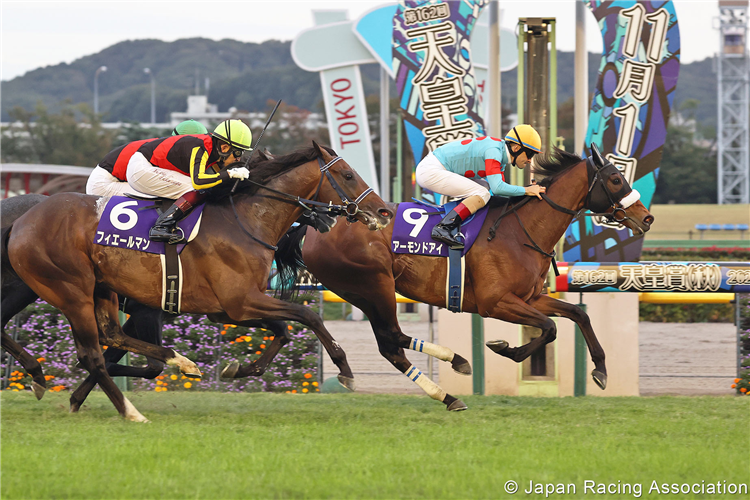 Overwhelming favorite Almond Eye showcased another compelling performance and claimed a back-to-back Tenno Sho (Autumn) title, the first since Symboli Kris S in 2002 and 2003. While she is now the sixth horse to mark seven JRA-G1 wins, the five-year-old Lord Kanaloa mare has gone down in history to become the first JRA horse ever to capture eight G1 titles over turf including the 2019 Dubai Turf. This is the sixth triumph by a filly/mare this year in G1 races opened to both male and female runners, renewing the record of five set in 2008. Following the Victoria Mile victory with Almond Eye, trainer Sakae Kunieda now boasts a total of 18 JRA-G1 wins while jockey Christophe Lemaire has now 32 JRA-G1 wins in his pocket, his latest registered last month in the Sprinters Stakes with Gran Alegria. This is Christophe's third consecutive Tenno Sho (Autumn) victory following the 2018 version with Rey de Oro and 2019 with Almond Eye, and fifth consecutive Tenno Sho victory, a new JRA record, which includes the 2019 and 2020 Spring version with Fierement.
Almond Eye was placed in handy position, in fourth to fifth, after breaking from stall nine while Danon Premium led the field two to three lengths in front of Daiwa Cagney and Kiseki in that order. Chasing the three into the stretch, the star of the show had no trouble finding her stride, steadily accelerating to inherit the lead from Danon Premium just after the furlong pole and pulled away while holding off the strong enclosure of Fierement for a half-length victory.
"Today, the mare was relaxed before the start and we were able to break well. She showed a great turn of foot in the straight but ran out of steam a bit climbing the hill. The others were gaining on us but she didn't give up. I have to admit, to win the eighth G1 title was a big pressure, but she didn't let us down—her performance was awesome. Her future lay in the hands of the owner and trainer but I would very much like to ride her again," commented a slightly teary Christophe Lemaire after the race.
Fifth pick Fierement traveled in around 10th behind Chrono Genesis and switched to the outside after struggling to find a clear path at the top of the stretch. Accelerating impressively with the fastest last-three-furlong speed and although unable to tag the winner, this year's victor of the spring version dug in well to cross the wire a neck in front of Chrono Genesis for second.
Second favorite Chrono Genesis sat in front of Fierement in the early stages, circled wide for the stretch run and with the second-fastest late drive, swooped pass the pacesetter less than 100 meters out but was caught by the runner-up at the wire.
Other Horses :
4th: (11) Danon Premium - set pace, led and showed tenacity before overtaken by top finishers
5th: (8) Kiseki - chased leaders in third in front of winner, showed effort but no match for top finishers
6th: (3) Daiwa Cagney - tracked leaders in 2nd, ran gamely until 200m pole, outrun thereafter
7th: (12) Jinambo - settled 3-wide in 7th, sustained bid, weakened in last 200m
8th: (2) Cadenas - trailed in rear, turned wide, passed tired rivals
9th: (10) Scarlet Color - sat 2nd from rear, showed brief effort, even paced in last 200m
10th: (5) Win Bright - traveled around 5th behind winner, never fired after turning stretch
11th: (1) Blast Onepiece - raced around 8th early, made headway along rails, showed little at stretch
12th: (4) Danon Kingly - ran around 5th behind winner, faded after 400m pole