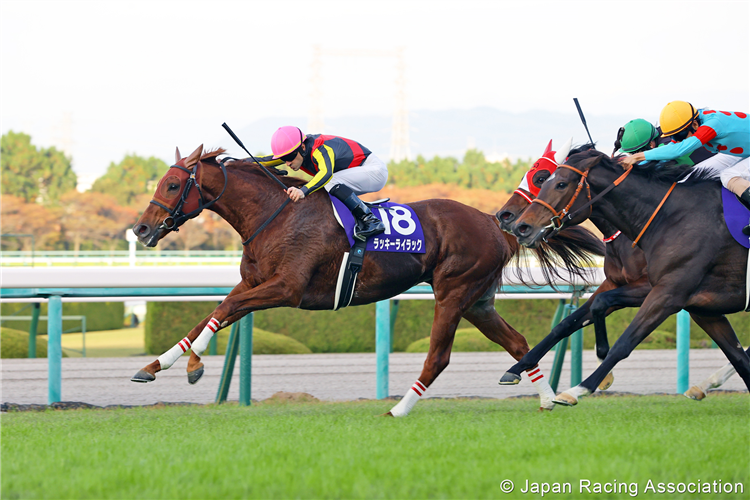 Race favorite Lucky Lilac defended her title in the Queen Elizabeth II Cup to become the fourth mare to accomplish the feat following Mejiro Dober (1998-99), Admire Groove (2003-04) and Snow Fairy (2010-11) from Great Britain. She is the first horse to capture three G1 titles at Hanshin Racecourse, which include the 2017 Hanshin Juvenile Fillies (1,600m) and this year's Osaka Hai (2,000m). After her Osaka Hai victory in April, the 2017 Best Two-Year-Old Filly finished sixth in the Takarazuka Kinen (G1, 2,200m) in June and third in the following Sapporo Kinen (G2, 2,000m) in August before claiming her fourth G1 title in this race. This win marked trainer Mikio Matsunaga's sixth career JRA-G1 title (including steeplechases) following Lucky Lilac's Osaka Hai victory. Jockey Christophe Lemaire who partnered with the mare for the first time captured his 33rd JRA-G1 win following his Tenno Sho (Autumn) title with Almond Eye just two weeks ago and his second Queen Elizabeth II Cup title following his win in 2008 with Little Amapola.
Breaking smoothly from the outermost draw, Lucky Lilac settled in mid-division behind Loves Only You, around 12th from the front, edged forward toward the end of the backstretch and continued to advance turning the corners wide. The defending champion immediately made bid entering the corner, assumed command 300 meters out and held off the strong charges from behind in the last 100 meters to cross the wire a neck in front.
"The outermost draw was a concern but we were able to race smoothly and advance our position from the third corner. She was very composed and gave her usual turn of speed. We took the front early in the stretch but she held on well until the end. She's a strong horse. She has been racing at the top level since her two-year-old season and I had confidence in her," commented Christophe Lemaire
Fifth choice Salacia traveled wide toward the rear, around 14th, while eyeing the race favorite on the outside. The Deep Impact mare took a wide route rounding the final corner and dislodged a powerful late charge that timed the fastest last three furlongs to nail Loves Only You before the wire but was a neck short to finish second.
Third favorite Loves Only You You traveled around 11th, made headway after being overtaken by the eventual winner and angled wide for the stretch run. The four-year-old bay showed the second fastest late charge to close in on the winner but had too much to make up while surrendering the runner-up seat to Salacia before the wire for third.
Other Horses:
4th: (12) Win Marilyn - tracked leaders in 3rd, ran willingly along rails, weakened in final strides
5th: (8) Centelleo - settled 3rd from rear, angled out, showed belated charge
6th: (4) Soft Fruit - sat in 5th, ran gamely until 200m pole, failed to sustain bid
7th: (5) Ria Amelia - tracked distant leader in 2nd, chased winner but weakened in last 200m
8th: (1) Shadow Diva - traveled around 7th along rails, outrun between 3rd and final corner, passed tired rivals
9th: (2) Something Just - took economic trip in 4th, boxed in turning last corners, even paced
10th: (16) Miss New York - ran around 9th, showed brief effort until 200m pole
11th: (14) Satono Garnet - settled in 2nd from rear, circled wide, never fired
12th: (3) Lune Rouge - saved ground around 9th, lacked needed kick while met traffic at 200m pole
13th: (15) Uranus Charm - sat 3-wide around 14th, advanced and entered in 3rd to lane, ran out of steam
14th: (9) Win Mighty - raced around 7th, met traffic 300m out, showed little
15th: (7) Rosa Glauca - broke poorly, hugged rails around 12th, found little room rounding last corners
16th: (6) Normcore - set pace, 5-6 lengths in front of rest of field in backstretch, faded after 200m pole
17th: (17) Espoir - traveled around 5th early, improved position, outrun after final corner
18th: (10) Caro Bambina - disadvantage at break, trailed in rear, no factor