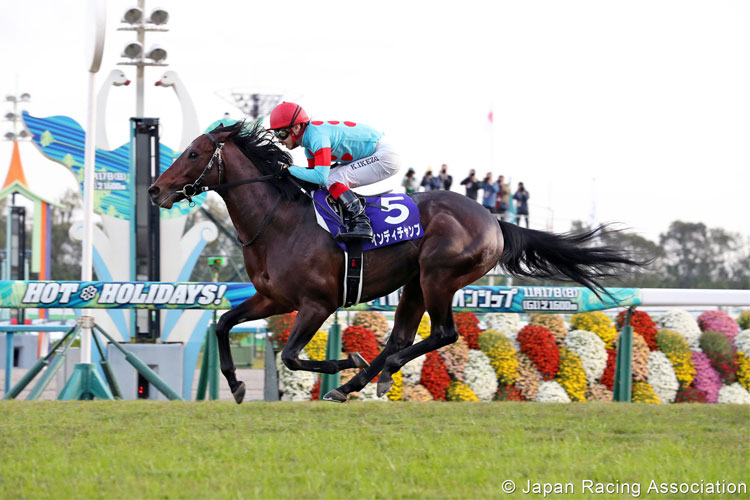 The Grade 1 action comes thick and fast at this time of year in Japan, and following on from the Queen Elizabeth II Cup last week, Hanshin Racecourse is once again the venue for this Sunday's Mile Championship. The second leg of the Japan Autumn International Series, the race has attracted 17 nominations, and while all of them might not be specialist milers, it certainly looks to be shaping up into a great looking line-up. An international race since 1998, there were originally a couple of horses nominated from Aidan O'Brien's stable in Ireland, but the final number will consist of Japanese horses only.
The race is for 3-year-olds and up, and will be run on the outer turf course at Hanshin. A couple of lead-up races to this year's Grade 1 Mile Championship have been the Grade 2 Mainichi Broadcast Swan Stakes, run over 1,400 meters at Kyoto in October, and the Grade 2 Fuji Stakes, run over a mile at Tokyo, also in October. First favorites in the Mile Championship have had a dismal past ten years, with not one making it to the winner's enclosure. Slightly less fancied runners (3rd, 4th and 5th favorites) have had a much better time of it. In the past decade also, 4-year-olds have won four times, and 5-year-olds have taken the honors three times.
Record time for the race is held by Danon Shark, who won in a time of 1 minute 31.5 seconds in 2014 at the race's usual home, Kyoto Racecourse. This year's prize money and incentive money will be paid to the first ten horses to cross the line, with JPY130 million (just over US$1 million) going to the winner. The final line-up and barrier draw for the 37th Mile Championship will be announced later in the week, and the big race will be Race 11 on the card at Hanshin this Sunday (November 22), with a post time of 15.40 here in Japan.
Here's a look at some of the runners expected to head the market:
Gran Alegria - The 4-year-old filly by Deep Impact has put all before her this year, and has already won two Grade 1s, the Yasuda Kinen and the Sprinters Stakes. A third big race title is well within her grasp, and there's confidence to match from the stable of trainer Kazuo Fujisawa. "She was in great condition for the Sprinters Stakes, and although she didn't start so quickly, the blistering turn of foot she showed at the end of the race was quite amazing. She had a break at Northern Farm Tenei after the race, and since returning to the stable she's been relaxed and in good order," said assistant trainer Daisuke Tsumagari.
Indy Champ - Last year's Mile Championship winner is back to try and make it a double, and there's no doubt that the mile is what he excels at, having also won last year's Yasuda Kinen. The 5-year-old by Stay Gold also boasts an impressive 50% win strike rate. Assistant trainer Kenichi Shono commented: "He had some pain in his right hindquarters, so we had to skip the Sprinters Stakes. In recent training he's been working on the woodchip course, as the going on the uphill training track hasn't been so good." It'll be the horse's first race since he finished third in this year's Yasuda Kinen, and his regular rider, Yuichi Fukunaga, is expected to be in the saddle once more.
Admire Mars - The Northern Farm bred 4-year-old by Daiwa Major is certainly a specialist miler, with all his six wins coming over this trip, including a win in the Grade 1 Hong Kong Mile last year. Trainer Yasuo Tomomichi thinks his third place finish in the Grade 2 Mainichi Broadcast Swan Stakes last time was a good tune-up for this race. "I don't think it was a bad run last time, when he ran on strongly, despite the fast finishers down the outside. He had to carry 58kg, and he does take a bit of time to get into top gear, but all in all I think it was a good prep race before this one," said Tomomichi.
Salios - An interesting entry here, Salios had his first run since the Tokyo Yushun (Japanese Derby) in the Grade 2 Mainichi Okan over 1,800 meters at Tokyo in October, and scored a good win in the race. The 3-year-old by Heart's Cry has never finished outside the first two in his six career starts. Trainer Noriyuki Hori commented: "He won well in the Mainichi Okan after being off for a while, and it just took him a bit longer to recover after that race. We're just being careful with him and checking his condition as this race approaches."
Resistencia - Off with an injury since finishing second in this year's Grade 1 NHK Mile Cup in May, the 3-year-old filly has never finished out of the first three, and has three wins to her name from six starts. It might be a lot to ask first up here, but the stable thinks she's in good form. "She had a break at the farm after the operation for the fracture she had. Since returning to the stable in the middle of last month, she's been fine, and in a piece of work on November 4, she moved well and posted a good time on the uphill training track," said trainer Takeshi Matsushita.
Lauda Sion - The Real Impact colt is another with a big chance this Sunday. He's the winner of this year's Grade 1 NHK Mile Cup, and finished second in his one run since, the Grade 2 Fuji Stakes over a mile at Tokyo in October. It's looking like he will be ridden by Yutaka Take this time around. "The horse has gotten bigger since the summer and he was plus 16 kg for his last race, but that's him developing. He has a tendency to lean, but he ran well right up to the finish in his last run, and I was pleased there wasn't much difference when it came to taking on the older horses," commented trainer Takashi Saito.
Vin De Garde - Jockey Keita Tosaki looks set for the ride on the 4-year-old colt by Deep Impact, and it will be an interesting combination, with the horse taking on his third Grade 1 race this time. He's coming off a win in the Grade 2 Fuji Stakes over a mile at Tokyo in October. Assistant trainer Nobuyuki Tashiro said, "He got into the race well last time and relaxed throughout, before finally going on to win. He wasn't tired after the race and he's been settled and calm since."
Katsuji - A surprise winner last time when he led all the way to win the Grade 2 Mainichi Broadcast Swan Stakes over 1,400 meters at Kyoto in October, the 5-year-old will next try to raise a few eyebrows here, if he can see out the extra 200 meters this time. He did finish fourth in the 2018 Mile Championship. "His condition improves with races, but he did better than expected in his last race. He ran confidently against the other good horses and managed to win with his front-running ability," said assistant trainer Akishi Higashida.
Sound Chiara - Last but not least, the 5-year-old mare is looking to bounce back after her worst ever finish last time, when she was tenth in the Grade 2 Mainichi Broadcast Swan Stakes. Otherwise a model of consistency, the daughter of Deep Impact finished second in this year's Grade 1 Victoria Mile back in May. Trainer Akio Adachi said, "She drew gate one last time and wasn't able to be switched to the outside. She came out of the race fine, and with there being a short interval between races this time, I want to make sure she's in top condition going into this one."