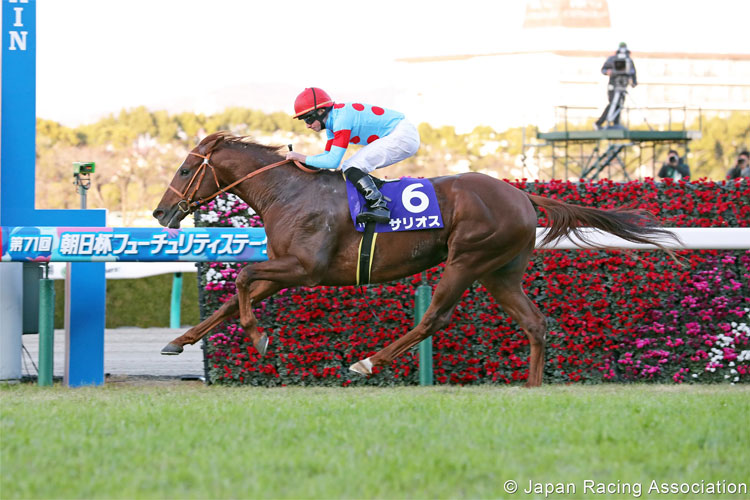 Following on from the 2-year-old fillies in the Grade 1 last week, it's the turn of the colts this coming Sunday, Dec. 20, when the action remains at Hanshin Racecourse for the Grade 1 Asahi Hai Futurity Stakes. It will be the 72nd running of the race, which has evolved over the years to take on its present look. The distance of a mile was set in 1962 (it was previously run over 1,200 meters), and before the race was run at Hanshin (since 2014), it was held at Nakayama Racecourse. It became a Grade 1 race in 1984, and the two races for top 2-year-olds were separated to include fillies or colts in 1991. The colts' race took on its current name in 2001 and became an international Grade 1 in 2010.
This year sees 18 nominations (including one filly) for a maximum 18-runner field to take on the mile on the outer turf track at Hanshin. All horses carry a set weight of 55kg, with a 1kg allowance for fillies. Some of the previous winners of the race have certainly impressed as 3-year-olds and beyond, and just in the last couple of years, the race was won by Admire Mars and Salios, who have both gone on to bigger and better things. The latter also set a new race record last year when he won in a time of 1 minute, 33.0 seconds, the best ever time since the race has been run at Hanshin.
Some races leading into this year's Asahi Hai Futurity Stakes have included the Grade 3 Saudi Arabia Royal Cup, run over a mile at Tokyo in October, the Grade 2 Keio Hai Nisai Stakes over 1,400 meters at Tokyo in November, and the Grade 2 Daily Hai Nisai Stakes over a mile at Hanshin, also in November. The race has been won by foreign jockeys seven times in the past 10 years, with four first favorites claiming the title in the same time frame. Interestingly, six of the past 10 winners have been trained at Miho Training Center in the east of the country. This year's winner's check is JPY 70 million. The Grade 1 Asahi Hai Futurity Stakes will be Race 11 on the Hanshin card on Sunday, with a post time of 15:40 local time.
Here's a look at some of the colts expected to attract market attention:
Red Belle Aube : The colt by Deep Impact only made his debut in August, but has already made an impression in his three races so far. He has won his last two starts, both in record time no less, including most recently the Grade 2 Daily Hai Nisai Stakes over the Hanshin course and distance. He started a very warm favorite in that race, although he just got home by a short margin. In his recent work on the woodchip course at Ritto Training Center, he posted a five-furlong time of 69.3 seconds, with a final furlong time of 12.2 seconds. He is trained by Hideaki Fujiwara, whose 10 JRA Grade 1 victories don't include a win in the Asahi Hai Futurity Stakes. Red Belle Aube has been ridden by Yuichi Fukunaga in his last two starts, and the jockey looks set to take the ride again.
Stella Veloce : In only his second start last time, the colt by Bago ran out a comfortable three-length win of the Grade 3 Saudi Arabia Royal Cup over a mile on soft ground at Tokyo in October. He won on his debut at Hanshin in July, also over a mile. The horse weighed over 500kg for his last race, showing how he's developing. Putting in a sharp piece of work at Ritto on Dec. 9, his five-furlong time was 66.9 seconds, closing out the final furlong in 12.1 seconds. Trainer Naosuke Sugai said, "He's coming along as expected and has pleased the jockey. His times indicate that he's in good form."
Mondreise : Trainer Mikio Matsunaga has probably had more top-level success with fillies, but he looks to have a good colt in the making here with Mondreise. The horse has never been out of the first two in four starts, and he just got up to win his last race, the Grade 2 Keio Hai Nisai Stakes over 1,400 meters at Tokyo in November. The Daiwa Major colt runs in the U. Carrot Farm colors and usually runs up with the pace, although he will be running over a mile for the first time this Sunday. Jockey Christophe Lemaire looks set to take the ride.
Ho O Amazon : Another colt with the same results from four races as Mondreise, three of his four starts have been at Hanshin over a mile, where he's finished either first or second. He generally runs well up with the pace, and last time he just had to settle for second behind Red Belle Aube in the Daily Hai Nisai Stakes. He worked on the woodchip course at Ritto recently under jockey Kohei Matsuyama, and ran six furlongs in 82.7 seconds, posting a final furlong time of 12.5 seconds. Ho O Amazon is trained by Yoshito Yahagi, who is once again flying high in the trainers' table.
Dura Mondo : The dark bay colt by Duramente has won both his career starts and is coming off a win in the Aster Sho most recently over 1,600 meters at Nakayama in September. Trainer Takahisa Tezuka has six JRA Grade 1 wins to his name, including two in this race - Alfredo in 2011 and Asia Express in 2013. Lemaire rode Dura Mondo to victory last time, but with his booking to ride Mondreise this time, Yutaka Take is scheduled to take the ride on the horse.
Shock Action : Irish bred Shock Action is by the English and Irish 2000 Guineas winner, Gleneagles, and so the trip of a mile looks a good match for him. He is two wins from three starts, and he won his latest race, which was back in August, the Grade 3 Niigata Nisai Stakes over a mile. Jockey Keita Tosaki, who recently brought up his 1,100th JRA victory, has been over to the Ritto Training Center to put in work with the horse. On Dec. 10, the Godolphin owned Shock Action put in a six-furlong run on the woodchip course in 82.5 seconds, closing out the final furlong in 12.1 seconds.