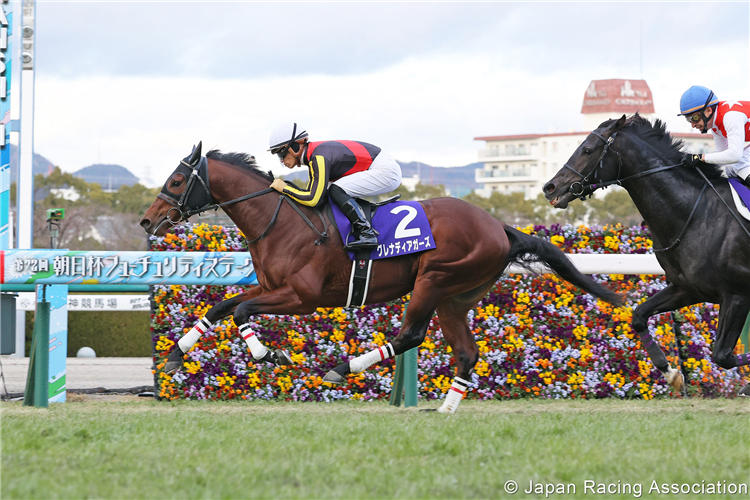 Seventh favorite Grenadier Guards renewed the track record with an impressive win in this year's Asahi Hai Futurity Stakes while covering the mile distance in 1:32.3. The Frankel colt was runner-up in his summer debut in July (Niigata, 1,400m) and fourth in his next start over a mile at Chukyo in September before registering his first career win in his last start at Hanshin (1,400m) on November 7. The talented two-year-old colt becomes the third JRA-G1 winner for sire Frankel, after Soul Stirring and Mozu Ascot. Trainer Mitsumasa Nakauchida landed his third JRA-G1 victory—his first victory was with Danon Premium in the same race in 2017 and his second title was with Danon Fantasy in the 2018 Hanshin Juvenile Fillies. Yuga Kawada, who also scored his second Asahi Hai Futurity Stakes title after 2017 with Danon Premium, landed his 14th JRA-G1 title, his first since the 2019 Champions Cup with Chrysoberyl.
Grenadier Guards broke sharply from an inside draw to sit just off the rails in third, chasing Mondreise who advanced from an outside draw to take the lead and opening the gap to about five lengths from the rest of the field along the backstretch. Cruising in good rhythm behind a rapid pace, the Frankel colt easily closed in on the leader, assumed command soon after passing the furlong pole and still had plenty to hold off a fast-closing Stella Veloce to cross the wire 3/4 length in front and in record time.
"My concern was to keep him happy and in good rhythm because the colt has a difficult temper and can run off like he did in his second career outing so you have to be careful to keep him controlled, but he has great potentials if he can bring out his best and I am looking forward for another good season for him next year," commented jockey Yuga Kawada.
Stella Veloce was rated in mid-field along the rails while keeping an eye on race favorite Red Belle Aube. As the field closed in on the tired pacesetter approaching the final turn, jockey Yokoyama steered the Bago colt to the inside and efficiently launched his bid through a clearing between horses to close in on the winner.
Race favorite Red Belle Aube sat around seventh from the leader after a smooth break and launched his bid from the outside along the stretch but was unable to cause a serious threat to the winner while having to cover more ground than Stella Veloce, finishing third.
Other Horses:
4th: (11) Bathrat Leon - raced around 3rd outside eventual winner, showed tenacity but overtaken by
Red Belle Aube before wire
5th: (6) Blue Spirit - led early then chased leader in 2nd, ran gamely, weakened in last 100m
6th: (15) Lord Max - traveled 3-wide in 9th, switched to outside at early stretch, lacked needed kick
7th: (5) Dura Mondo - hugged rails behind eventual winner around 7th, showed brief effort
8th: (1) Kaiser Nova - saved ground in 15th, angled out, showed tied fastest late kick, belatedly
9th: (13) Ho O Amazon - sat around 6th, ran willingly until furlong pole, weakened
10th: (14) Mondreise - advanced to set pace from wide stall, led until 200m pole, outrun in last 100m
11th: (16) Super Hope - ran 4-wide around 11th, even paced at stretch
12th: (12) Jun Blue Sky - raced 3-wide around 11th, never fired at stretch
13th: (4) Shock Action - settled around 3rd inside eventual winner, faded after 300m marker
14th: (10) Ascoltare - traveled in 14th, checked before 3rd corner, unable to reach contention
15th: (3) Bisonte No Bufalo - took economic trip around 11th, gradually fell back
16th: (9) T O da Vinci - was off a bit slow, trailed in rear, no factor