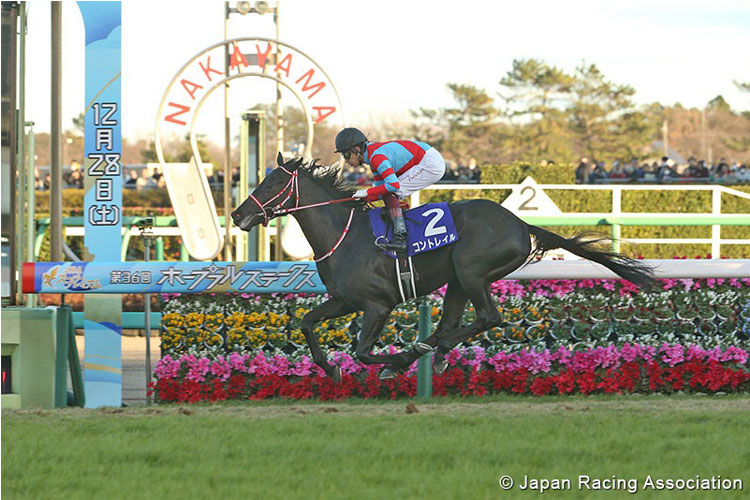 The year 2020 goes out with a bang this coming weekend, which will be a 'double' Grade 1 weekend at Nakayama Racecourse, kicking off with the Hopeful Stakes on Saturday (December 26). The race for 2-year-olds (excluding geldings) was made a Grade 1 contest in 2017, and gives the young colts a chance to test their ability over 2,000 meters, with a view to running in next year's Classics, the first of which for colts is run over the same course and distance as the Hopeful Stakes, on the inner turf track at Nakayama. It will be the 37th running of the race all told, bearing in mind that it has had different names and categories, as well as venues, since the first race was run in 1984. It became an international race in 2010, and was formerly known as the Radio Nikkei Hai Nisai Stakes, but got its current name and Grade 2 status in 2014, since when it has been run at Nakayama. This will be its fourth year as a Grade 1.
There have been 18 nominations for a maximum 18 runner field, as the competition heats up to follow in the footsteps of some big-name winners of the race that have included the likes of Victoire Pisa (2009), Japan Cup winner Epiphaneia (2012), Rey de Oro (2016), and just last year Contrail, to name but a few.
Some races leading into this year's Hopeful Stakes have included the Listed Ivy Stakes over 1,800 meters at Tokyo in October, as well as the Fuyo Stakes at Nakayama over 2,000 meters in the same month, and just last month the Grade 3 Tokyo Sports Hai Nisai Stakes run at Tokyo over 1,800 meters. Record time for the race since it's been a Grade 1 and held at Nakayama is 2 minutes 1.4 seconds, jointly held by Time Flyer in 2017 and Contrail in 2019. First favorites have set a strong trend recently by winning every time in the past four years. This year's winner's check is JPY 70 million. The Grade 1 Hopeful Stakes will be Race 11 on the Saturday card at Nakayama, with a post time here in Japan of 15:25.
Here's a look at some of the colts expected to make the starting line-up:
Danon The Kid : The unbeaten colt by Just a Way ran out a good winner of the Grade 3 Tokyo Sports Hai Nisai Stakes last time, when he was sent off favorite. He won his only other race on his debut at Hanshin in June over 1,800 meters. Trainer Takayuki Yasuda, who made headlines in Hong Kong recently with Danon Smash, might have another big race success here. He was pleased with Danon the Kid's recent work at Ritto Training Center. "The jockey said the horse was relaxed, and I thought he was moving well during that piece of training," said the trainer.
Yoho Lake : Another colt who lays his unbeaten record on the line here is the Northern Farm bred Yoho Lake. By Deep Impact, he's been favorite in both his races so far, and his latest win came in the Shigiku Sho over 2,000 meters at Kyoto in October, when the soft ground wasn't an issue for him. Jockey Yutaka Take will ride him in this next race. Trainer Yasuo Tomomichi commented: "He worked well recently on the woodchip course at Ritto, and picked up well from the third and fourth corners. I think he'll be well suited by the 2,000 meters at Nakayama."
Orthoclase : The well bred colt by Epiphaneia out of Marialite would certainly please trainer Takashi Kubota if he can continue winning in the style of his dam, who has provided the trainer with his two Grade 1 victories to date. Coming off a win in the Listed Ivy Stakes over 1,800 meters at Tokyo in October, Orthoclase will be ridden by the jockey that won on him in his debut race at Sapporo in August, this year's champion rider Christophe Lemaire.
Land Of Liberty : An easy winner last time in the Fuyo Stakes over the Hopeful Stakes course and distance in October, the Deep Impact colt bred at Shadai Farm will endeavor to give jockey Kosei Miura a well deserved first JRA Grade 1 victory. He's ridden the horse in his two career wins from the same number of starts, and connections will be hoping the winning streak can continue.
Admire Sage : Trainer Yasuo Tomomichi could well have two runners in the race, with Admire Sage by no means looking like his second string here. The Duramente colt posted a strong final three-furlong time (33.4 seconds) in his last race, the Kigiku Sho over 2,000 meters at Hansin in November, which he won to make it two wins from two starts.
Titleholder : Another colt by Duramente, his earnings are already about equal to his sale price at the 2018 Select Sale. Jockey Keita Tosaki has ridden him in both his races so far, winning on the horse's debut over 1,800 meters at Nakayama in October, and finishing second to Danon the Kid in the Grade 3 Tokyo Sports Hai Nisai Stakes.
Chevalier Rose : It's three starts two wins for Chevalier Rose, a colt by Deep Impact. He won his last race, the Listed Hagi Stakes over 1,800 meters at Kyoto in October, as well as winning on his debut at Hanshin in June. He's trained by Hisashi Shimizu, who enjoyed seven Grade 1 successes with Kitasan Black. Chevalier Rose worked under jockey Yuichi Kitamura at Ritto on the 16th, and posted a six-furlong time of 81.2 seconds, finishing off the final furlong in 12.0 seconds. "He moved well in that piece of work and his times were good. The jockey also reported him to be in good condition," said the trainer.