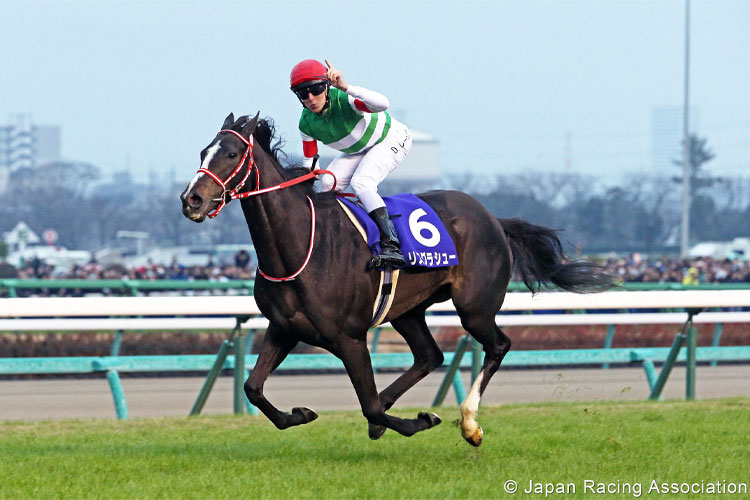 The 65th running of the Grade 1 Arima Kinen (The Grand Prix) is set for Sunday, Dec. 27. With the 2-year-old Grade 1 Hopeful Stakes scheduled for the previous day, the Arima Kinen, for the first time in four years, is once again back in its traditional spot as the year's final hurrah.
Twenty-three horses, with eight Grade 1 champions among them, have been signed up for the race and 16 of those will find a berth in the 2,500-meter turf event that boasts a winner's prize of JPY300 million, an amount that ties the Japan Cup for the highest prize money of JRA races.
As with the Takarazuka Kinen in late June, racing fans vote for which horse they would most like to see race in the Arima Kinen. And their hopes will be largely met, with six of fans' top ten favorite picks set to appear. The 4-year-old filly Chrono Genesis was the fan-ballot favorite with a total 214,742 votes, a number that rewrote the record held by Oguri Cap from 1989. Five more of the fans' top 10 picks will compete in the "dream race" running -- No. 2 pick Lucky Lilac, No. 4 Fierement, No. 6 Kiseki, No. 9 World Premiere and No. 10 Blast Onepiece.
The race is run over the Nakayama inner course, but starts just off the third turn on part of the outer course. The field passes before the grandstand and circles again. The stretch hill begins 200 meters before the finish line and rises 2 meters in less than 150 meters. Skill, not strength alone, is crucial for winning at Nakayama.
The Arima Kinen is the 11th race on the Sunday card of 12 at Nakayama and it should be noted that its post time is at 3:25 p.m. Horses over 3 years of age will carry 57 kg. Females and 3-year-olds are assigned 55 kg.
Here's a look at the expected top picks.
Chrono Genesis : Looking to become the second female in a row to scoop both the Takarazuka Kinen and the Arima Kinen in the same year is Chrono Genesis. If she can win, she'll do it a year younger than last year's champ Lys Gracieux. Though in the Top 3 for all the classics and winner of the 2019 Grade 1 Shuka Sho, it was from this year that the Bago-sired Chrono Genesis stepped decidedly into the spotlight. From four starts, three of them top-level, she has managed a formidable 1-2-1-3, putting her right in step for the winner's circle this Sunday. Her win by 6 lengths in the Takarazuka Kinen saw her beat five Arima hopefuls. And she shone bright in her last start, the Nov. 1 2,000-meter Grade 1 Tenno Sho (Autumn), when she met superstar Almond Eye for the first time and finished just over half a length behind her and a neck off Fierement in third place. Though it will be her first time running over 2,500 meters, if her stamina in the Takaruzuka Kinen is any indication, Chrono Genesis should do just fine.
Fierement : Last year, Fierement, a 5-year-old son of Deep Impact, returned to Japan from a 12th-place showing in the Prix de l'Arc Triomphe. He was hurried into the Arima Kinen and finished in fourth place a good 6 1/2 lengths of the winner in what was a commendable effort given the rush and travel miles logged. Since then, he has had only two starts. He captured the Tenno Sho (Spring) for the second year in a row and was second to Almond Eye in the Tenno Sho (Autumn) in November. Jockey Kenichi Ikezoe rode Fierement in the last year's Arima Kinen, but 2020's run is expected to go to jockey Christophe Lemaire who, in winning eight Grade 1 JRA competitions over the span of the year. If he can win this time, stands to top not only his own record for annual Grade 1 wins but also his record for money earned.
World Premiere : Beating Fierement to the finish line in the Arima Kinen last year was World Premiere, another son of Deep Impact and now 4 years old. World Premiere followed winner Lys Gracieux and runnerup Saturnalia, and with both the latter absent, World Premiere could well be set for the Arima winner's circle and his second Grade 1 victory following the 2019 Kikuka Sho (Japanese St. Leger). Last out, he returned after 11 months off and scored a sixth-place finish in the Japan Cup only 0.8 seconds behind Almond Eye. Set for the ride is Yutaka Take who is gunning for his fourth win of the Arima Kinen since his debut in 1987 and his first since winning aboard Kitasan Black in 2017.
Curren Bouquetd'Or : The same age as Chrono Genesis, the Deep Impact-sired Curren Bouquetd'or followed the former over the finish line in the Queen Cup, the Shuka Sho and the Kyoto Kinen, but beat her rival in the Yushun Himba (Japanese Oaks), the longest of the four races and an indication that distance suits her. Although she last visited the winner's circle in February 2019, Curren Bouquetd'or has missed the Top 3 only once in the seven starts since. That was last out in the Japan Cup, where she finished fourth, behind Almond Eye, 2020 Triple Crown winner Contrail and by a nose behind 2020 filly triple crown winner Daring Tact. She is 2-2-4 in her three starts of the year and will go to the gate relatively fresh. Jockey Kenichi Ikezoe, who has the most Arima Kinen wins (four wins) among jockeys currently riding, will be in the saddle.
Authority : A son of Triple Crown winner Orfevre, the 3-year-old colt Authority has won four of his six starts thus far. Sidelined with a fracture suffered while winning the Grade 2 TV Tokyo Hai Aoba Sho in May, he returned to win by a length and a half the 2,500-meter Grade 2 Copa Republica Argentina at Tokyo in early November. Further improvement is expected and his 1-5-3 record at Nakayama and wins at both 2,400 and 2,500 meters bode well for this race. As a 3-year-old, he will also have the advantage of being saddled with only 55 kg, which is also, however, the weight Chrono Genesis will carry.
Lucky Lilac : Another Orfevre progeny is Lucky Lilac, now 5 years old, winner of four Grade 1 races, including back-to-back runs in the Queen Elizabeth II Cup, last year at Kyoto, this year at Hanshin. She has had a full year at home following her second place in the Hong Kong Vase last year. Three of her five starts in 2020 were at Grade 1 and saw her post 1-6-1. Those include a first in the Osaka Hai, a neck ahead of Chrono Genesis. Lucky Lilac is also getting a new partner, jockey Yuichi Fukunaga, who surprisingly has yet to win the Arima Kinen.
Others to keep an eye on are:
Mikki Swallow sat out the top-level competitions in 2019 but returned for two this year, a third in the Tenno Sho (Spring) and a seventh in the Japan Cup. Primed, happy over distance, and with three wins and two seconds from nine starts at Nakayama, he should not be underrated.
Kiseki was fifth here both last year and in 2018 and though he has remained winless this year, he has two seconds in Graded races, including the Takarazuka Kinen.
Loves Only You hasn't won since the Yushun Himba (Japanese Oaks) six races back but she hasn't been far off the mark and has missed the Top 3 only twice. She has topped both Chrono Genesis and Curren Bouquetd'or in Grade 1 company. Only 0.1 seconds off the winner in the Queen Elizabeth II Cup last out, she's not one to ignore.