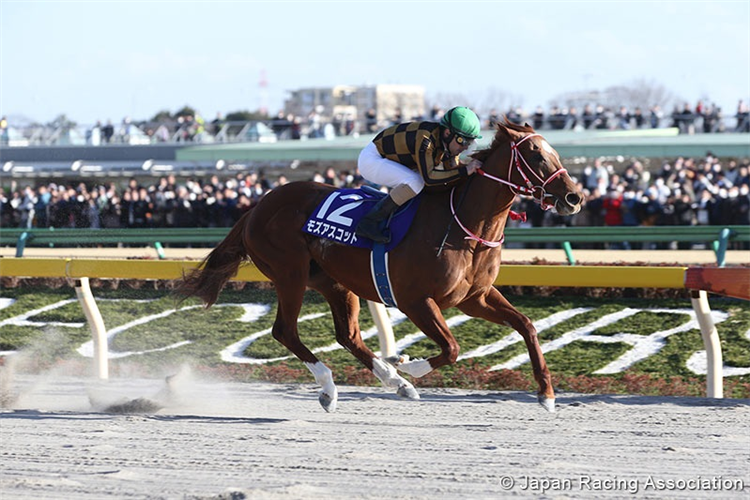 Grade 1 horseracing action in Japan returns for the first time in 2021 this coming Sunday (February 21), when the February Stakes will be run at Tokyo Racecourse. The race is run over 1,600 meters on the dirt track, and is open to 4-year-olds and up, with runners set to carry 57kg, although fillies and mares can claim a 2kg allowance.
The race was first run in 1984, and was originally known as the February Handicap, when it was a Grade 3, but over the years its status has been elevated and it became a Grade 1 in 1997. It was opened to runners from overseas in 2007. It is now also a part of the Breeders' Cup Challenge Series of races, and the February Stakes winner gains automatic entry into the Grade 1 Breeders' Cup Classic race, which this year will be run at Del Mar.
There have been 23 nominations for this year's February Stakes, although one notable absentee is Chuwa Wizard, last year's Grade 1 Champions Cup winner and Japan's Best Dirt Horse of 2020, as he heads to the big meeting in Saudi Arabia. Despite this, it looks to be shaping up into an interesting race to kick off the first half of the Grade 1 season in Japan.
A couple of step races this year leading up to the February Stakes have been the Grade 3 Negishi Stakes, run at Tokyo over 1,400 meters in January, and the Grade 2 Tokai TV Hai Tokai Stakes, which was run at Chukyo on a very wet dirt track over 1,800 meters, also in January. The last ten years have seen four first favorites win the February Stakes, the latest just last year, when Mozu Ascot ran out a comfortable winner of the race. Over the same time period, there have been four 5-year-old winners of the race, with 4-year-olds and 6-year-olds each winning three times apiece, giving no clear advantage it would seem to any one particular age group.
Moanin holds the record time for the race, winning in a time of 1 minute 34 seconds flat in 2016. This year's winner's check is JPY100 million (approx. USD 953,000) out of a total prize money purse of JPY216 million. The final field (which has a maximum 16 runner limit) and the barrier draw will be announced later in the week. The 38th running of the February Stakes will be Race 11 on the Sunday card at Tokyo, with a post time locally of 15:40.
Here's a look at some of the contenders for the big race:
Red Le Zele : The 5-year-old by Lord Kanaloa is starting to put in some strong performances, as could be seen from his last race, the Grade 3 Negishi Stakes, when he rallied well at the end to get up and win. He's now 7 wins from 15 career starts, and has only been unplaced twice. Trainer Takayuki Yasuda has two February Stakes wins (Transcend in 2011 and Grape Brandy in 2013) among his total of twelve JRA Grade 1 victories. Commenting on Red le Zele, the trainer said: "He's comfortable settling towards the rear in a race, and last time, despite not having a lot of room in the homestraight, he finished off strongly. He was a little weak as a younger horse, but now that he's become bigger, he's shown he's capable of winning at the top level."
Cafe Pharoah : Trainer Noriyuki Hori and jockey Christophe Lemaire team up here with the American bred by American Pharoah. The lightly raced 4-year-old colt will just be having his seventh start this time, and his first this year. In his last race, the Grade 1 Champions Cup, he finished sixth when second favorite, and has been sent off favorite in all his other races. He remains unbeaten over 1,600 meters at Tokyo, after his two wins over course and distance as a 3-year-old.
Arctos : The powerful 6-year-old performs at his best over 1,400 or 1,600 meters, and has proved to be a bargain buy at the 2016 Hokkaido Select Sale, netting close to seven times his purchase price in JRA prize money alone. He's coming off a fourth-place finish in his last race, the Grade 3 Negishi Stakes, where he couldn't get a sustained run to the finishing line. "He's a horse that likes to get fully wound up in the homestraight, but last time he wasn't able to really get going soon enough, so it was tough for him. That and the 59kg he had to carry, but overall I was satisfied with the race," said trainer Toru Kurita. Jockey Hironobu Tanabe takes the ride once more, and his piloting of Copano Rickey at odds of 272/1 to win the race in 2014 is still very memorable.
Auvergne : Grade 2 Tokai TV Hai Tokai Stakes winner Auvergne has now won his last three races, and his confident win last time gives him every chance in the big race this time too. The 5-year-old by Smart Falcon is also highly thought of at the stable of trainer Masayuki Nishimura. "Last time out he was able to run 1,000 meters in 59.3 seconds, and asserted well at the end to go on and win. He's quite easy to control and has good racing sense, as can be seen by him getting into good positions early in a race without too much effort," commented assistant trainer Eiko Umeuchi.
Inti : The 2019 February Stakes winner, Inti has a bit of a mind of his own, but if things go right for him he's capable of pulling off another major prize. The 7-year-old by Came Home faded to twelfth last time on the sloppy track in the Grade 2 Tokai TV Hai Tokai Stakes at Chukyo in January. Trainer Kenji Nonaka is well aware of what the horse needs for him to run to his best. "He got to the front last time and ran well until the challengers came at him on the outside. It then became difficult for him and he lost concentration. The key to him is getting him to maintain things up to the end of a race, as he did two starts ago," said the trainer. Jockey Yutaka Take, who's able to get the best out of the horse, will once again take on the challenge of riding Inti in a bid to win the race for the sixth time.
Sunrise Nova : It will be the fourth time for Sunrise Nova to take on the February Stakes (his third last year is his best ever finish in the race), and it will be his first race of 2021, after finishing twelfth in last December's Grade 1 Champions Cup at Chukyo. The 7-year-old still maintains a fair strike rate with 10 wins and 5 second place finishes from 31 career starts. Trainer Hidetaka Otonashi said, "He doesn't seem suited by Chukyo for some reason, but the mile at Tokyo is good for him. On returning from a short break at the farm, he's been working with stablemate Danburite, and he's been moving well." No 7-year-old has won the February Stakes since 1988.
Wonder Lider : Bidding to become the first ever 8-year-old winner in the history of the February Stakes, Wonder Lider tuned up well for the race when finishing second in the Grade 3 Negishi Stakes last time, rallying from last on the home turn to almost catching the eventual winner, Red le Zele. Trainer Shogo Yasuda said, "He ran a great race last time, and his prize money tally is enough, so I'm very satisfied. He moved about a bit on the run to the line in that last race, so this time I think he'll wear blinkers." Wonder Lider has had 35 career starts and has finished in the top three 16 times, including 7 wins.